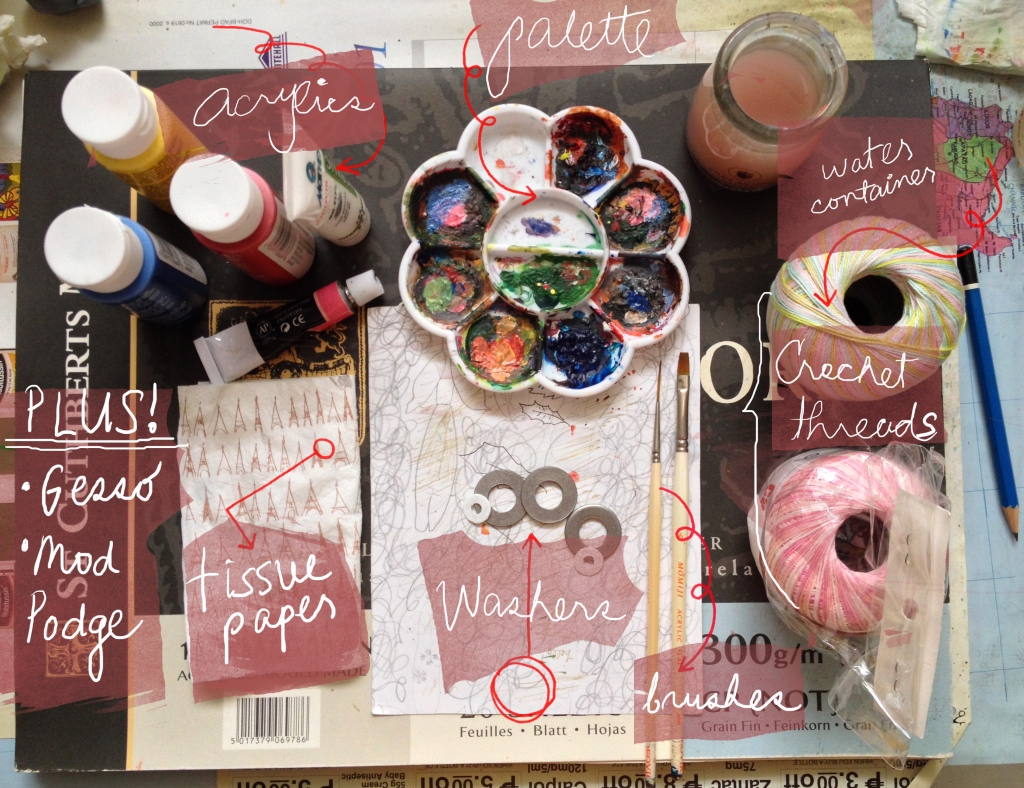 Materials on painting washer necklace
I was asked to join an accessory swap organized by the talented crafter Nica Cosio. I have never made accessories before but was encouraged to at least try. Wanting to incorporate paints somewhere on the accessory, I stumbled upon tutorials on how to paint washer jewelry. Inspired, I made my own version. Sharing the steps below and hoping that it will inspire you to try making one. :)
Step 1: Buy the washers at a hardware store and choose the one with large holes for a fancy look. Apply two coats (or more) of white Gesso on the whole washer. Gesso is a primer which makes the paint adhere on the surface better.
Step 2: The fun part: PAINT my own designs. I use Apple Barrel Craft Acrylic Paint that gives off a nice glossy finish. I paint one design in front and a mono color at the back.
Painting in progress
Step 3: While waiting for the paints to dry, prepare and cut three long strands (approx 16″ or you can measure around your neck down to the desired height) of crochet thread for each of the necklaces so that there are 9 threads overall. Gather the first three strands, knot the top then braid it until the end and secure it with another knot. This serve as the necklace strap.
Step 4: Once the painted designs have dried, apply two coats of Mod Podge for protection and air dry it for a few days.
Step 5: To tie the strap on the necklace, form a loop on the braided thread and insert that into the hole of the washer then slip in the remaining two dangling strands into the loop to make a knot on the washer necklace.
The finished hand painted washer necklaces are on their way to three lovely ladies. Hope they like it! Thank you Nica for organizing this swap. Till the next one!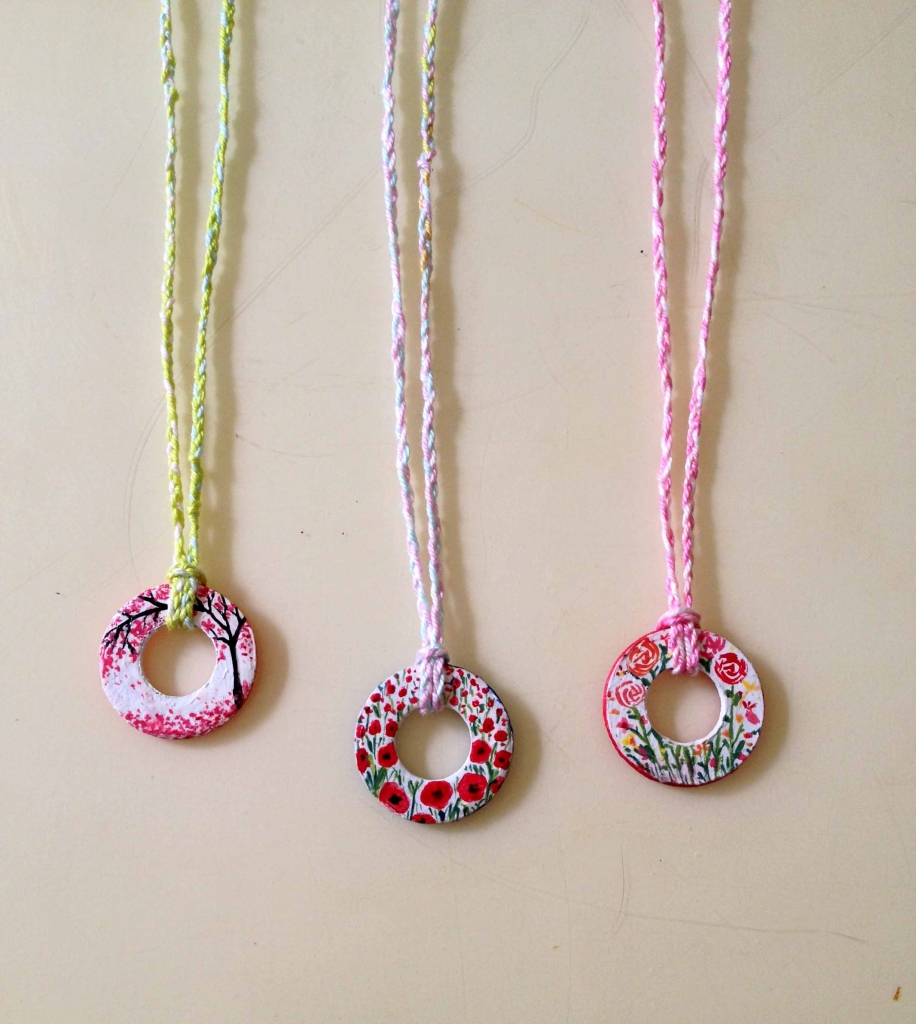 Cherry Blossoms, Poppies Field, Rosey Blooms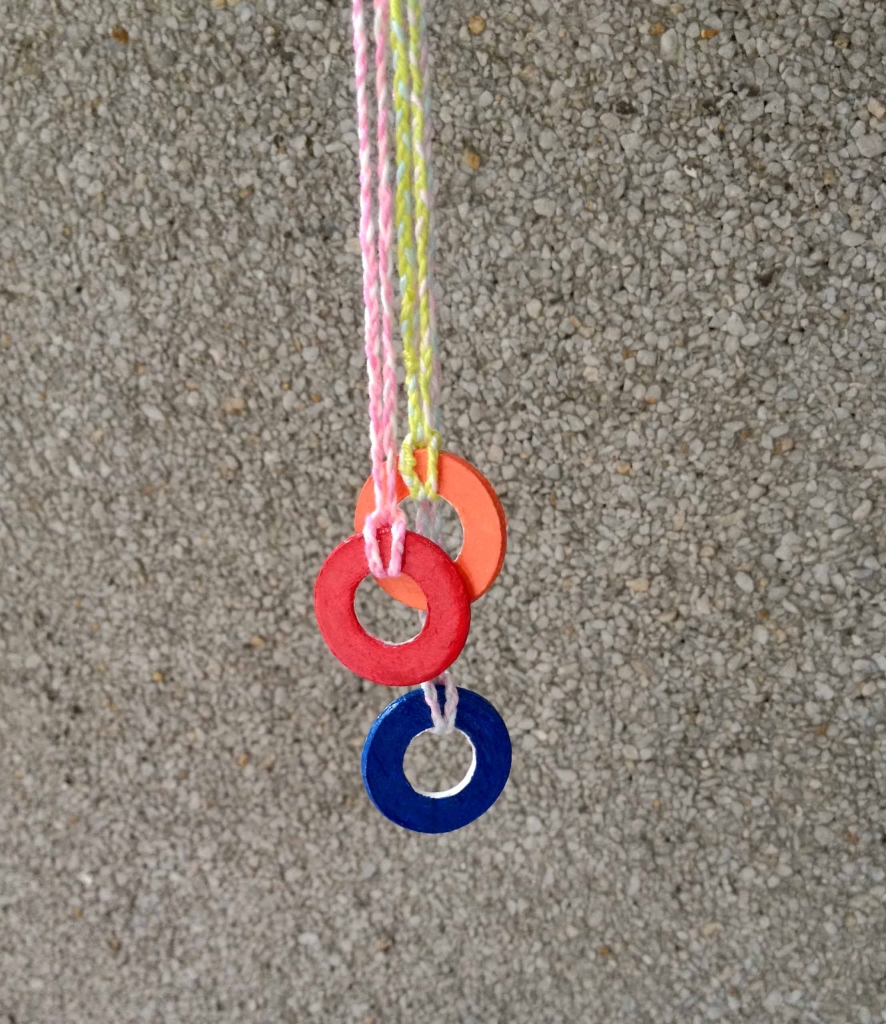 Mono color at the back