I have been sketching on location for some time now and have written a number of posts about it. But I've never tried joining our local group here called the Urban Sketchers Philippines (USK PH) until last Saturday. The theme for March was Museum and the place where we sketched was at Ayala Museum.  I think the last time I visited this place was during our high school field trip when we were all wearing our P.E. uniforms. ;) That was a long time ago and I cannot wait to revisit history.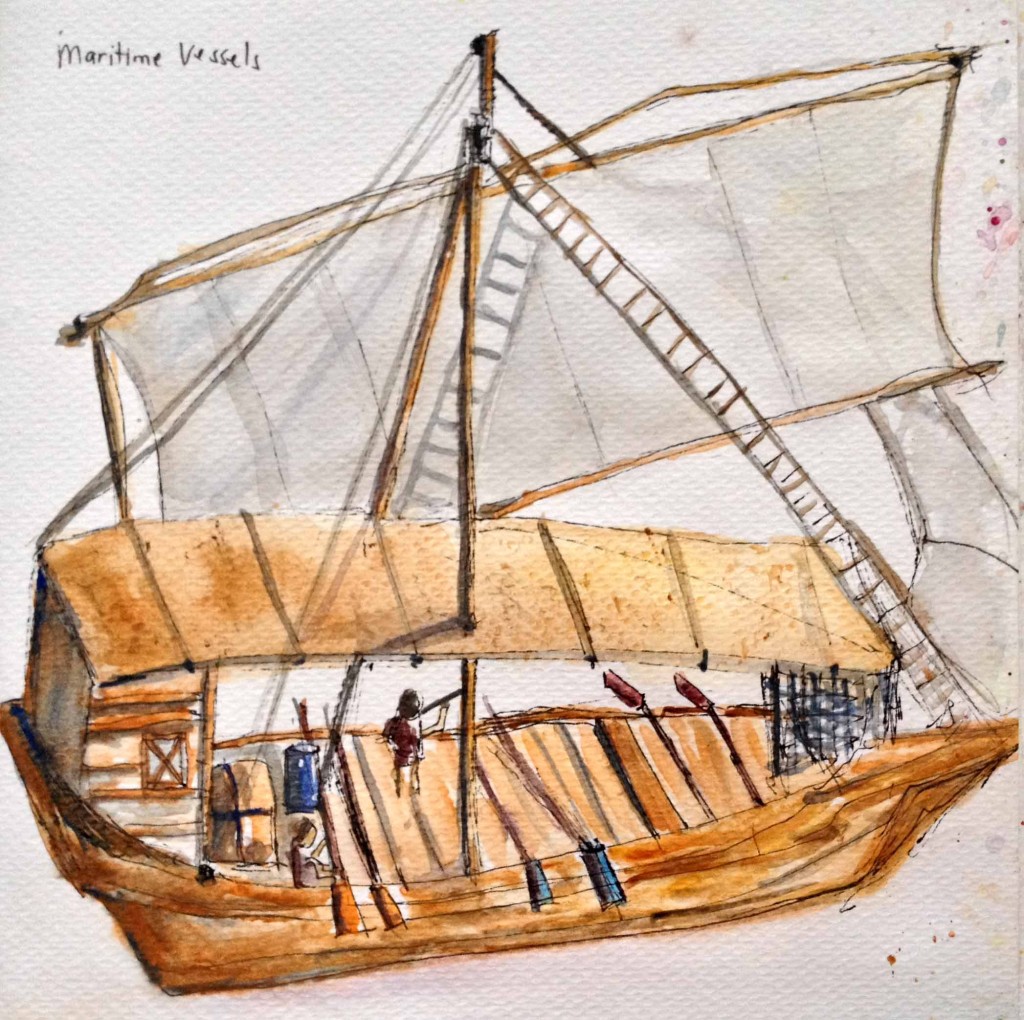 Maritime Vessel
There's a fee when you go inside Ayala Museum but as urban sketchers we can leave an I.D and enjoy free entrance. Janeil Arlegui, the founder (I think) of USK PH briefed me on what to expect on each floors and told me that I can sketch whatever I find interesting. Ground floor contains paintings many of which I am familiar as I have seen them on previous exhibition. I went to second floor and there I sketch one of the Maritime Vessels.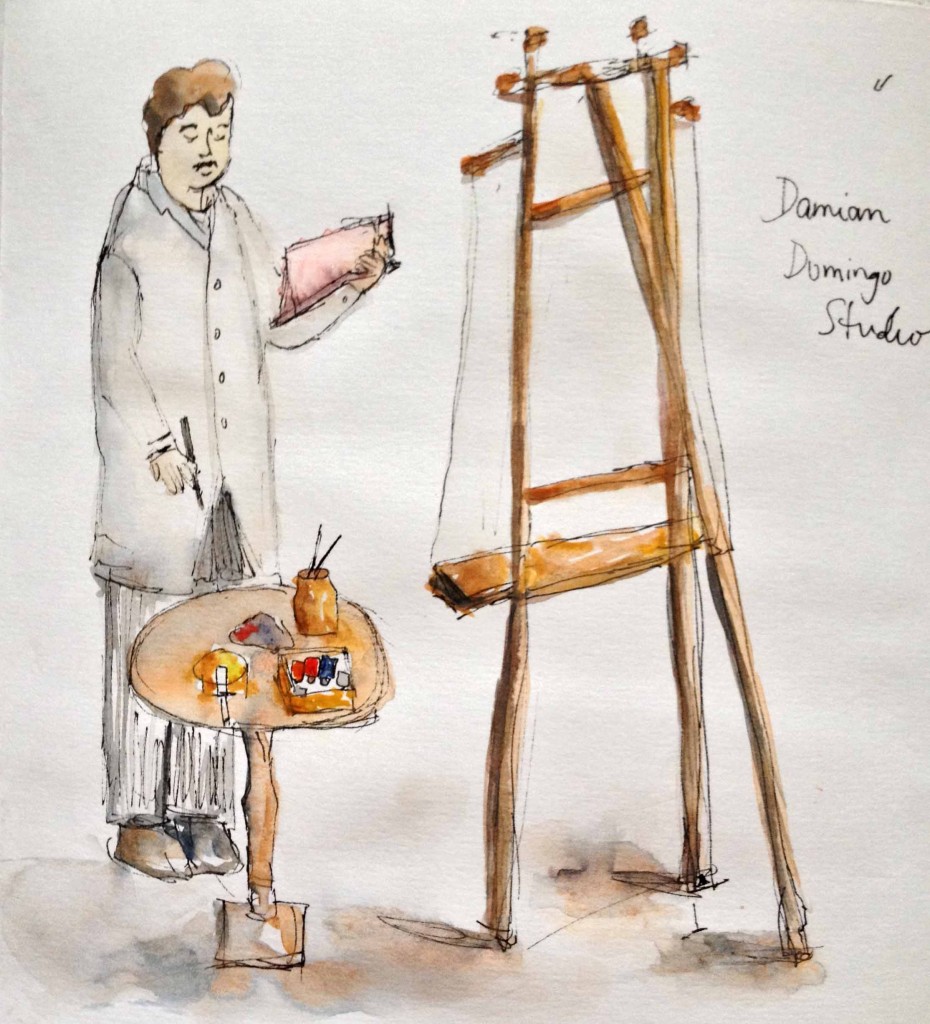 Damian Domingo Studio
I brought my sketchbook and sketch what I see with a pen. This scene captures me because it depicts the life of a painter. I learned that Damian Domingo is the first great Filipino painter. He paints portraits in oil.
Brown Basin with a pie crust rim
I was rushing because I have to meet with friends. It's almost 10:30 and I was sketching like my hand was on fire. I quickly glance around things that are interesting. I skim at words and look at colors that strike me.
I didn't have the time to paint all of my sketches on location. So I observe where the light comes and paint them at home. Some of the colors are not what they seem to be as I tend to paint colorfully.
Ewer with a long curving spout in lead glaze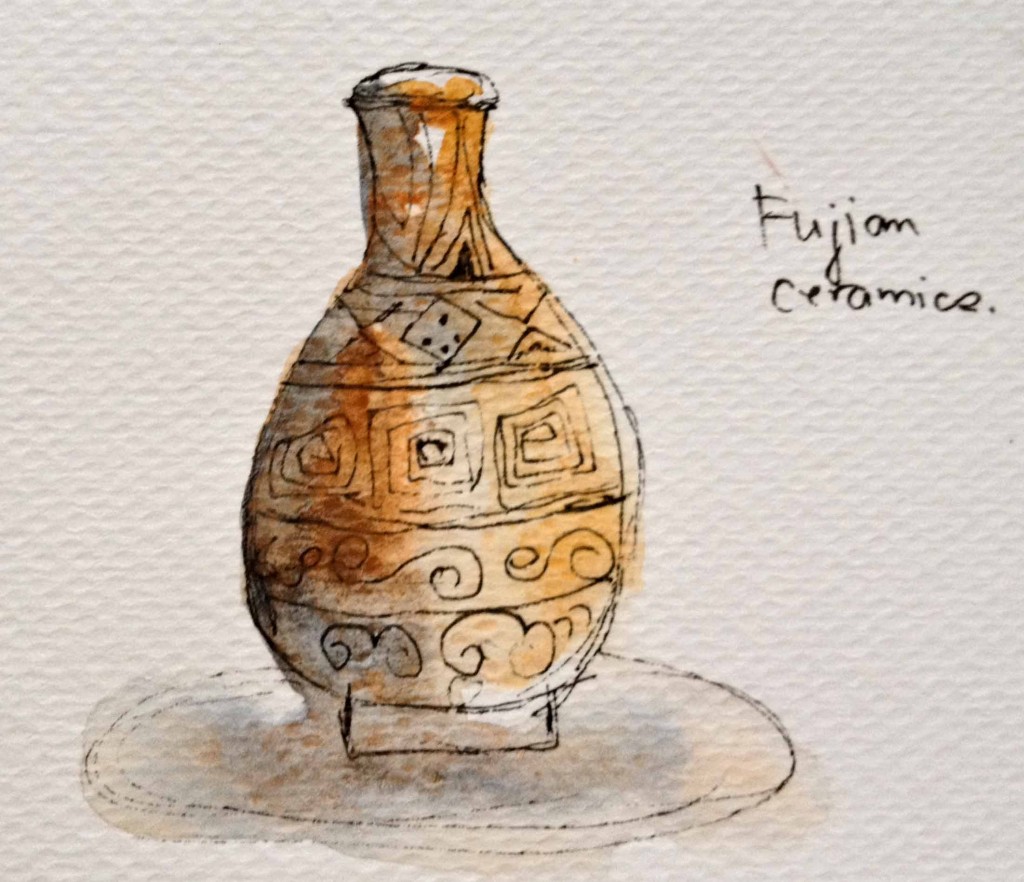 Fujian ceramics
Zhangzhou polychromed dish with over glazed enamel
Info from USK PH site: Urban Sketchers is a network of artists around the world who draw the cities where they live and travel to. Our mission is to "Show the World, One Drawing at a Time." Visit the main blog at urban sketchers dot org for more information.
OUR MANIFESTO
We draw on location, indoors or out, capturing what we see from direct observation.
Our drawings tell the story of our surroundings, the places we live and where we travel.
Our drawings are a record of time and place.
We are truthful to the scenes we witness.
We use any kind of media and cherish our individual styles.
We support each other and draw together.
We share our drawings online.
We show the world, one drawing at a time.