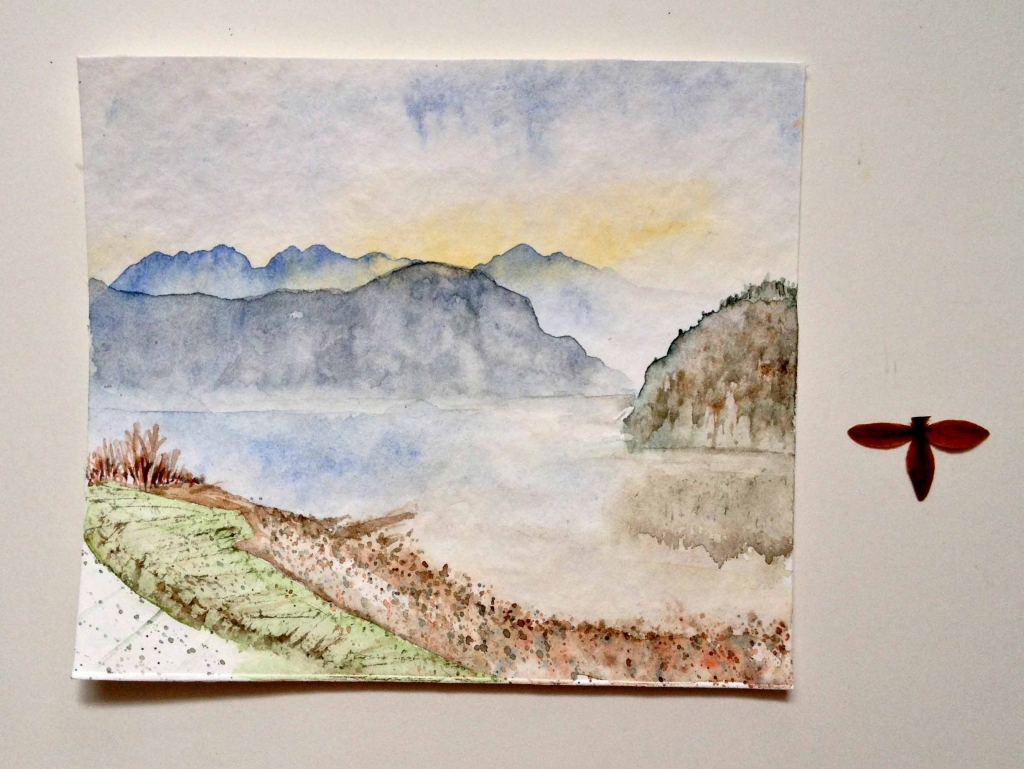 Beyond (watercolor)
I sat on the corner of the bed, eyes and nose watery from a possible cold. That's not how I hope to start New Year. But I know that that is exactly where God wants me to be…right where He is. To hold fast to Him. To rely on His grace. To spend time with Him. Not blindly nod on another selfish commitment or overwhelm myself with lists. God wants me to rest in Him alone. To discard the pleasures of this world and to delight solely in His presence. Many times have I tried to organize my life only to sink down deeper into the pit. It will never work unless I allow God to reign in my heart and make Him Lord over every area of my life.
The year 2014, in retrospect, revealed many challenging moments. The feeling of being lost in the wilderness, the performing to please attitude, the wasting away of time and allowing myself to easily be swept by the ways and emotions of this world. Still, that is where I want to boast–in my failures and disappointments and weaknesses and mistakes–because of His renewing grace and mercy. It reminded me of the past faithfulness of God whose name is Faithful and True.
The love of Christ never fails. The Groom who calls me beloved beckons me to take pleasure in His Word and to sing and make melodies to Him with my heart. He wakes me up from the deep sleep so that He can shine on me. Because of the love of God for us in Jesus Christ, I can rejoice all the more gladly in my discomfort and affliction and challenges. I know my faith is sustained by His grace that gives me strength.
As we prepare 2015 with our new faith goals, my prayer is that we will take to heart what Jesus said in Matthew 5:14-16.
You are the light of the world. A city set on a hill cannot be hidden. Nor do people light a lamp and put it under a basket, but on a stand, and it gives light to all in the house. In the same way, let your light shine before others, so that they may see your good works and give glory to your Father who is in heaven.
As Christians we are light in the world. Since Jesus is our source of light we ought to walk as children of light. Like the city on the hill our light will shine in the midst of darkness. In all that we do we should share the gospel and the teachings of Christ to others. The open doors, the projects, the promotion, the ministry, the dreams–they are merely avenues that God use in order to bring people to know Him and that in everything He will be glorified.
Thank you so much Abba Father for this year. I look forward to our journey together on 2015.
A Happy New Year to all of us!