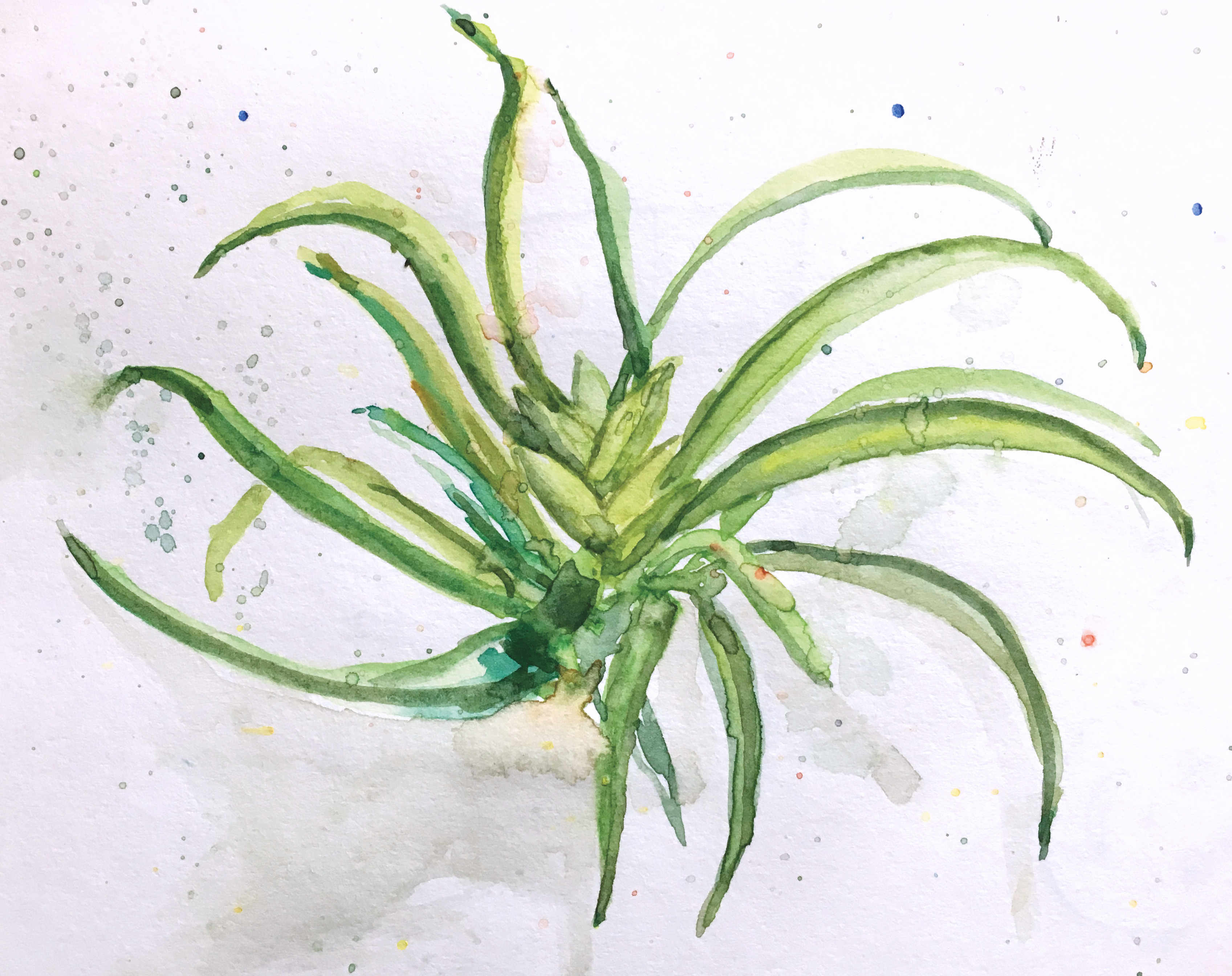 Airplant; watercolor on paper
Most of us have written goals that will guide us on what we need to focus on for the New Year. I have written faith goals that I am believing and partnering with God for. I also themed my days according to what work I need to focus on (i.e. Mondays are for planning, Tuesdays for recording).
However, our pastor said that every goals or New Year resolutions fail by the third of the month because of formed habits. How many of us are energized and inspired at the start of the year but gradually feel like we're going around in circles (i.e. procrastinate) the following months? Me too.
He added that the reason is that whatever we discover (i.e. Youtube) will lead to a desire (i.e. admiration of a favorite artist or family channel) that will lead to a decision (watch the videos) then it will become a delight (binge watching) and eventually it will become a destiny (part of who I am– my habit). When we realize that we have failed to follow through with our goals because our old habits were so deeply part of us, we experience what he calls a dip. We became frustrated and go back to the loop of a new discovery, desire and so forth to make life work. When it still doesn't work, we drop out. What truth. Can you relate?
But there's hope. We need to change our strategy. He said that the discovery, desire and decision should lead us to one thing: die to ourselves. Before we even make that decision, we need to make a choice to say NO to the desires of our flesh. How? By coming daily and asking the Lord for help, for His wisdom. His grace is sufficient in our weaknesses. The pastor reminded us that habits are formed one day at a time. If we continue to die to our own desires, we will have a new delight and a meaningful destiny.
I wanted to share some practical ways on how I build good habits (to counter against my bad habits) that I may live a fruitful life for Him.
Begin the day with thanksgiving to the Lord
"Oh give thanks to the Lord, for he is good, for his steadfast love endures forever!" (Psalm 106:1) Rejoice for today is a gift from God. Before we start our day, meet with Him in prayer and read His Word that we may be guided by His truths and be equipped to do good works for His glory and purpose. We can do this while on the bus ride to work, waiting for the water to boil or running at the park. Bring a Bible, Bible app or listen to audio Bible. Prioritize God because He is valuable above all else.
Take proper care of ourselves
Sufficient sleep (at least 7 hrs). Exercise and move about during the course of the day (i.e. stretch legs when sitting for long hours). Rest our body (see #6). Eat and drink right (i.e. right amount of good fats, veggies, fruits, water, dairy; everything in moderation). If we take care of ourselves well, we are able to do our work better.
Limit digital technology check-ins
I put my phone on silent/vibrate mode. I try to check and reply to emails or phone messages either lunch time or after work. Unless absolutely necessary, I try to not get into the habit of impulsive checking especially working hours or when I'm waiting or having conversation with someone. I also do use social media to share work related posts but I do that after work. In case I fail (mostly), I installed an extension in my browser to help limit surf time to only 10 minutes. Doing this has saved me from wasting time.
Set intentional time for each tasks
I have daily activities that are important to me such as  Bible reading, prayer, exercise, painting, etc. It's easy to postpone it when I don't intentionally block off the time to do it. I set about an hour of Bible reading, devotion and prayer in the morning. Half an hour to do exercise, 30 minutes for painting, one hour for planning a lesson and so forth. I made sure to time myself so I won't overspend time on one task. Remember that what our hearts value, will determine what is most valuable to us.
Intentionally prepare what is needed for each task
It's easy to say I will work on this and that but in reality it's hard when we are unprepared. Breaking down each broad task into simple doable tasks is essential. For example, I want to paint as often as I could. I need to prepare a list of subjects that captures my interest or gather my own images as inspiration for painting. Doing this ignites an excitement in me to follow through on what I've committed to do. I also find that getting ready the things or tasks that I need to do the night before help me not to wander or rush in the morning.
Relax and take breaks
In this fast-paced way of living, we are prone to feeling overwhelmed, stress or burn out from daily responsibilities. Taking breaks in the middle of the day can help relieve the stress or pressure of working life. Listening to worship songs or podcast or catching up on some online reads are some of my pit stops. My favorite way to relax after a day's work is reading a good book and writing on my journal. On Saturday, I enjoy relaxing with my husband as we hike amongst nature, discover new dishes at a local eatery, record videos on explored places or watch a travelogue. Sunday is Sabbath day. Shona Murray defined it as "a day of rest centered on the worship of God, the fellowship of His people in the local church and the renewing of family relationships. It's a gift… It's a time for healing the body, mind and soul and our relationship with God and others. It's God's way of providing us with a spiritual and eternal perspective on our lives. Just like our muscles need a rest after working out, so our lives become more productive if we take God's provided rest." Jesus knows how to rest best, when after ministering to a great crowd, he will withdraw himself and devote time to prayer.
End the day with praise and put your trust in Him
Rejoice in the Lord for the good and the challenging days. Praise Him for His grace that has enabled us to face each day. We may fail, become inconsistent or get frustrated by our progress, but Psalm 75:25-26 is a great encouragement "…Our flesh and our hearts may fail, but God is the strength of our hearts and our portion forever." As we practice dying to our old habits and selfish desires to live a fruitful life for Him, we put our trust in the One who will help us for He has overcome the world.
I realized that all the above habits will only work if I die to my selfish desires daily, with His help. I pray that you are encouraged and inspired to form good habits of your own as you partner with God to work on the goals that He has prepared for you to accomplish this year, for His glory.
What are your goals for 2018? What are your habits that will enable you to be fruitful this year? I like to hear from you in the comments below. Take care and God bless you.