Last year, author Freya Pickard and I had another collaboration. She wanted me to create a series of illustrations for her newsletter and Pure Haiku for 2022.
The first one was a volcano for Pure Haiku. She wanted the left side to be grassy, with flowers blooming and a dormant volcano, while the right side is a dark sky and lava pouring from an erupted volcano. I lightly sketched the elements and created a dividing line. I used watercolor to paint and blend the middle part to depict one image in two different scenarios.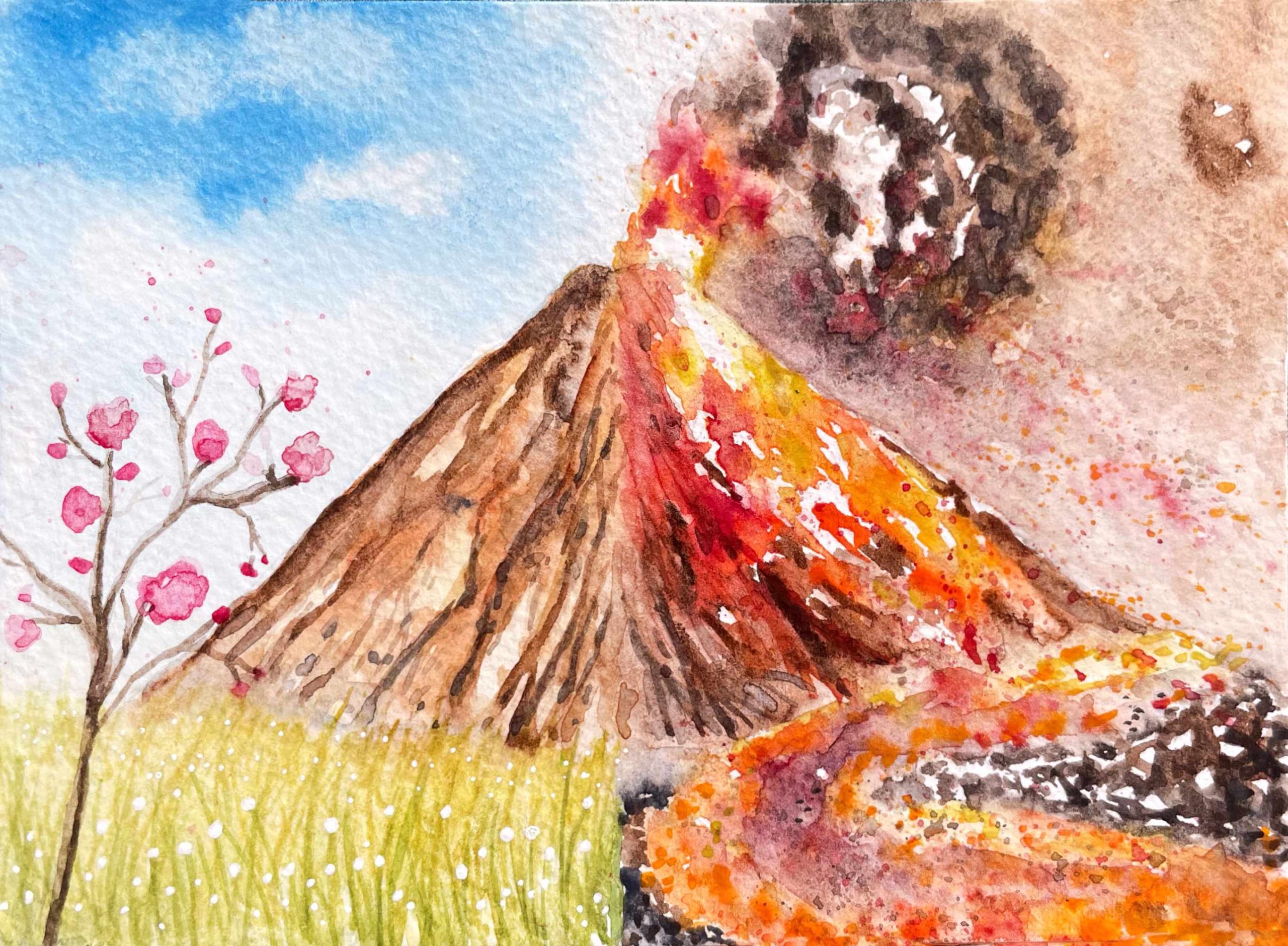 The second one was a headshot of a man named Ravage bitten by a demon hound and became a shapeshifter. His favorite form is a wolf. The hardest part about drawing Ravage was making him look fierce. I had to re-do the eyes several times. Another challenge was how to paint the fur without it looking realistic. I like to challenge myself to think beyond what's already out there. I prefer coming up with a different approach that I haven't tried before. I used the dry brush technique and scraped it back and forth to create fur.
The third is a headshot of Anor, a princess, and is an Iendu, a long-lived elf-like race known as the Quirati. She has dark skin with long silver hair, slightly slanted bright blue eyes, and silver/white eyebrows. She prefers to wear grey clothes. I debated whether to add a dark background to showcase her white hair. However, I decided against it since the dark of her clothes contrasted nicely with her hair.
The last one was a headshot of Nareya, who is also an Iendu from the tribe of the Vorni. She is tall and lean, has high cheekbones, slanted eyes, and eyebrows. Her eyes are green, and sun-tanned skin due to her journeying. Her hair is long and dark brown, and she prefers to wear a green tunic and leggings.
Overall, I enjoyed the challenge of turning Freya's words into illustrations. Thankful for the opportunity and exchange of creativity. If you wish to read Freya's creative writing (it's free), please email her at dragonscaleclippings (at) gmail (dot) com with "Subscribe Clippings" on the subject line.