About the artist
Elisa is a mixed media artist. She likes to bring her sketchbook and pen outside to express the beauty of this world. She is interested in printmaking because of its unique outcomes. Monoprint, intaglio, and relief print are some of her favourite methods. She enjoys illustrating her life using different mediums like watercolour, ink, collage, charcoal, coloured pencils to enhance and make her work personal. She sees potential in waste materials and often collects them to utilise in her artworks.
About the exhibit
People buy, consume, and dispose of things without a second thought on how waste affects the environment. This sparked Elisa's interest to incorporate common household waste materials into works of art. She invites people to think about how waste material can be recycled, reused, reduced, or repurposed. Give it a new life and turn it into something of value.
Elisa uses the printmaking process to transform waste materials into artworks inspired by her life experiences. Printmaking enables her to show the possibilities and beauty in the unexpected. Through this initiative, she invites visitors to see the potential of repurposing waste materials through a printmaking activity.
Inner Beauty
I crumpled a carrots packaging, used a printing plate and acrylic paint to capture its wrinkles. For as long as we have breath, whether young or old, we can be a blessing where we are.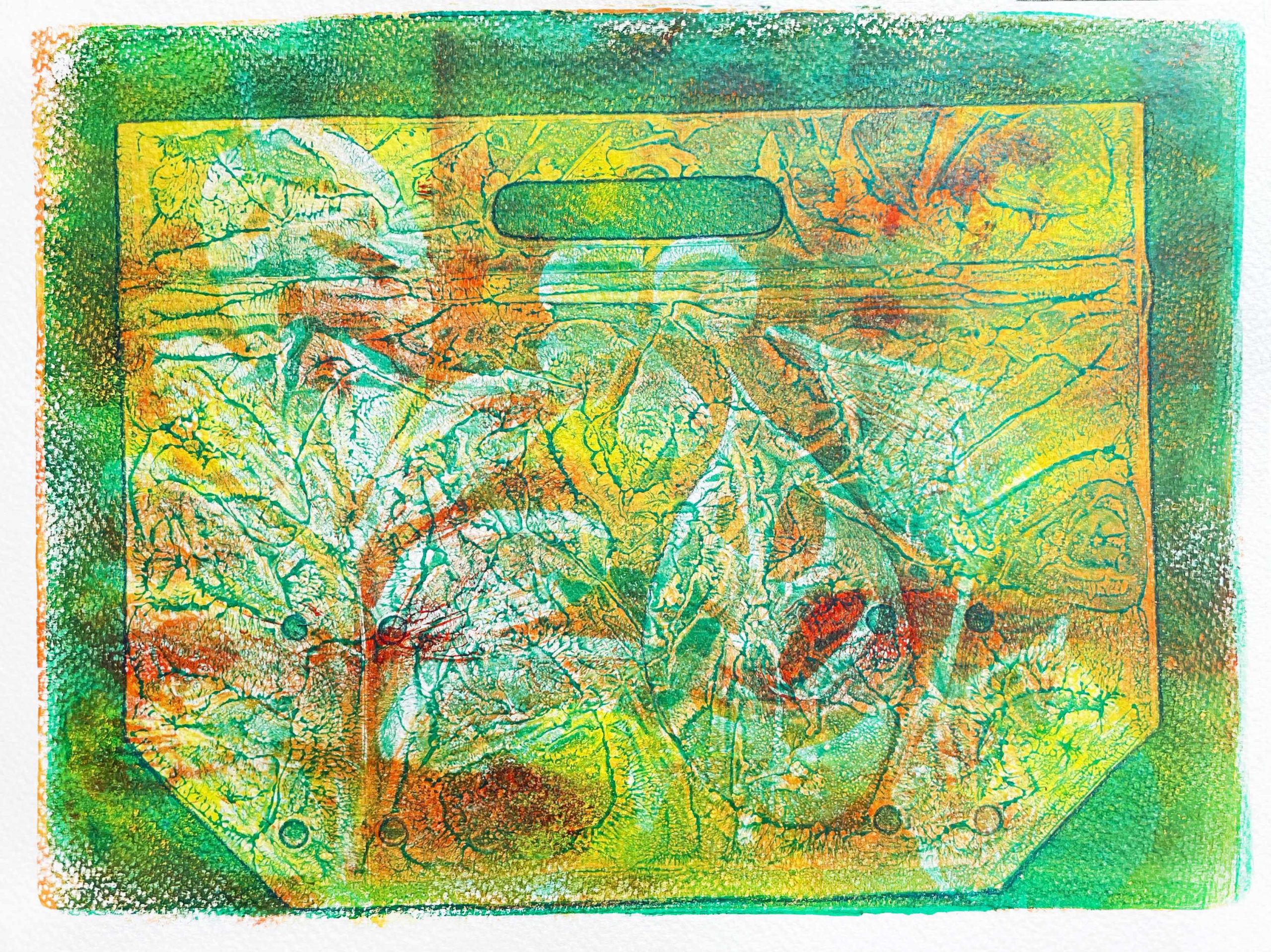 Fill Me Up
The shape of the mandarin packaging captured my interest. As I layered it with some of my pressed leaves, I thought about how we must intentionally fill our hearts and minds with what is true, honorable, just, pure, lovely, commendable, excellence, praise (Philippians 4:8).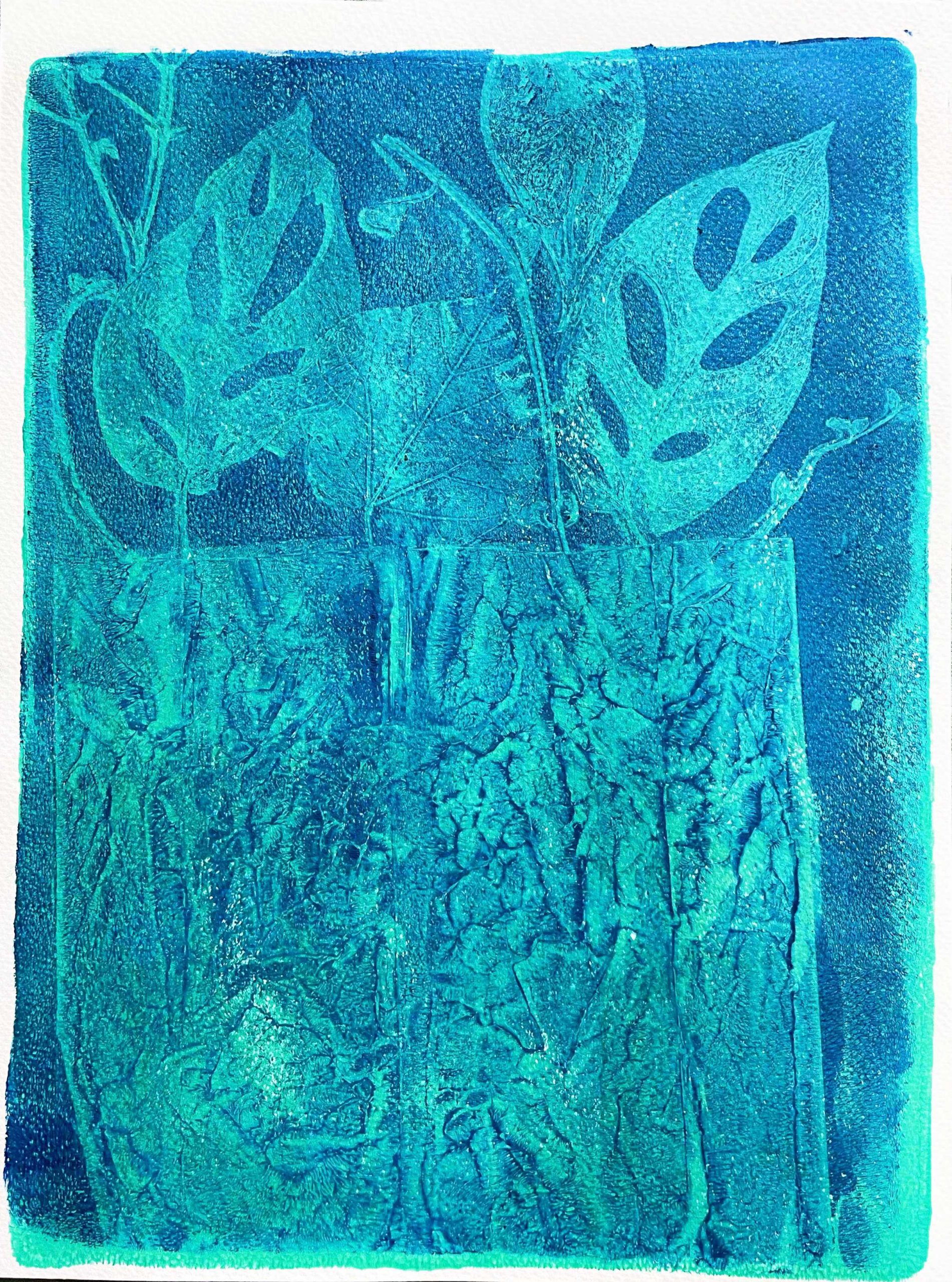 Set Apart
I crumpled a chip's packaging to capture the wrinkles. I added in some leaves to remind us that we all have a purpose to live and a mission to fulfill.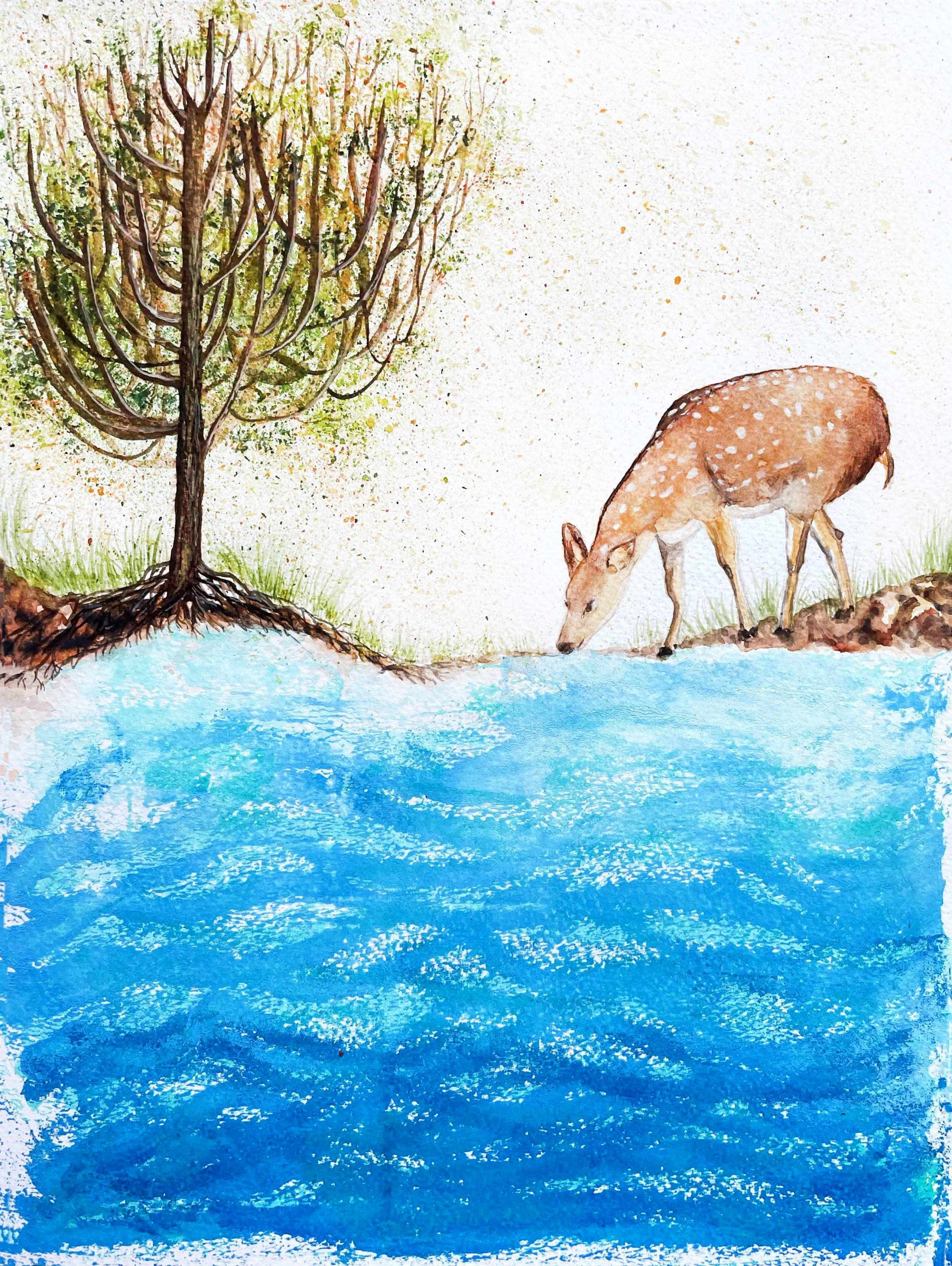 Refreshment To The Soul
Inspired by the Psalm, the stream provides nourishment to the tree (Psalm 1:3) and it refreshes the thirst of the deer (Psalm 42:1).

I used three different hues of blues to print a multi-layered water scene using the insides of an oats packaging.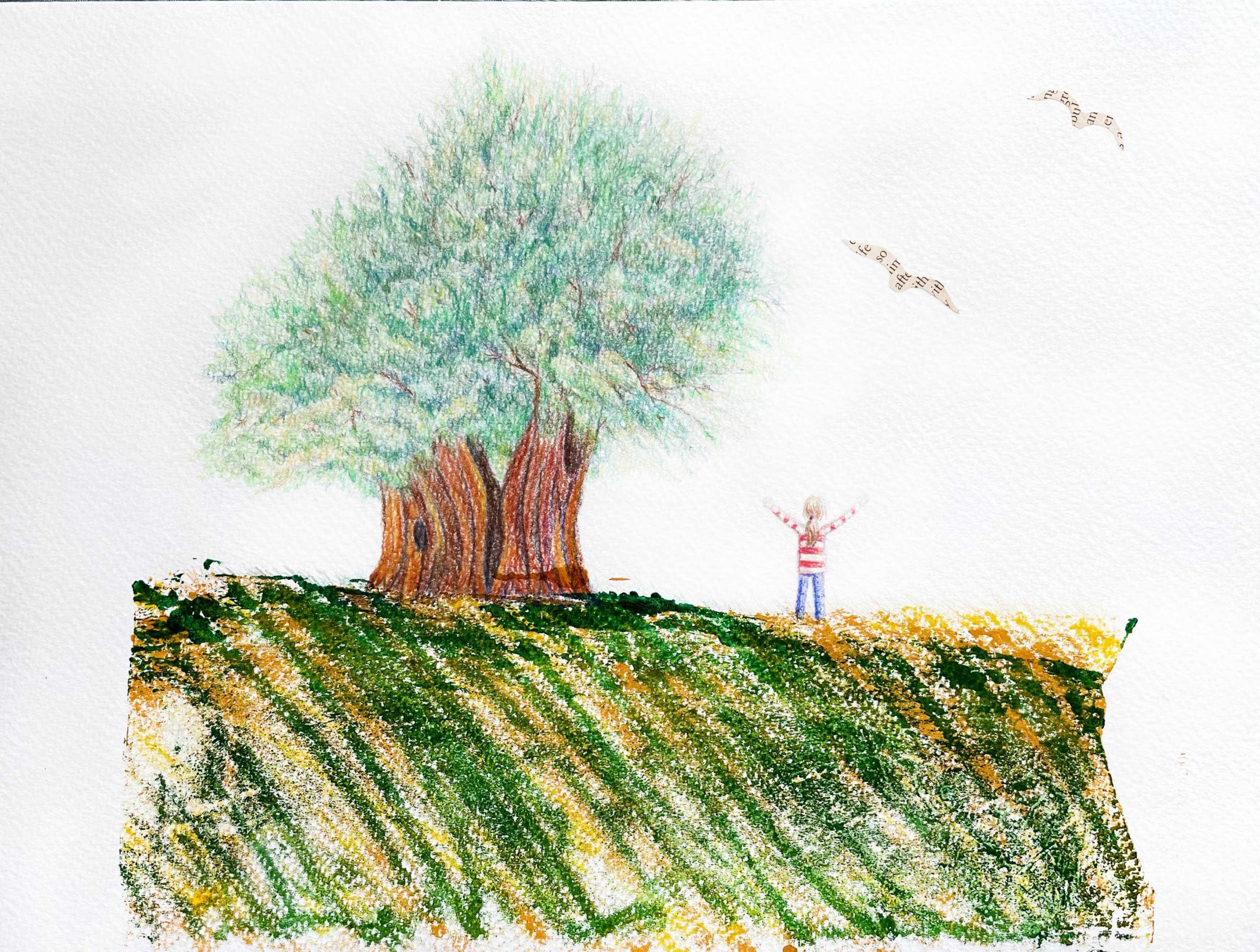 Thrive
The olive tree is slow-growing and requires years of patient pruning and nurturing to bear much fruit. Because of its steady abiding, it thrives amidst challenges and lives for a long time.
I used the inside of the oat packaging to create the landscape. As I layered each color, I moved my arm in a sweeping motion to create grass blowing against the wind.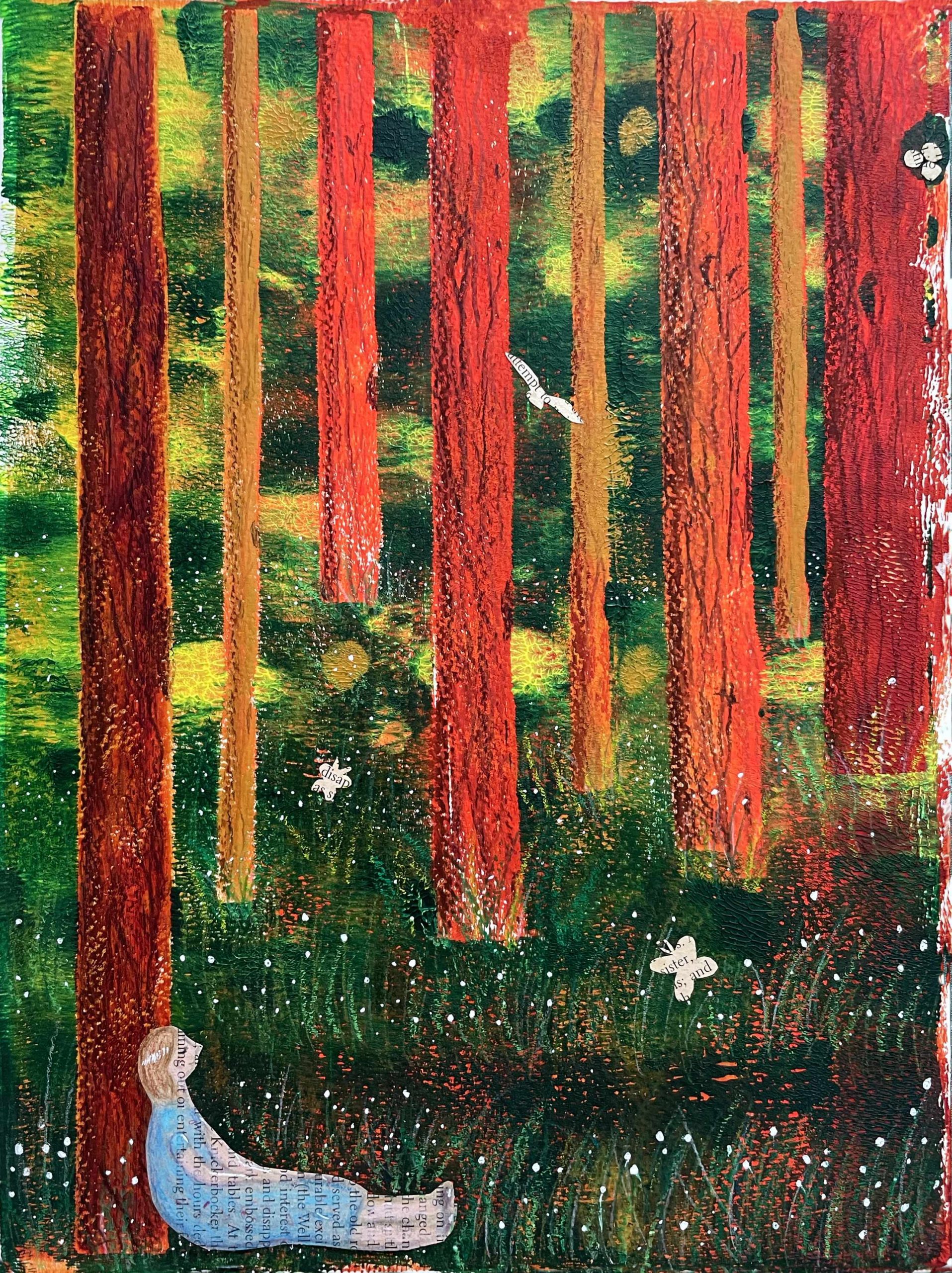 Respite
Nature offers a temporary rest from the hustle and bustle of the city. I listen to the singing of birds, look at the towering trees above and witness the spring of tiny growth from the ground.

I placed watercolor paper offcuts on the printing plate with acrylic paints to print the trunks. I also used old pages of a book to collage my illustrations.
High on the Mountain
I likened the journey of life to climbing a mountain. The way up is challenging because of the steep and uneven terrain. Yet when I keep looking to the reward, I'm motivated to keep going. I know that the mountaintop experience will be majestic and glorious.
I drew the rocky edges of the mountain on offcuts watercolor paper. I used them as stencils to print the mountains in different tones of blue.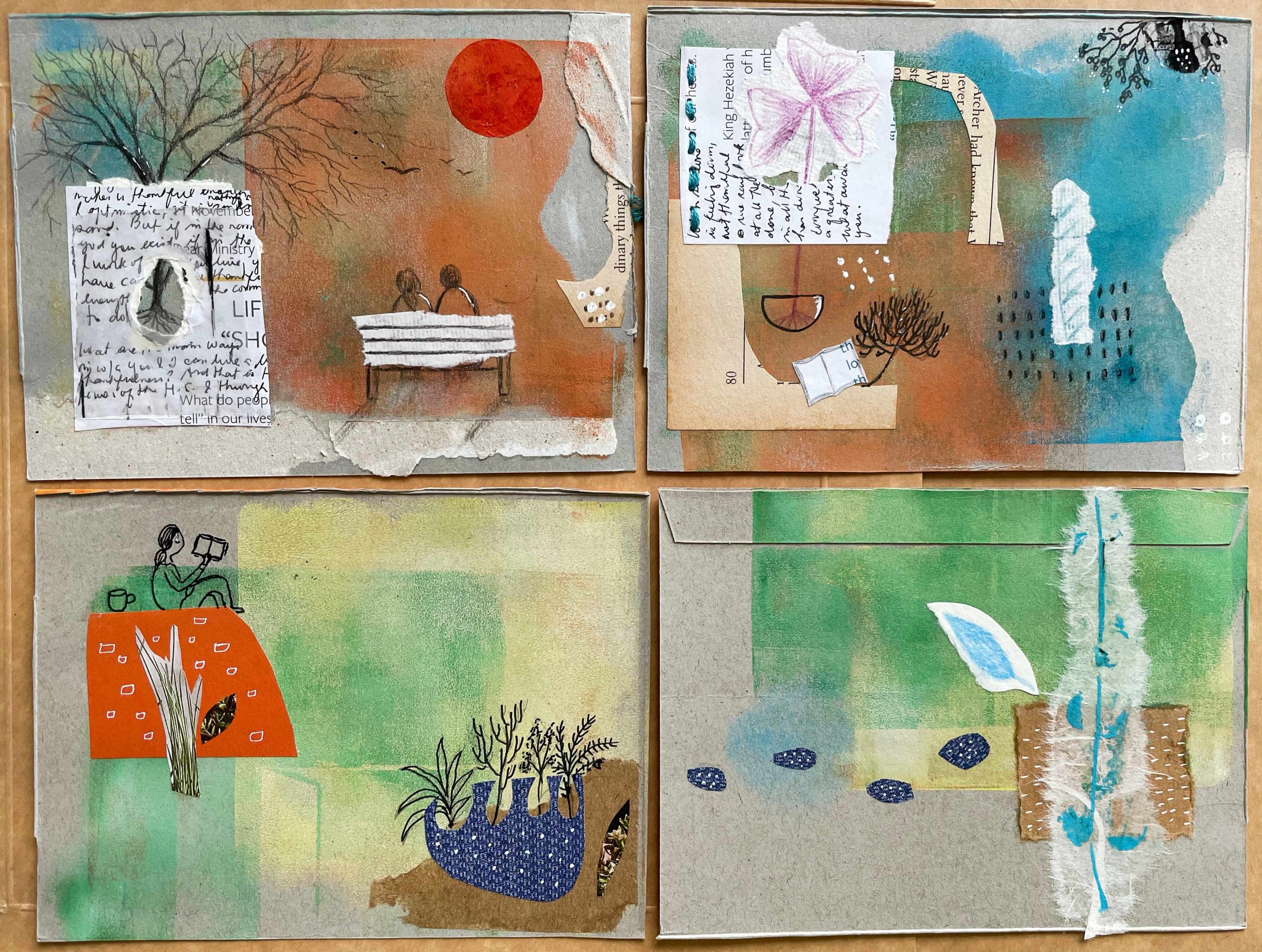 Snippets of Life
Abstract series about my life. I find it challenging to create abstract art because I prefer a structure. I wrote words to guide me, shifted, and played around with the composition and images. I cut and tear lots of tiny pieces of paper. Giving myself time to explore is crucial.
Clockwise (left to right)
Give Thanks
Choose to give thanks in the small and big things of life.
Morning Person
I am most fruitful in the morning.
Rest
Set apart one day to rest and spend it with the Creator.
You Grow By Learning
I took risks, made mistakes, and even failed, but nothing was futile because I'm learning and growing in the process.
Heart to Serve
The Potter created the vessels in different forms, colors, and sizes, yet they are all the same in His eyes– to serve a purpose by being of service to others.
I used the raised surfaces of a plastic egg tray and a plastic fruit container to print the patterns on bread packaging. I drew and created a collage of the different vessels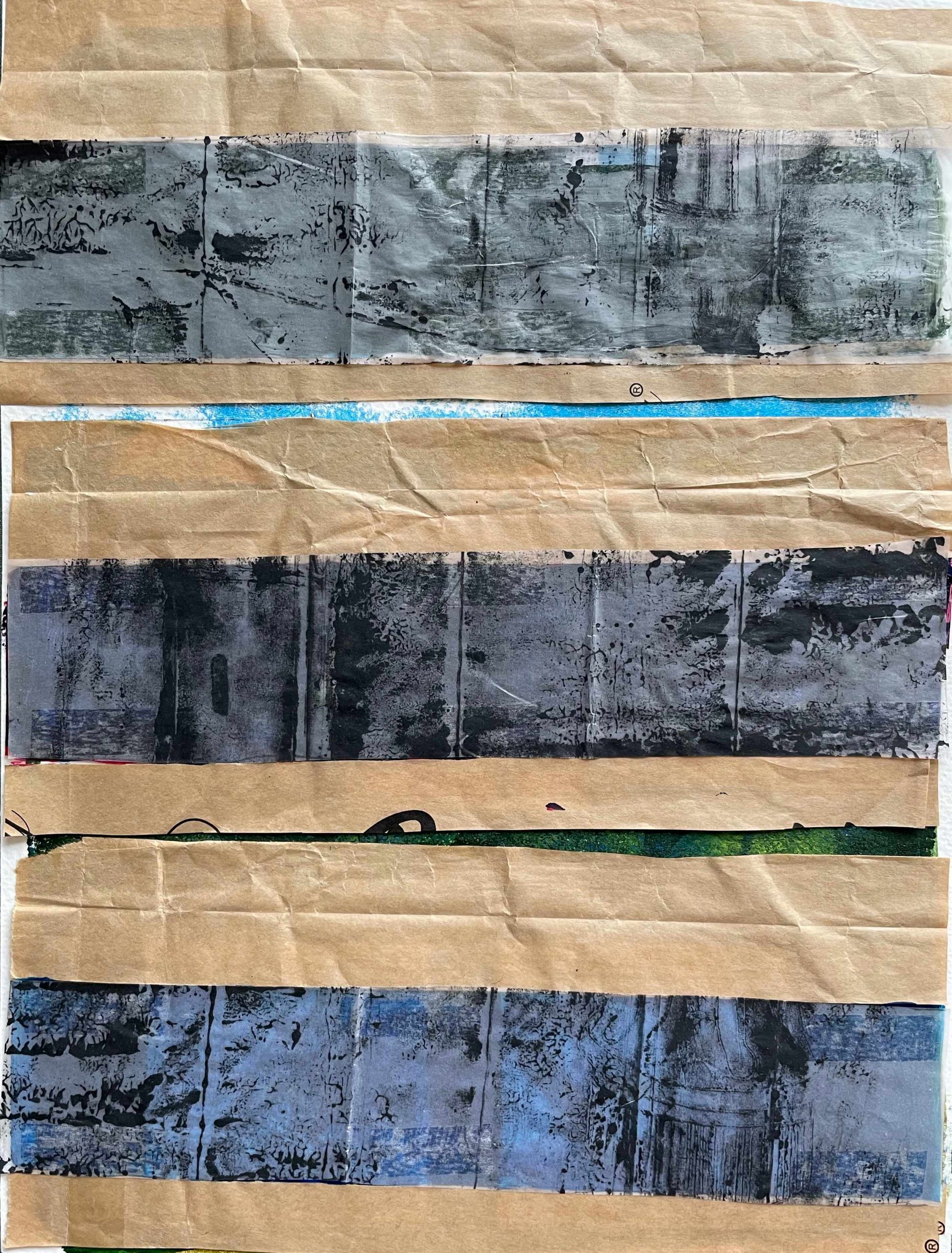 Cabinet Of Curiosities
I collect all sorts of things, even the things meant to be thrown away. These can be useful if we think outside the box. I pasted those on pieces of cardboard then rolled ink over before printing on paper. I cut strips of the bread packaging, pasted the top edge then covered the plastic side with paint and paper. You can flip the sleeves like opening a cabinet.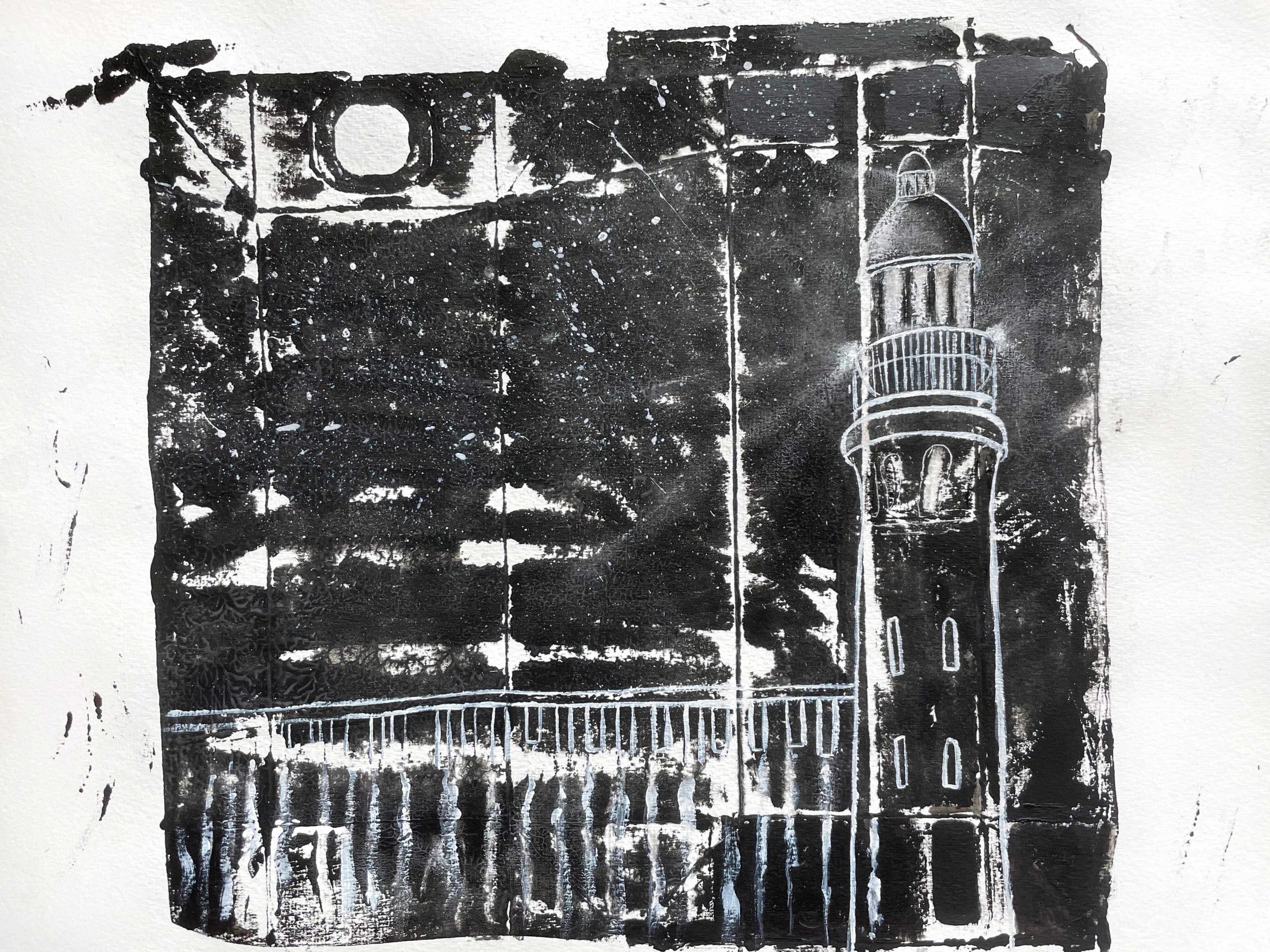 Look to the Light
The lighthouse reminded me of the time when it was dark in the forest, and I only had a flashlight. I felt fear looking beyond into the utter darkness. However, when I looked to the light, I knew where to take the next step because it guided me where to go.
I applied block printing ink on the surface of the milk tetrapak then made a print. Once dried, I used white paint to draw the lighthouse and used white soft pastel to create the light.
Shophouse
The old and charming shophouse was my inspiration for these prints. I drew the shophouse on tracing paper then transferred it onto milk tetrapak. I used an awl to create incisions on the drawing, then used a blade to peel away some of the areas that I wanted darker. The sunken areas hold the ink.

I used a toothbrush and onion mesh to apply the ink, then tissue paper to polish and remove excess ink. I soaked the paper for 20 minutes and patted it with a towel before placing it above the tetrapak to make a print.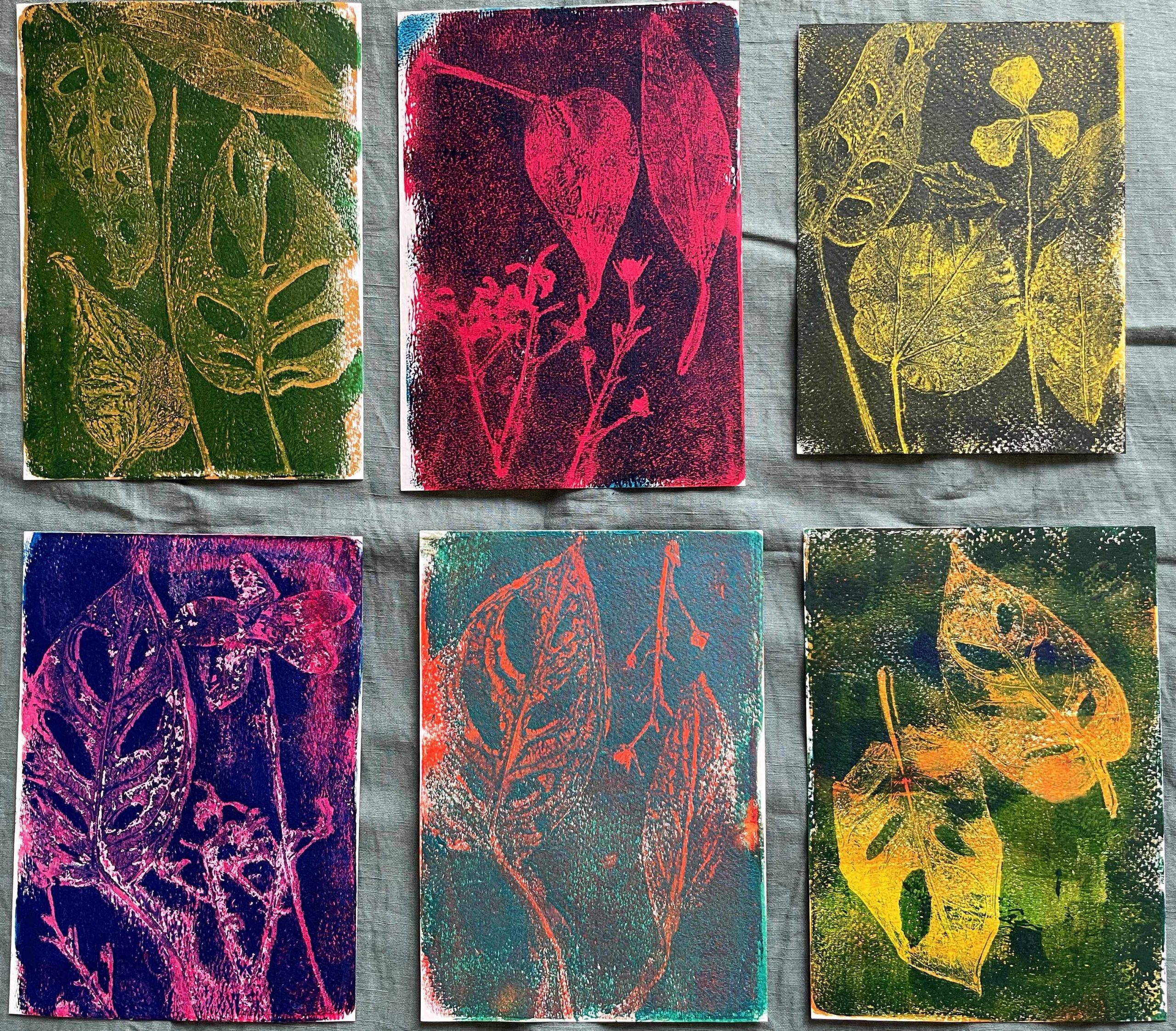 Leaves Print
Series of indoor plants prints. Leaves used were the pruned ones or those that were aging or dying.
Clockwise (left to right)
Kindness
Love
Joy (4.5 x 6 inches)
Patience
Self-control
Peace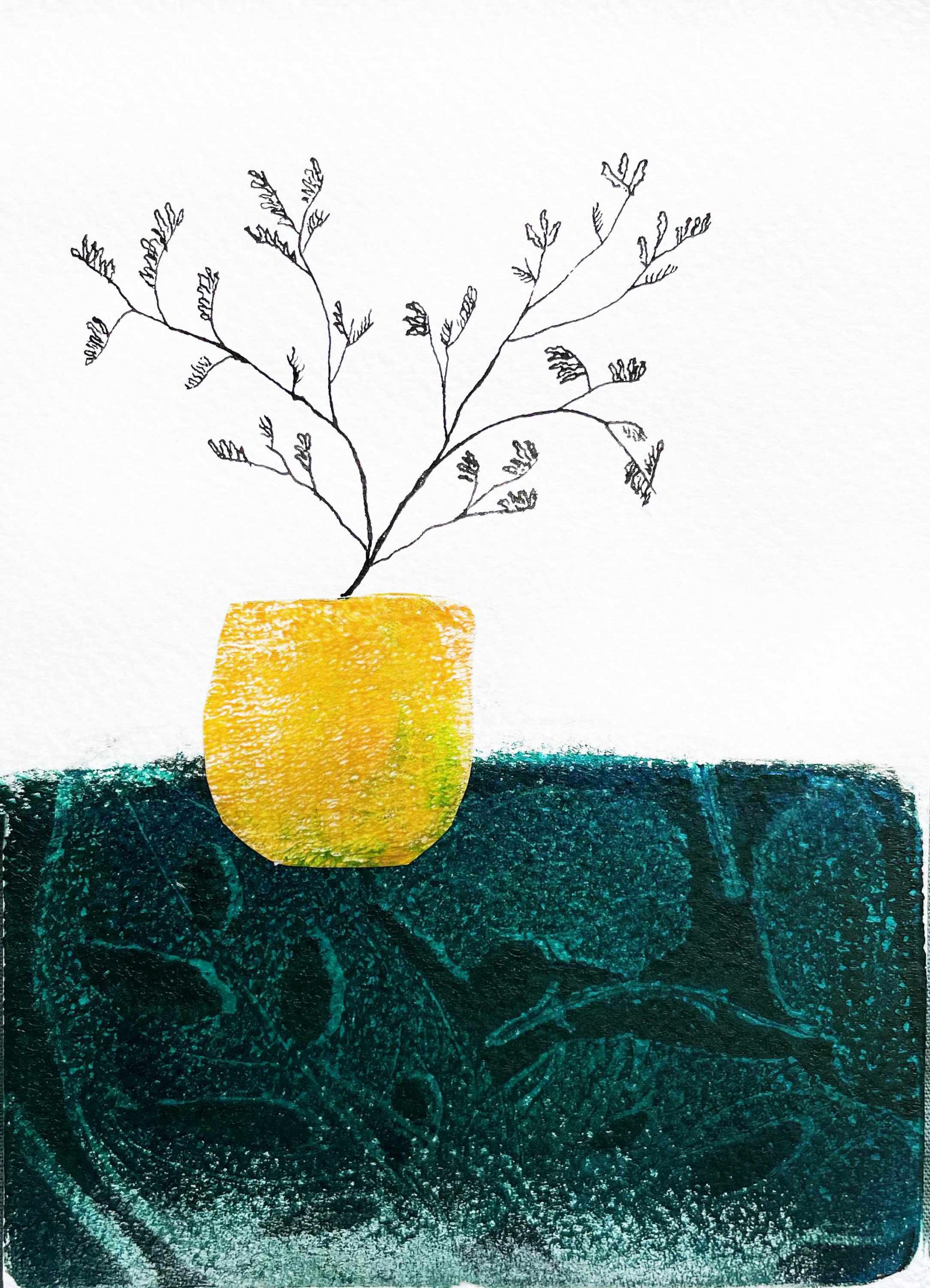 Imagination Sprouting
Imagination is a must when creating artworks. I like to close my eyes and imagine—an idea, taking root, sprouting shapes, and colours. Often there are competing ideas and what-ifs. But there's always one imagined idea that refuses to let go until I'm brave enough to put it on paper.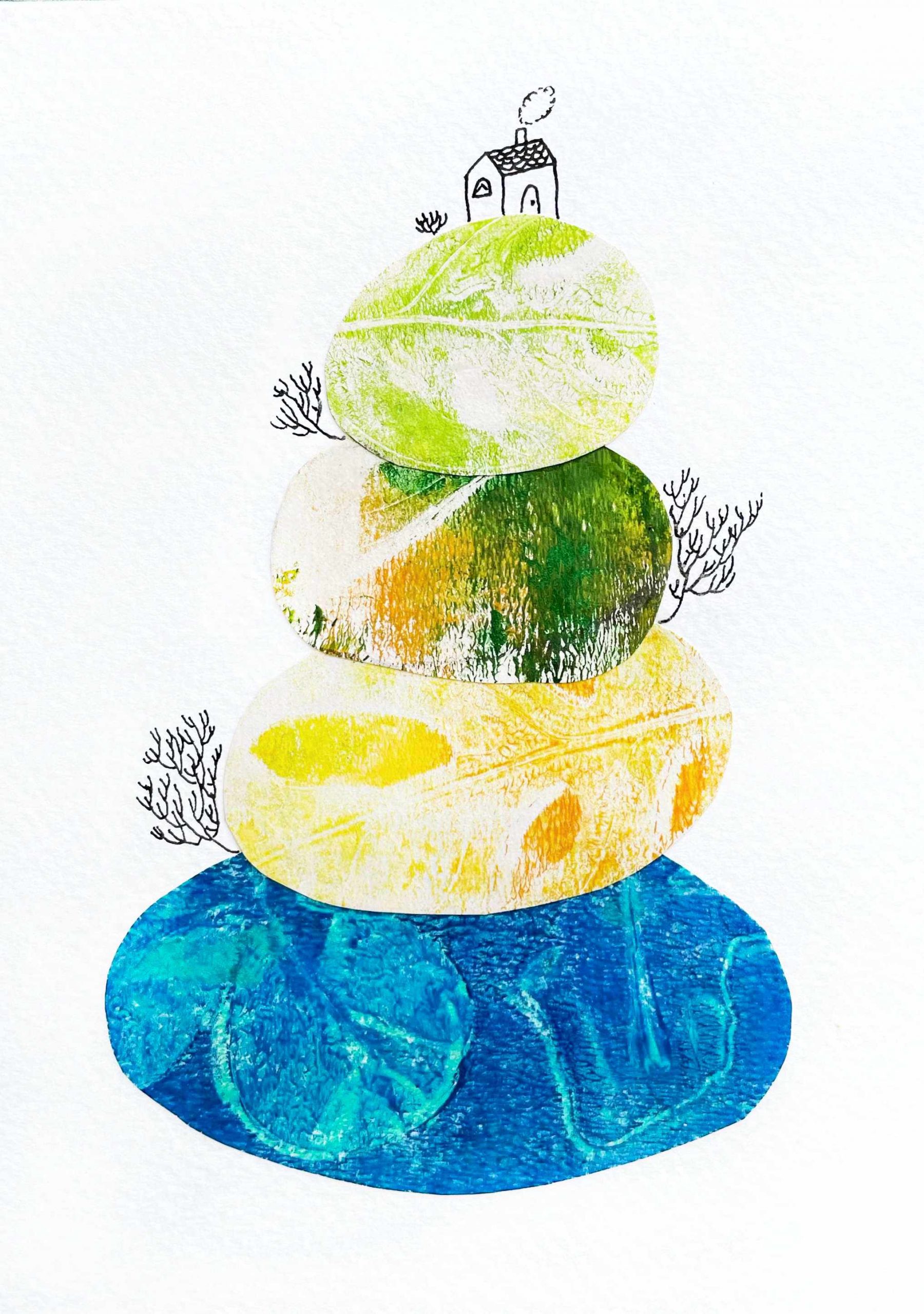 Firm Foundation
I want to build my house on the rock, a firm foundation that can surely withstand storms, floods, and wind.
Drawing Preserves
Drawing sharpens the eyes to see the little details, beckons the mind to remember the fleeting moments, and stirs the heart to ponder the many questions and answers.
This plant is called an oxalis. It died because of pests. I'm glad I preserved its beauty and memory through drawing.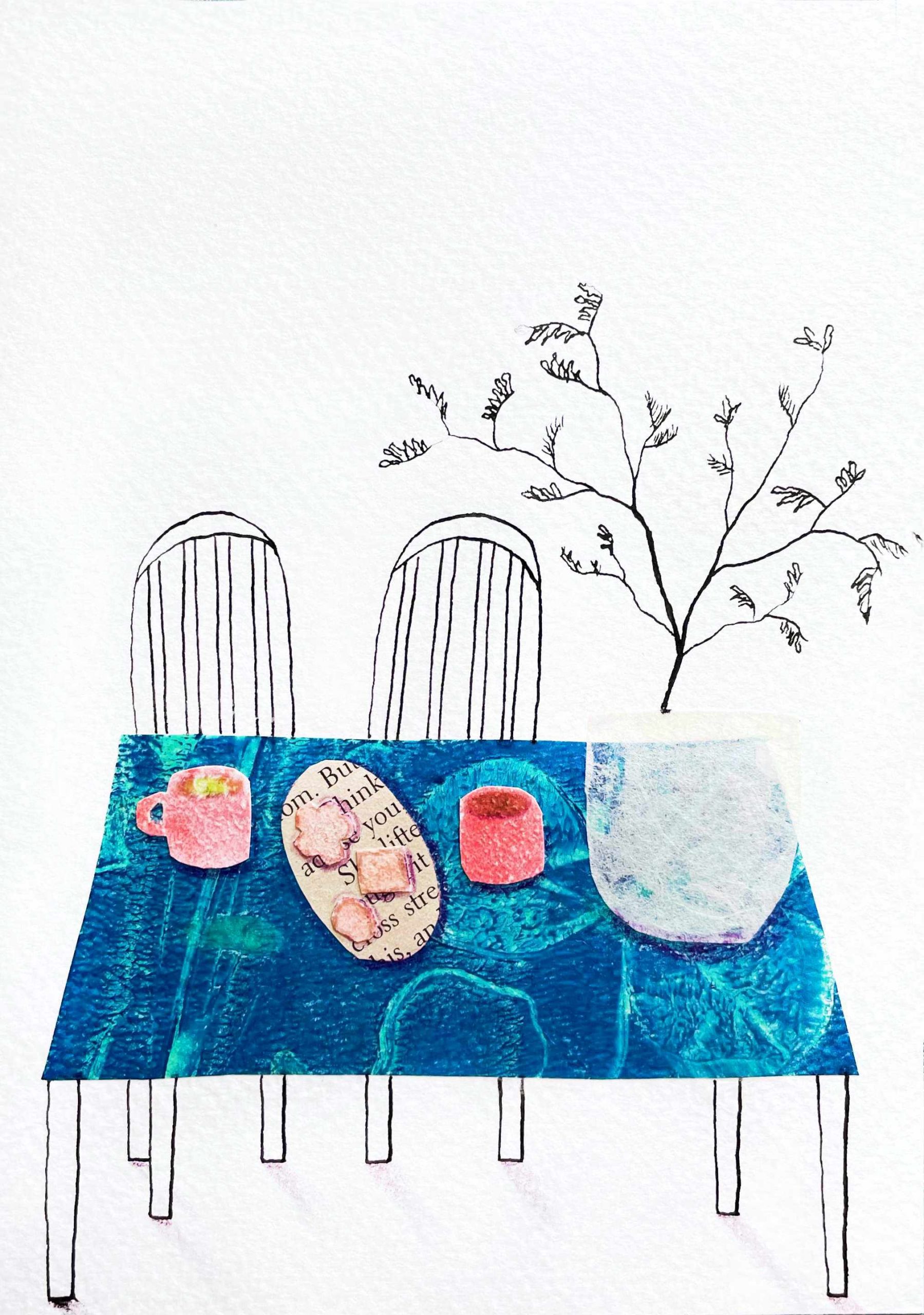 Make Time
One of the memories of married life that I treasure is the setting of intention, time, and space to be together. Our ears are open to listening, eyes are on each other, hearts are motivated to empathize and ponder, and our minds are encouraged to dream and layout every plan in prayer.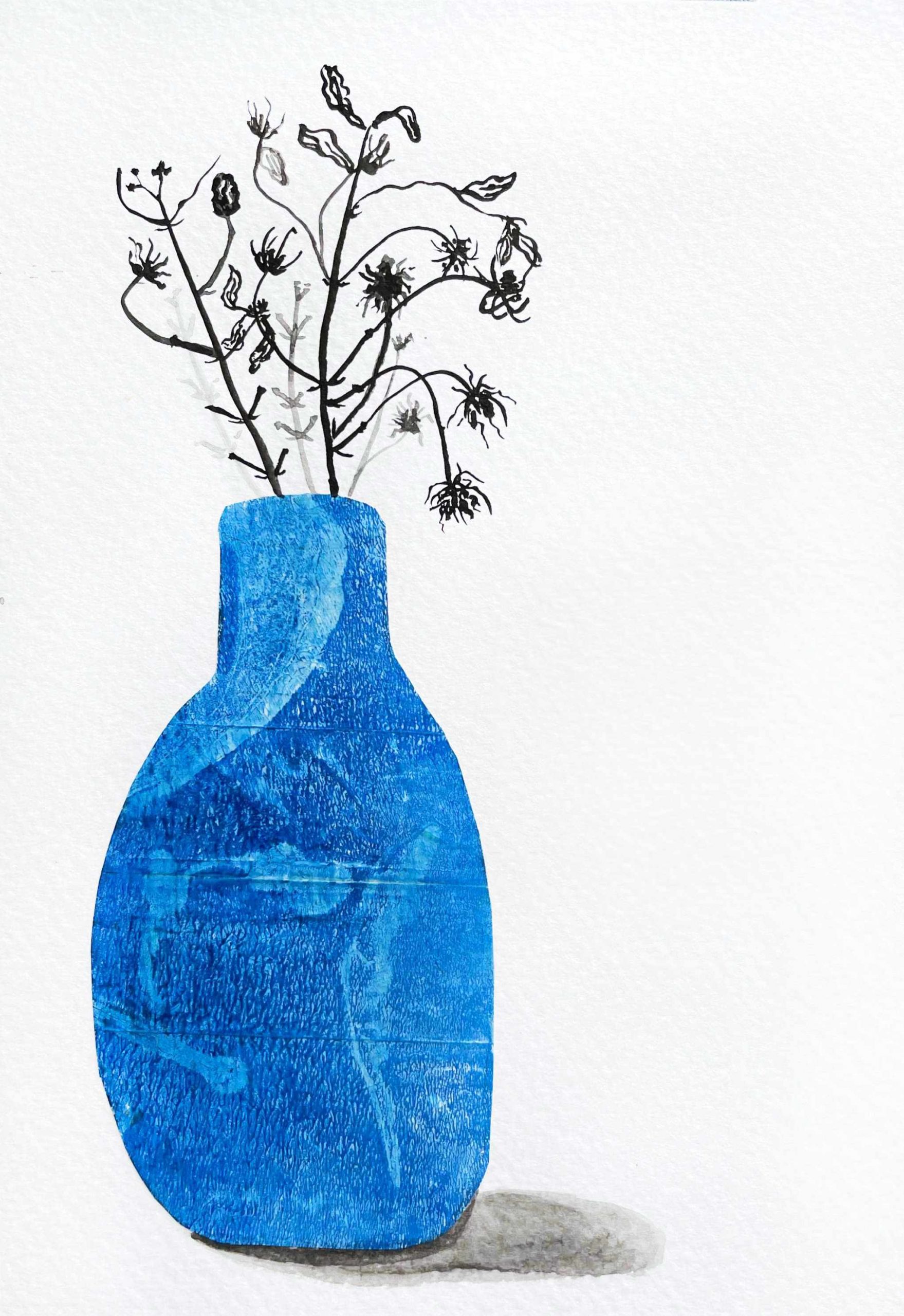 Loved and Accepted
The shriveled, past its glory flowers–still accepted, loved, and admired. There is comfort in knowing that we are loved and accepted despite failures, weaknesses, and unmet expectations.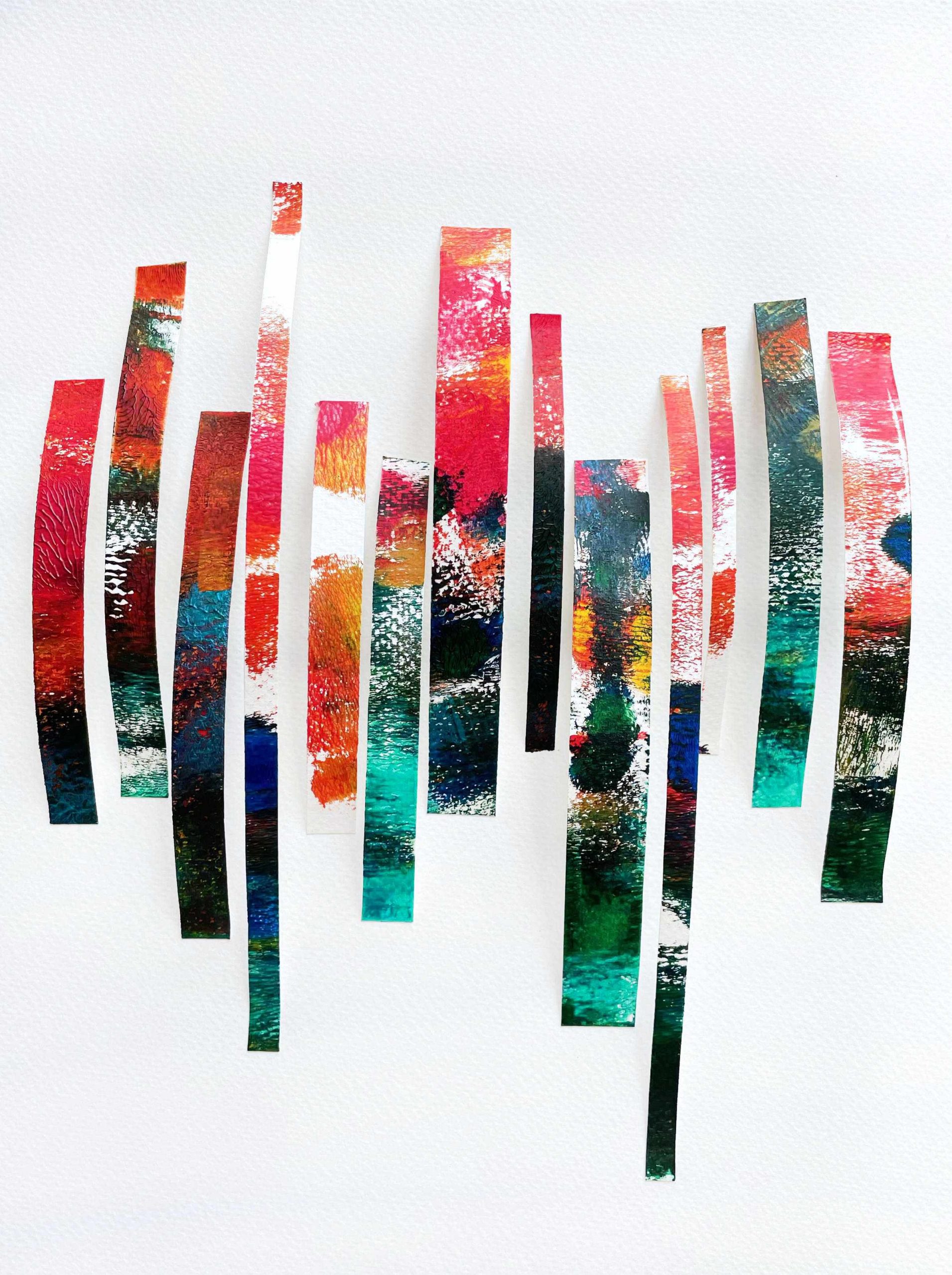 The Rhythm of Life
When I printed each strip of the paper, they were all bent. I decided to stick both ends to create an arc. Each strip represents a day in my life with peaks and valleys.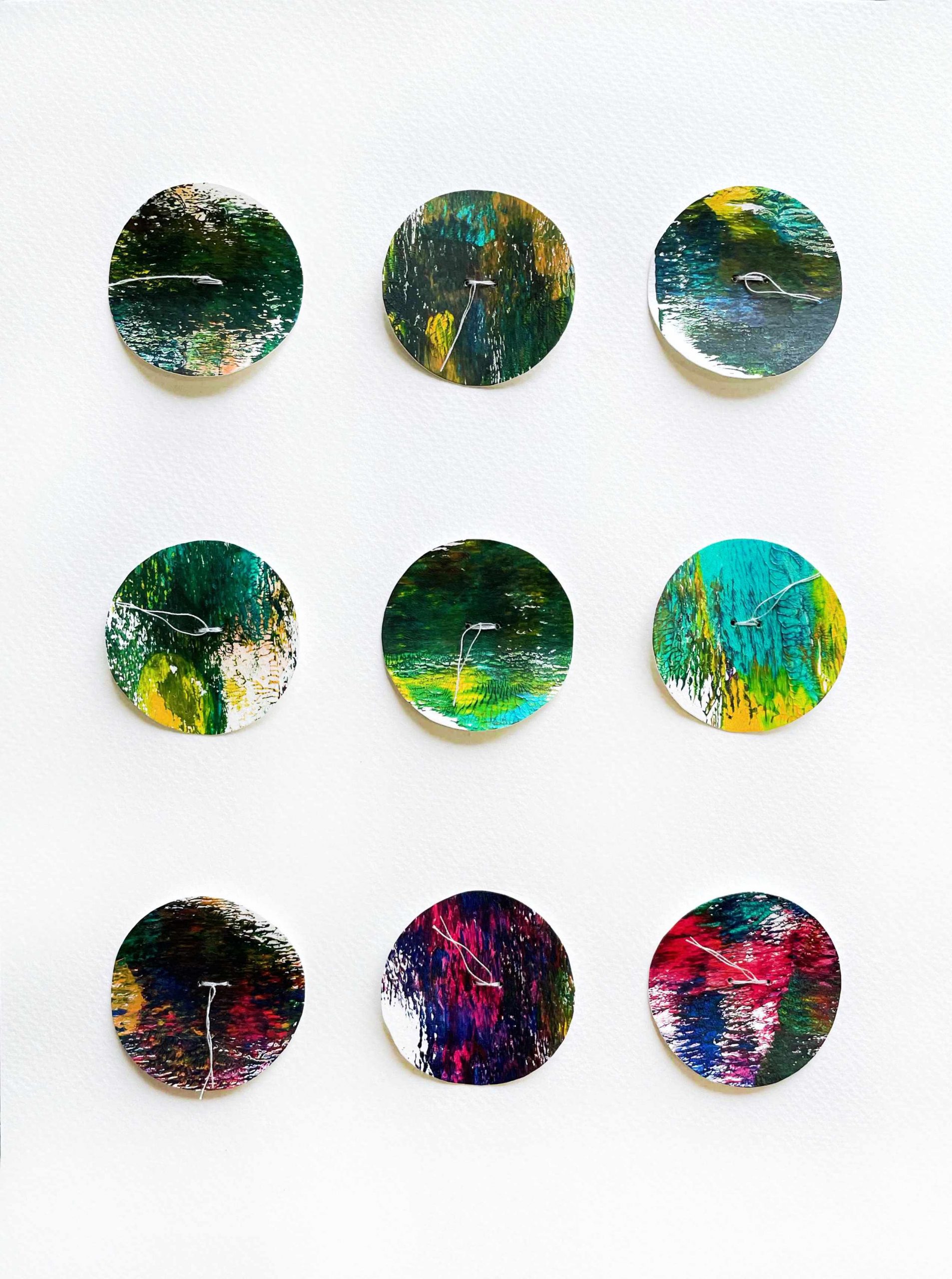 Make Memories
I create memories of things that matter to me, and each of them is like a gift that I want to treasure always.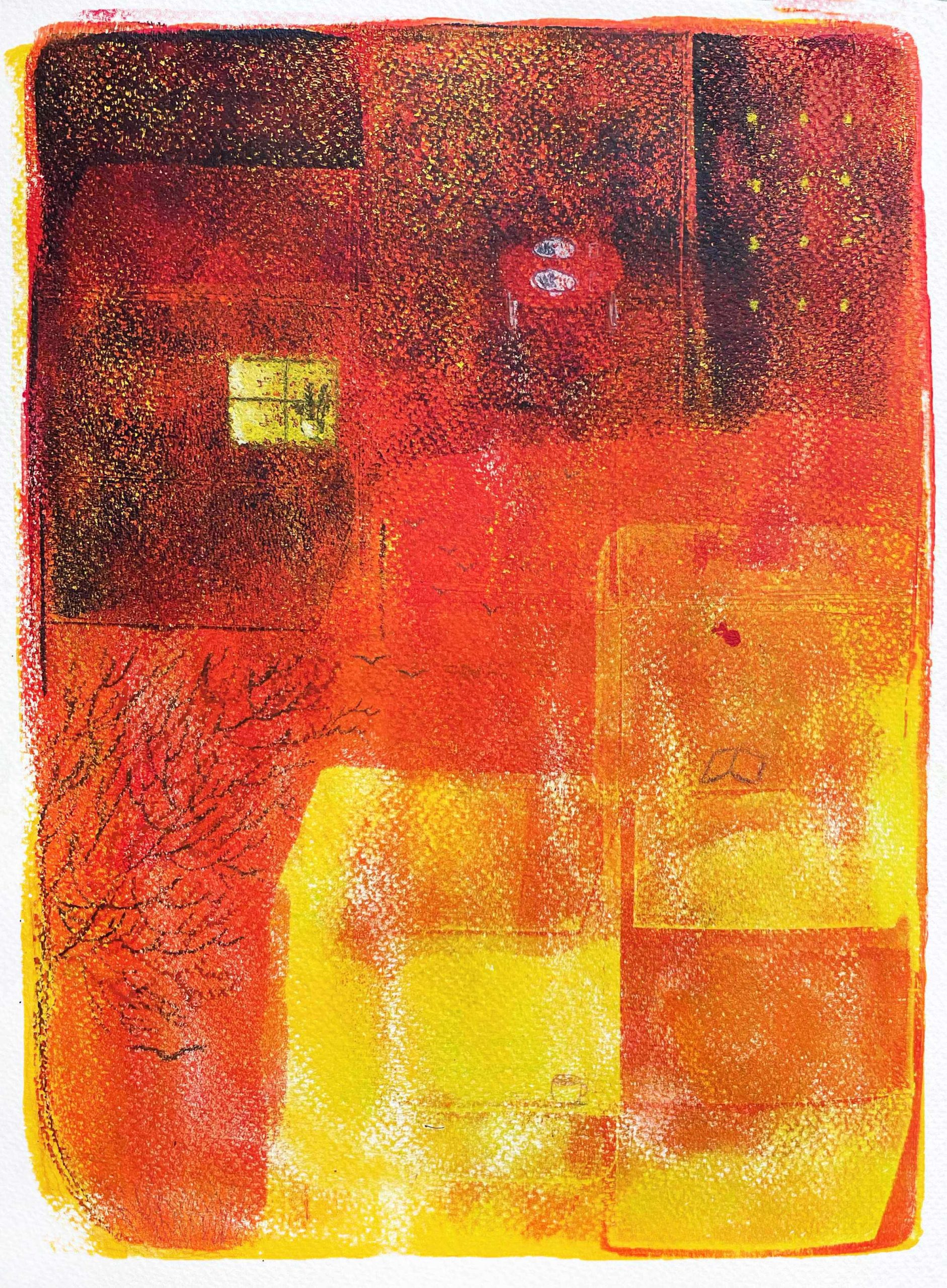 Dusk Approaching
As dusk approaches, I come home and rest my weary body. You can see snippets of the things that I do.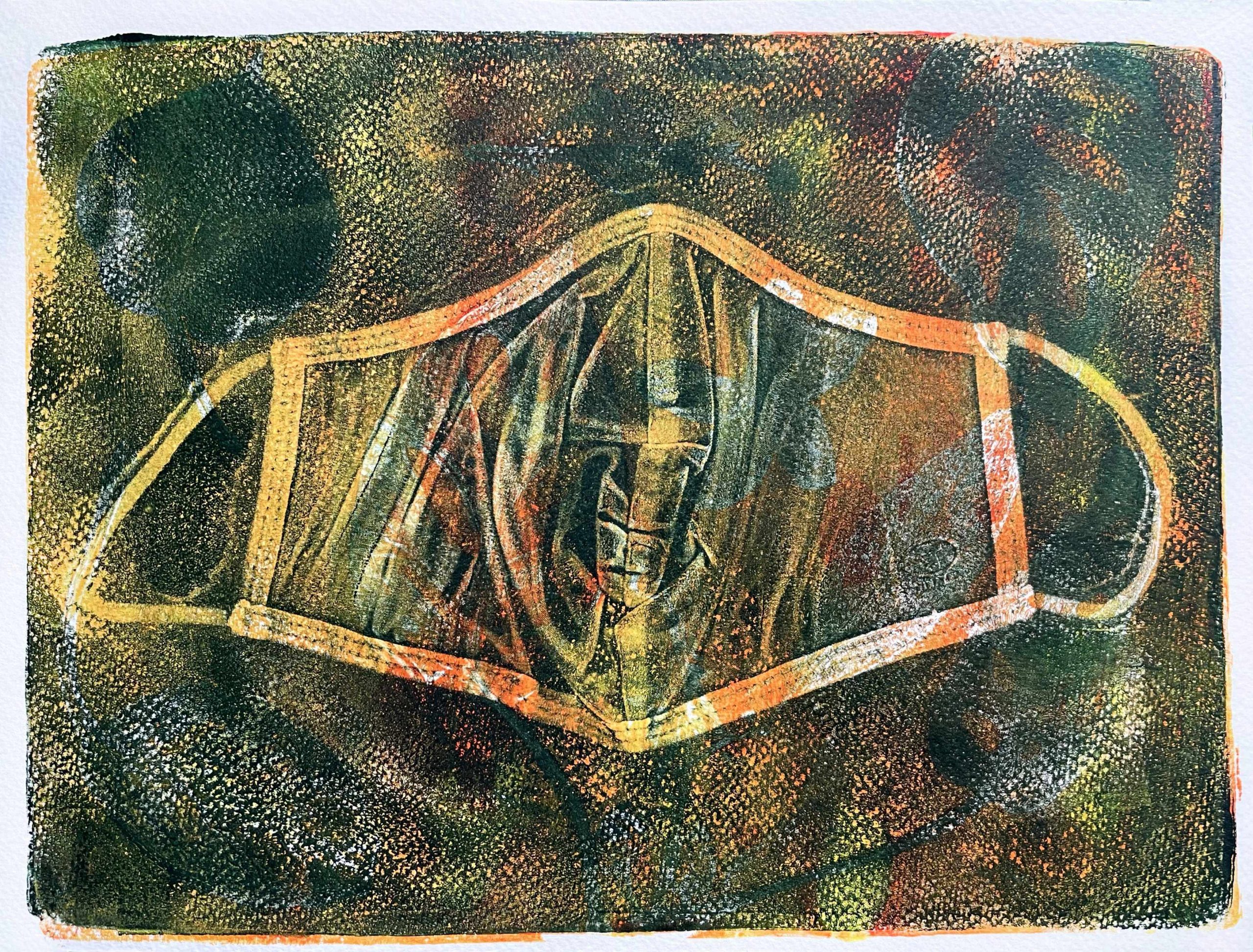 Mask Up
Mask is part of our apparel for now. I used an old cloth mask to create a print. I added leaves, but the dark color covered it as if darkness won. But…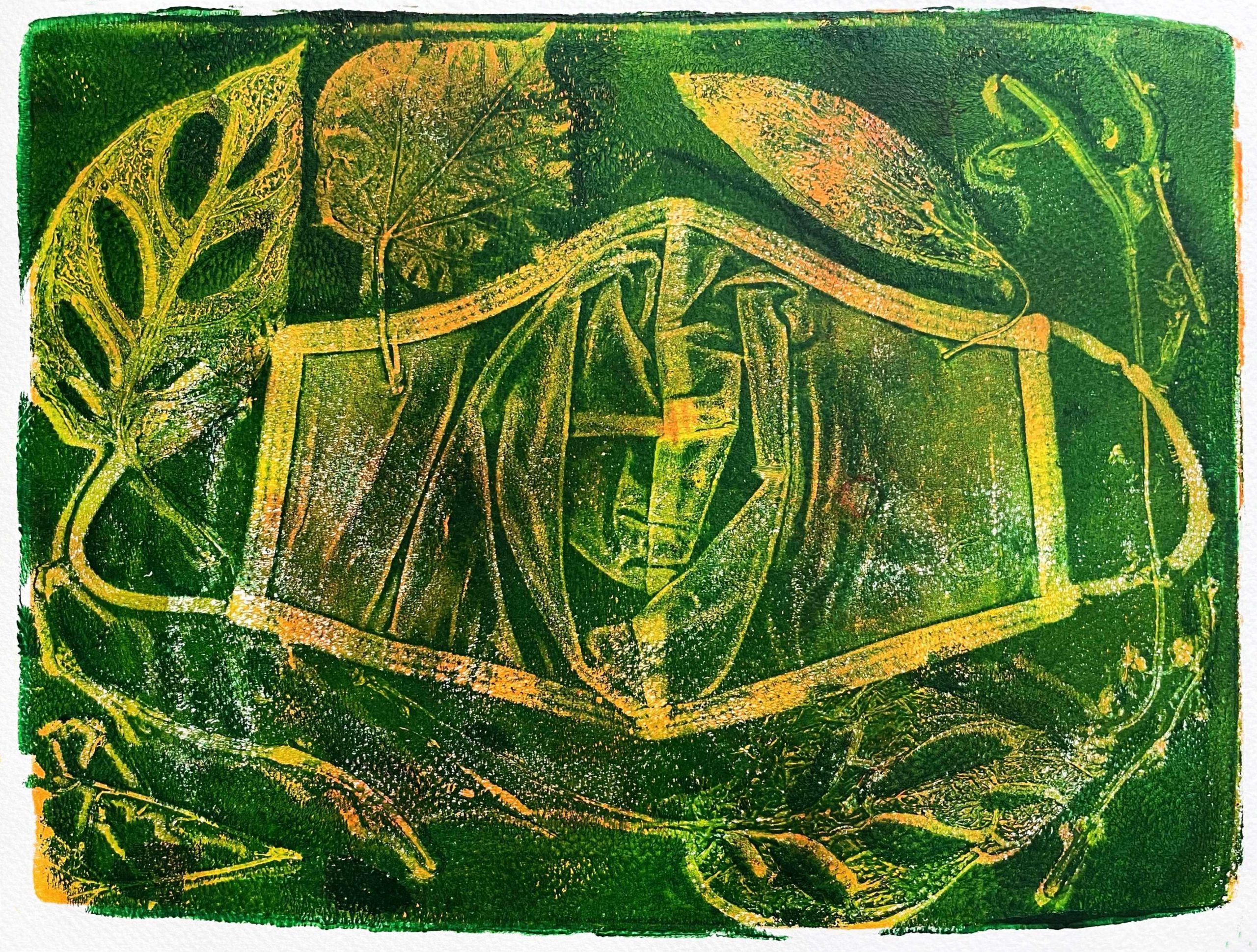 Overcome
…there is light at the end. Leaves will sprout again, the sun will rise, there will be healing and restoration. Together, we can overcome this season.
About Hearth
Hearth by Art Outreach enabled me to create a body of work that resonates with the cause that I'm passionate about and to explore ways of taking risks in making art. Moreover, they gave me a platform to encourage others to see the potential in the waste materials that we incur daily and inspire them to give those a second chance.
Thank you to all the Art Outreach staff and review panels for your support throughout this project!