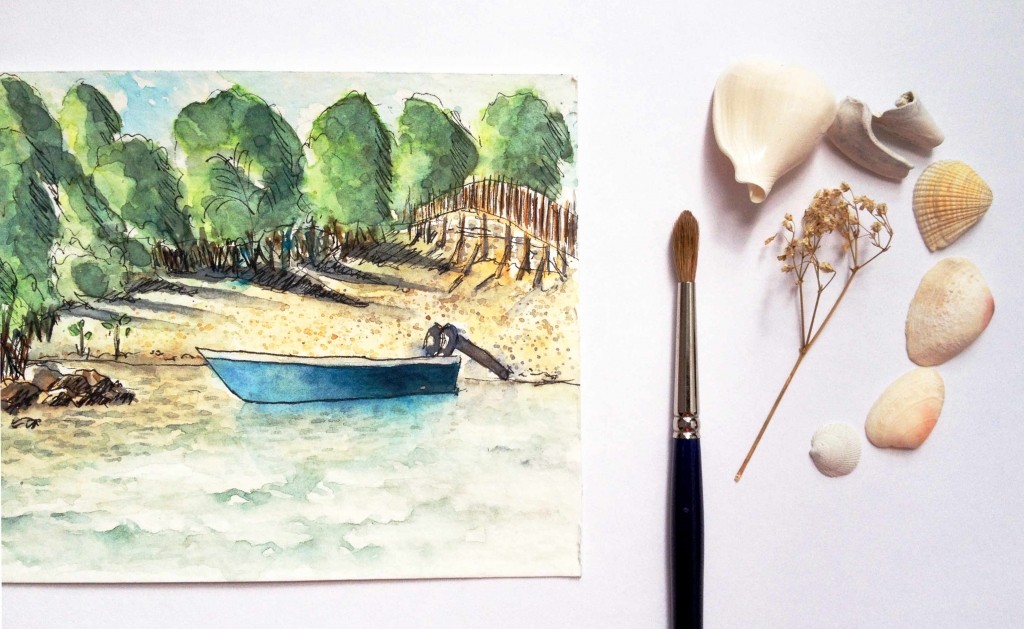 Telunas Beach Indonesia (watercolor and pen on paper)
Creativity is about making time to create something meaningful. Children are one of the most creative people that I know. They think of ideas, try them out and get their hands dirty. They create from a place that is full of wonder and joy.
The truth: we are all creative because God is creative. However, it slowly began to diminish the moment we get affected by criticism and lack of support, consume too much media, being told often what to do, and shut down of ideas. Sadly, even kids these days feel they were not creative. One child told me that he is not creative enough. He feels easily bogged down by mistakes. Another student had her artwork compared with another kid. Comparison led the child fail to see the wonderful works she has done in the past. It made her fail to see that she is made different and unique like everyone else. She failed to see that everything needs hard work. I too have stopped myself from making art for a while because of the desire to put out something nice. The burden of perfection and aesthetic of an artwork  gave me a weariness to not create anything at all. Moreover, devoting my energy to look at other people's beautiful works of art only made me feel that no matter what I do, my art won't be as nice as theirs.
However, all that has changed and I wanted to share with you my work in progress when it comes to nourishing my creativity and imagination.
Fix my eyes on God. God is creative (He created the universe!) He made me creative and He loves what I create for Him. I pray and meditate on the truths in the Bible, rely on God's grace and partner with Him to create something that I may serve others for His glory.
Sketch with a pen. Ever since I started sketching with a pen I have never looked back. Pen is permanent–it allows me to express the beauty of this world–crooked lines and all.
Enjoy the process. As soon as I try to focus on process over product, I began to enjoy the learning and discovery, and turning mistakes into something I wouldn't have thought of. Every artwork has a story behind. Let's get to know them.
Stand up and walk. When I feel stuck and choose to sit in front of the computer, I feel drained all the more. But once I stand up, walk, rest and look for inspiration outside of the four corners… I am well recharged.
Learn from others. Instead of comparing, feeling envy or frustrated whenever I look at other artists' works… I can learn, celebrate, and be inspired by their creative journey.
Join something. I find that joining a creative activity or group will not only inspire my creativity but it also gives me a wonderful open door to meet new artist friends. World Watercolor Group is a good place to start. :)
Teach. I realize that I don't need to be an expert to teach. I have my own process of creating and that is more than enough to share and help others start something their own. The best part? I learn a lot.
Share my work. With the intention of inspiring others and helping them move a little in their own creative work, I desire to share my sketches and paintings regardless if they look nice or not.
Do something creative everyday. It doesn't only have to be art. I read books, water the cactus, do chores while brainstorming ideas, cook something different, listen to music, go for a run while savoring the things around me, write a letter, meet with a friend, talk to a stranger…. so many possibilities to be productive with our imagination through creativity.
Whatever field you are in, whoever you think you are–you are creative. Creativity encompasses all that we do even the most mundane task because there is always room for improvement.
I want to know: Do you think you are creative? How do you nourish your creativity and imagination? I would love to read your words/list and share it on the next blog post to inspire others!