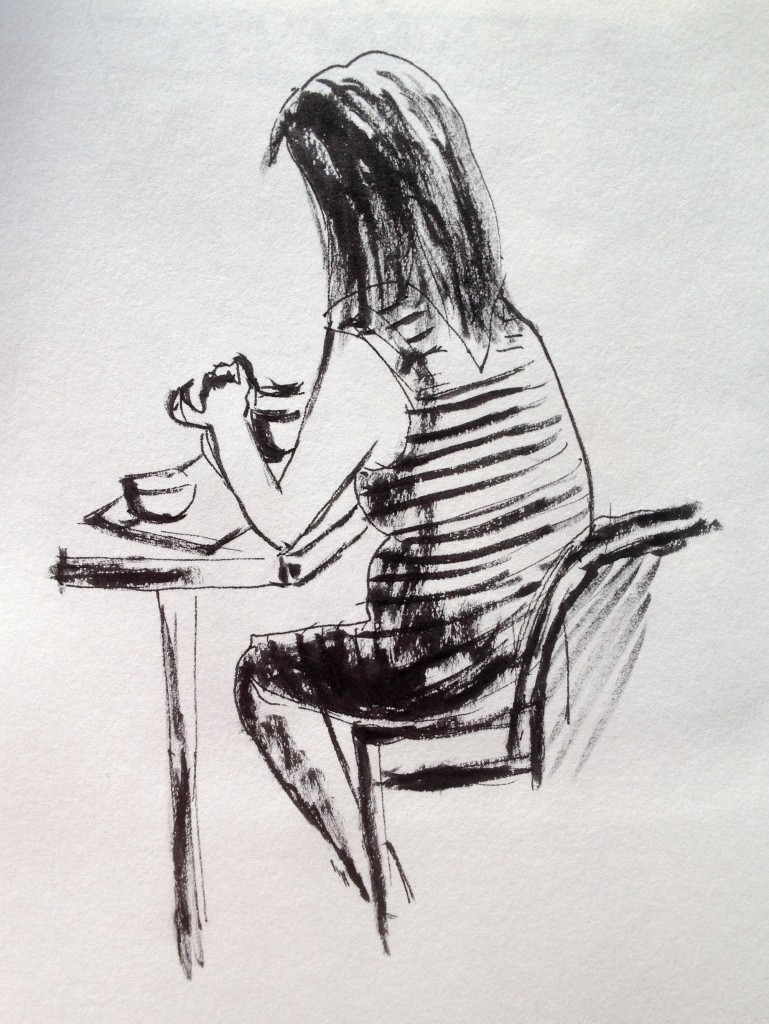 "Lady Eating" ink on sketchbook
Taking photos is something that I would instinctively do whenever I see something that captures my attention. Maybe because it's faster than sketching and I can easily move on to whatever I need to do or go next. However, if I carve out a time, I can grab a sketchbook and pen to savor the moment more.
If you haven't tried sketching your life before, I wish to encourage you that it is good for you because…
it enables you to slow down amidst the hustle and bustle of life.
it helps you to notice something you haven't seen before even if you pass by it often.
it trains your observation muscles to see with an artist eye (i.e color changes due to light and shadow).
it hones your sketching skills, enabling you to express in various techniques.
it helps you appreciate life and savor the beauty of this world.
it connects you with people (especially when you sketch outside!) and inspire them with your story.
it nourishes your creativity and imagination and art practice.
it encourages you to not fear imperfection or mistakes (and gives you confidence!) especially if you sketch using a pen or non-erasable materials.
it develops your own personal style as an artist.
it helps you stay committed to the process (of sketching and learning) rather than worry about the aesthetic of the outcome.
it gives you a reason to fill your sketchbooks and use your art materials!
it is FUN and RELAXING!
Have I convinced you enough? I hope so! :) Now here's a challenge for you: Sketch one thing, place, person, animal, anything (!) wherever you are today until this weekend (along with a short sentence about your sketches) then send it to me (lis@harmonythoughts.com). I will feature your sketches here in the blog next week so we can all enjoy and inspire one another. Come join! :)
PS* In response to my email/blogpost last week, artist, Joellen Kemper shared what she calls an unusual story about her creative life and how she continues to nourish her creativity. I hope her story inspires you as much as it did to me!
Most artists grow up drawing, painting, etc. While my parents said I was artistic when I was younger (I think they might have been biased because I don't ever remember Lol), I actually stopped taking art after 7th grade. My teacher wasn't very nice or encouraging, and I didn't want to be in her class the following year. It was a bad experience and I really had no desire to draw or paint following that. 
Looking back, I always had a deep desire to be some sort of artist. Taking dance classes, playing my flute, and sewing clothes. I never once considered myself the least bit creative though. I studied math and science in college and so I entered the medical/research field. It has been alright, but I have always felt like I was still searching for my niche. 
Three years ago, my mom asked me to take a quilting class with her. I was reluctant (thinking, isn't quilting for grandmas?). Well, I had to bite my own tongue because I fell completely in love and that was the start of an artist's journey for me. I loved playing with color and pattern and getting lost in a project. 
Then, last year, I felt myself getting frustrated with this feeling that I wanted to be an artist, but I wasn't sure in what way. My faith in God grew immensely that year. It was confusing and depressing at times because I wanted to get some sort of direction.  God worked with me and I had some humbling that needed to be done before He would truly let me see. 
This past March, I was honest with myself- if I had no fears, no inhibitions, if I could do ANYTHING- I would be a surface pattern designer, primarily designing fabrics for home sewers. It was so scary to be that honest with myself though. I hadn't really drawn since that 7th grade art class and had no idea where to start. 
Since March, I have been drawing/painting/learning adobe illustrator. I try to develop my style. Your Skillshare class was so, so, so helpful for me. I watched it at a low point when I felt like I was really struggling drawing. This past month, I just finished up my very first workshop in Surface pattern design, in which I created my first patterns! Now I am hooked!! I know this is what I want to do and to share it with others. 
I still have a long way to go. I'm still insecure when it comes to my initial sketches for a design- sometimes I feel like I don't even deserve to do this. But deep down I really feel like this is something that God has given me a desire for and any "success" that I might have one day will be all for His glory. So I'm taking more classes, learning, and practicing :)
More about Joellen Kemper:
Instagram: jokemper
Website: sewilluminated.com
PS* For a limited time, Skillshare is offering new users 3 months of Premium for just $0.99. That means you get to access thousands of classes that suit your interest and learn something new you can apply in your creative life! That includes learning how to sketch your life in pen and watercolor!