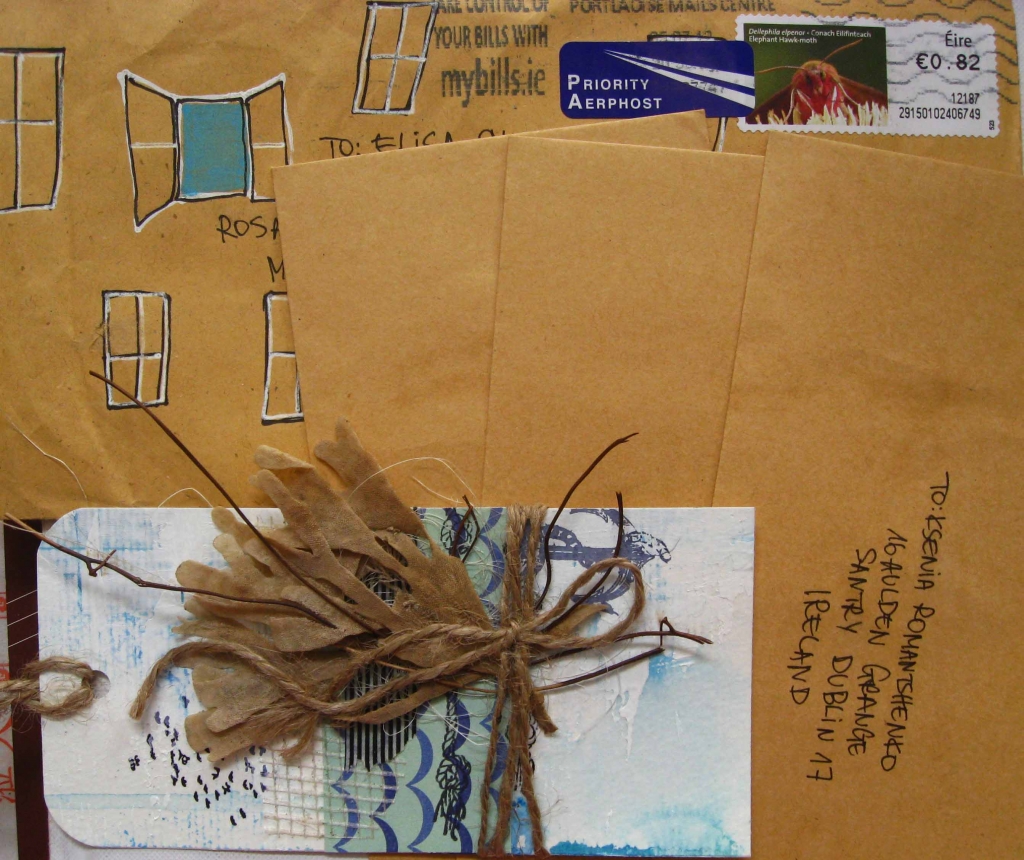 *****************************Giveaway Closed*************************
I have to apologized today for not sharing any painting as I am very busy with my class and my wrists are hurting easily these days. Right now I have to somehow ignore the numbing while I type. I think I have to spent 2 days off the computer.
I joined this mail art exchange hosted by the lovely Kissinia Rom from Ireland. She sent me a package today containing a decorated envelope with 3 small envelopes inside. What I need to do is to decorate the 3 envelopes and perhaps put something inside and send one back to her (the one with the mailing address already). The other 2 envelopes I can send it to anyone.
So…. I decided that I want to send the 2 envelopes to 2 special readers! My birthday was last July 16 and this is a way for me to thank you my dear readers (PPF Artists and non PPF alike (lol)) for all the support and love that you have given to me. Are you guys excited already? Because I am! :]
What you will receive if you win:
1. I will email the 2 winners what you will like me to draw or paint for you. This can be for you or for someone special.
2. Along with that I will put something extra special which is a secret for now.
To take part simply do the ff:
1. Share with us the one great lesson or inspiration you have learned in life. Please leave a comment below. We love to learn from one another.
2. Like my Facebook Page Harmony Thoughts and leave some love! Any message is greatly appreciated.
Deadline: July 27, 2012
I will draw 2 winners via random.org and announce it on July 28, 2012. Two packages await you.
God bless everyone!
* * *
PS* The talented Kate Mericks is hosting a giveaway and it will end on July 20, 2012. One winner can choose any print from her Etsy Shop. So much generosity in the web. Come join now! :]