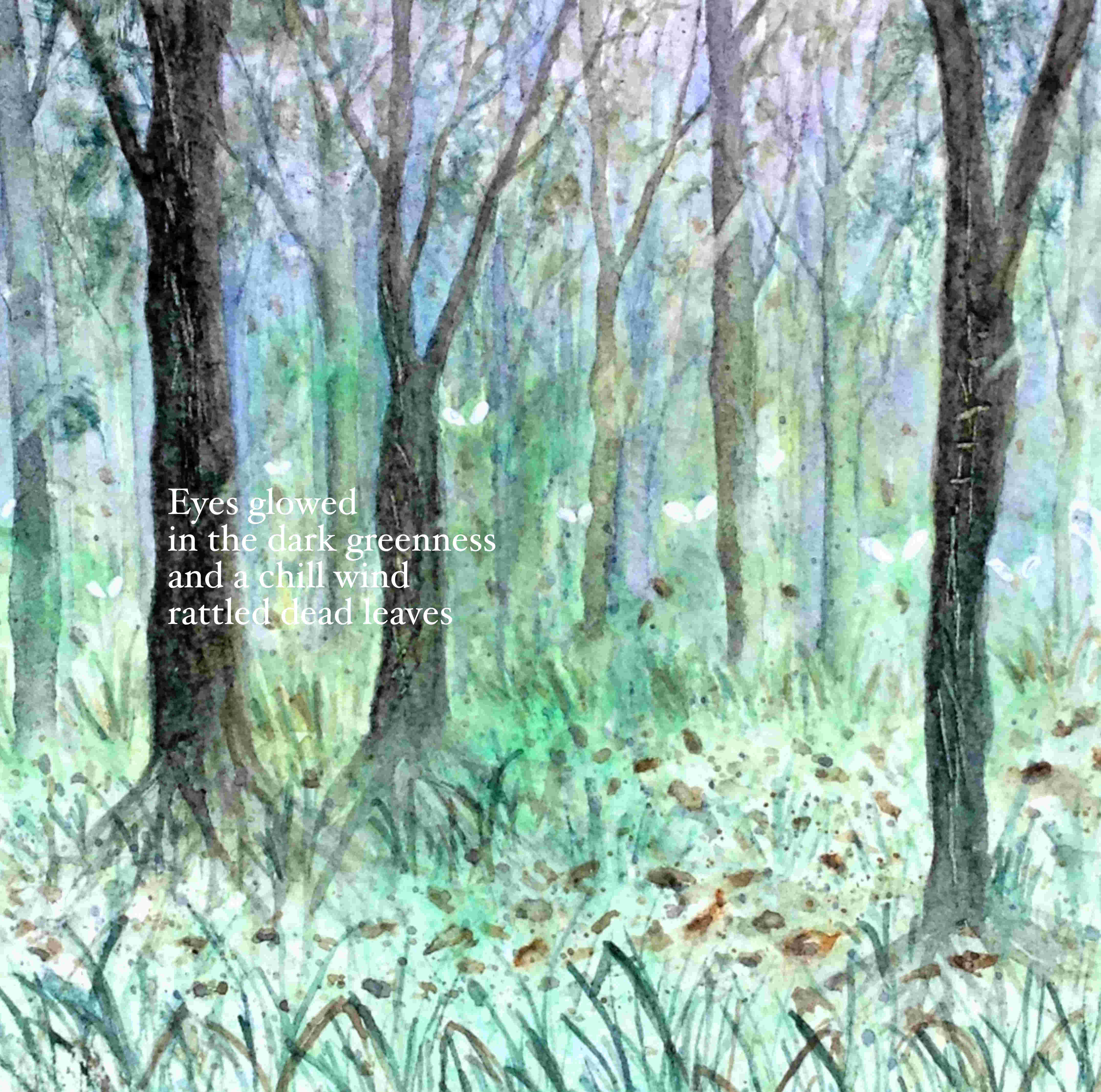 Collaborating with an author who writes imaginative stories challenges my creativity. I know I have said this numerous times before but I'm thankful to Freya for this opportunity to create artworks that I have not dared myself to create. I think that's one great thing about working with someone from a different creative field.
Freya Pickard wanted me to create an eerie, sinister feeling of a painting, because that's how the characters were right from the beginning of the story. They were at the edge of a dark woodland, at dusk, and there is a cold wind blowing, rattling the dead leaves. They can't see far, the tree trunks are dense and the shadows are dark. There is a greenness to the darkness and within the shadows there are eyes glowing and long fangs gleaming. 
I began to visualize a threatening forest. I had one failed attempt because the idea sounded good in my head but I wasn't satisfied with the outcome. Then I did a second attempt– painted the foreground trees using lots of burnt sienna and cobalt blue. While the paint was still wet, I scraped it with the end of the brush to create texture or marks possibly made by the creatures. I painted a wash of cobalt blue and permanent rose on the sky to create a cold feeling. I painted the further trees using very light colors. Then I started mixing some bright and neutral greens for the foreground and background to create a sinister atmosphere. Brown leaves were painted flying off the ground. Finally, I added some glowing eyes using a white pen.
Freya's Clippings is out now (and it's free). It contains lots of her published poems and the story Attar of Chervil (where the painting was inspired). If you wish to receive the March Clippings, please email her at dragonscaleclippings (at) gmail (dot) com with "Subscribe Clippings" on the subject line. You're going to enjoy her writing. :)