"Thank goodness for Elisa's 7 day challenges", said one artist friend about Rekindle Memories. Her statement made me think that yes, Rekindle Memories is not just about sketching, painting and sharing our wonderful memories but it's also an opportunity to try a new medium, to sketch and paint something out of our comfort zone and most of all to learn and enjoy the process of creating art. What better way than to make art together with other artists from around the world?
Without further ado, here's the February Rekindle Memories gallery and stories. Enjoy! :)
Fairfield Bridge. One of six bridges crossing the Waikato River in Hamilton. It always was, and still is, a memorable bridge that reminds me of home.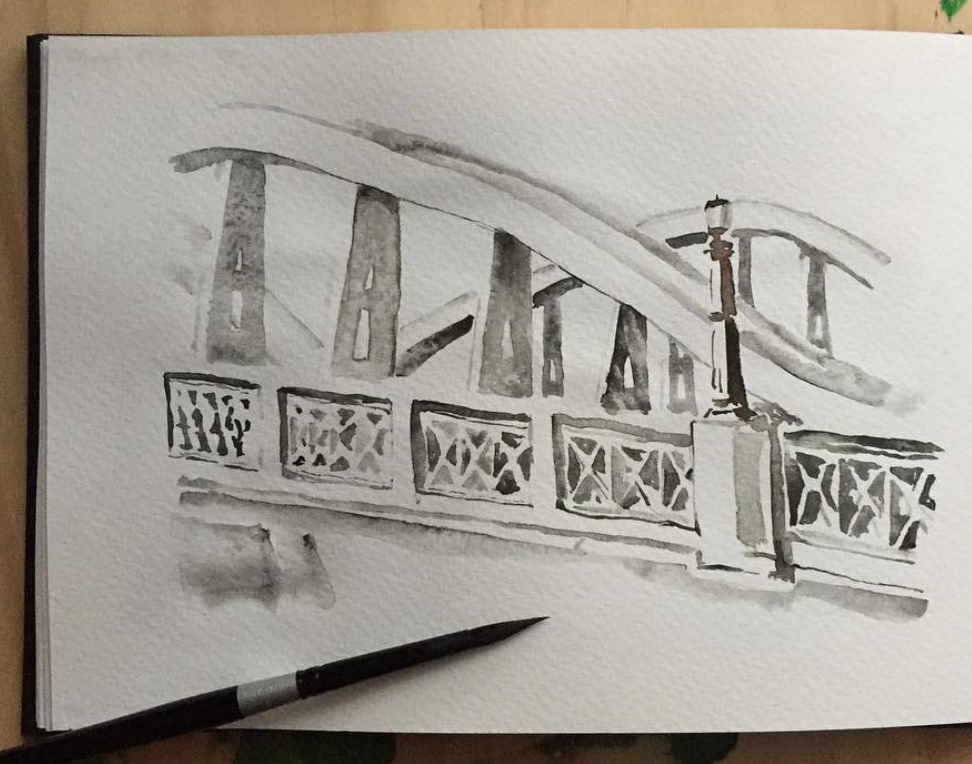 Coconut palm tree. Hmm wondering if it was a good idea I co-host this challenge. I completely forgot today was the beginning of February, and didn't remember it was the first day of the trees around the globe challenge until after 4pm this afternoon (for those that aren't aware I'm on New Zealand daylight savings time = GMT+13). Luckily I managed to pull this together, and it's only 9pm. Going with a different style this round. Hope you like it. Also I think it would be a brilliant entry for this months Rekindle Memories. As it reminds me of the days on the beaches in the Cook Islands and Samoa. The coconut palms everywhere. And it's quite nice as we're in the middle of a heat wave, but today we finally got some rain to cool down. Unfortunately for other parts of the country, due to the heatwave, this rain has caused some terrible floods. But lighter note, finally realised if I take my time on things I produce a better result. For me to say I'm impressed with my own art is something, and I'm impressed by this. Paints: White Nights, with the odd Schmincke (believe it or not there's potters pink in the tree trunks) Paper: Hahnemühle watercolor sketchbook Brush: Silver Black velvet sizes 12 and 2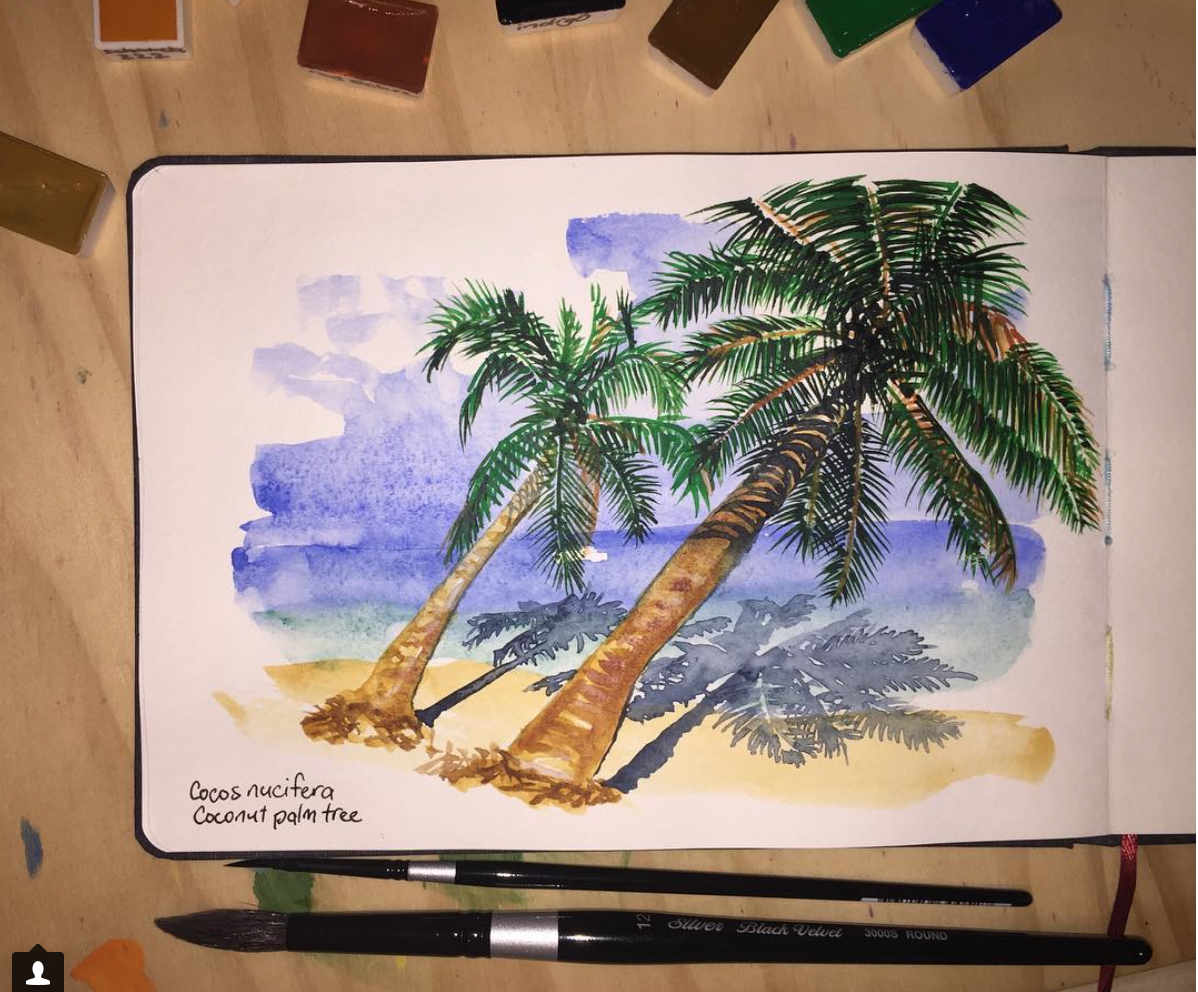 33 of 365 Always loved fish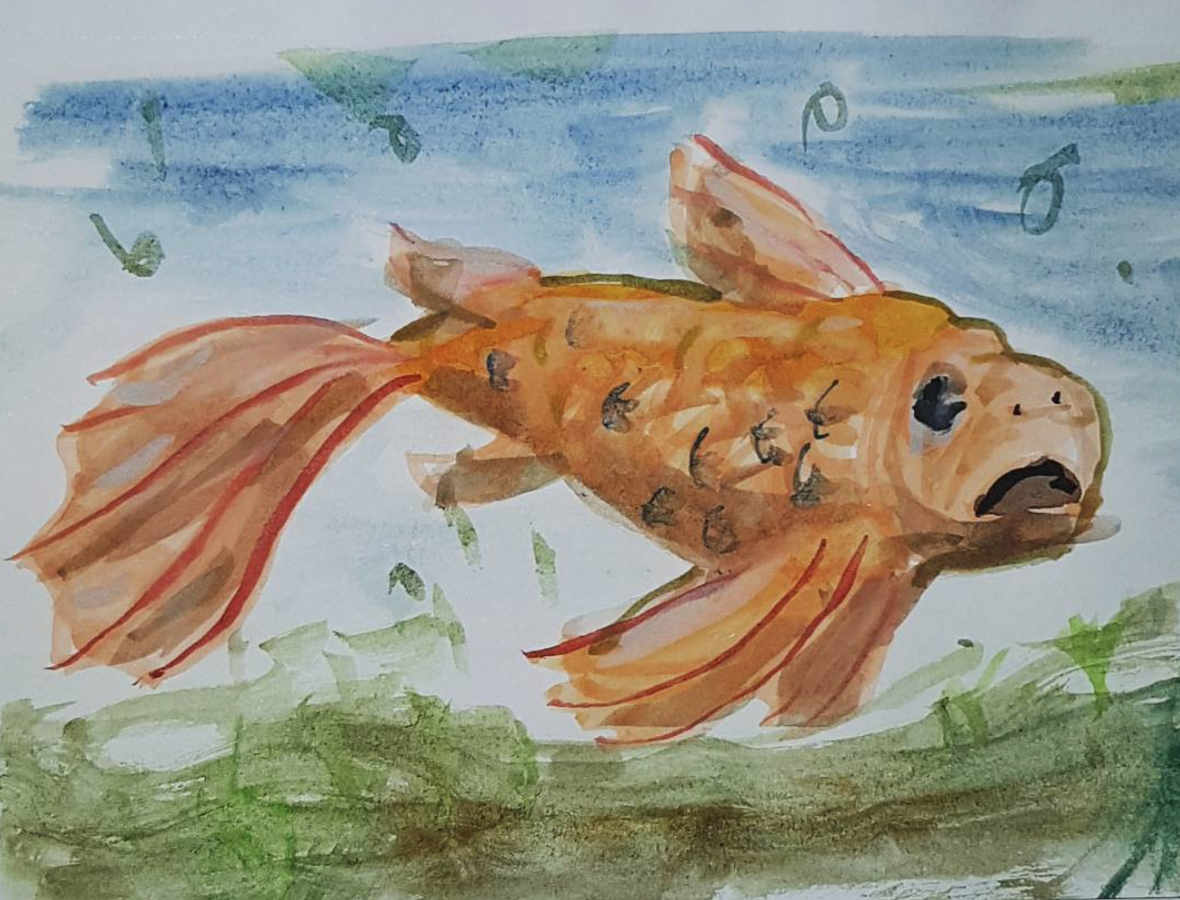 35 of 365 down the woods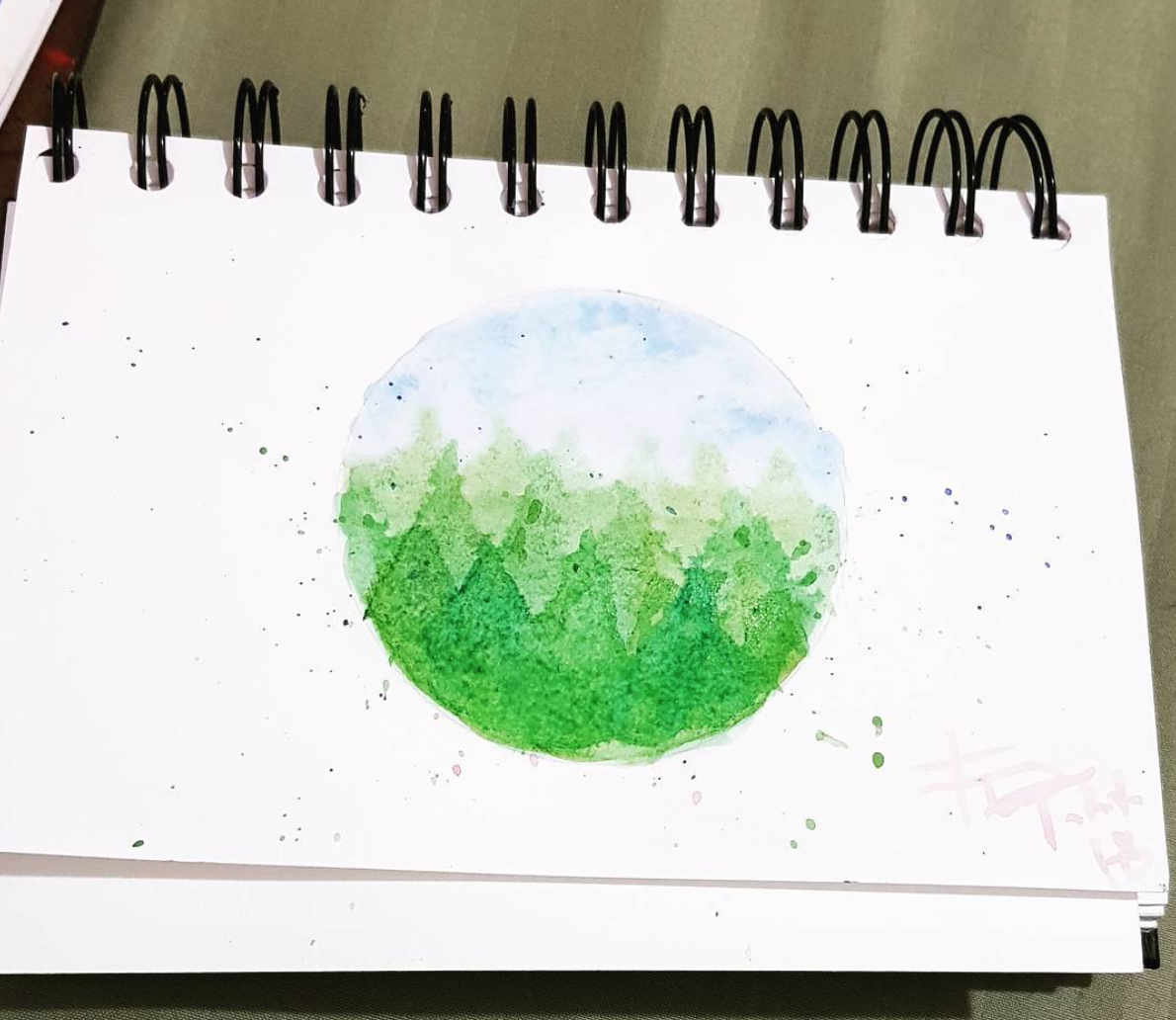 41 of 365 #beach #ubatuba
43 of 365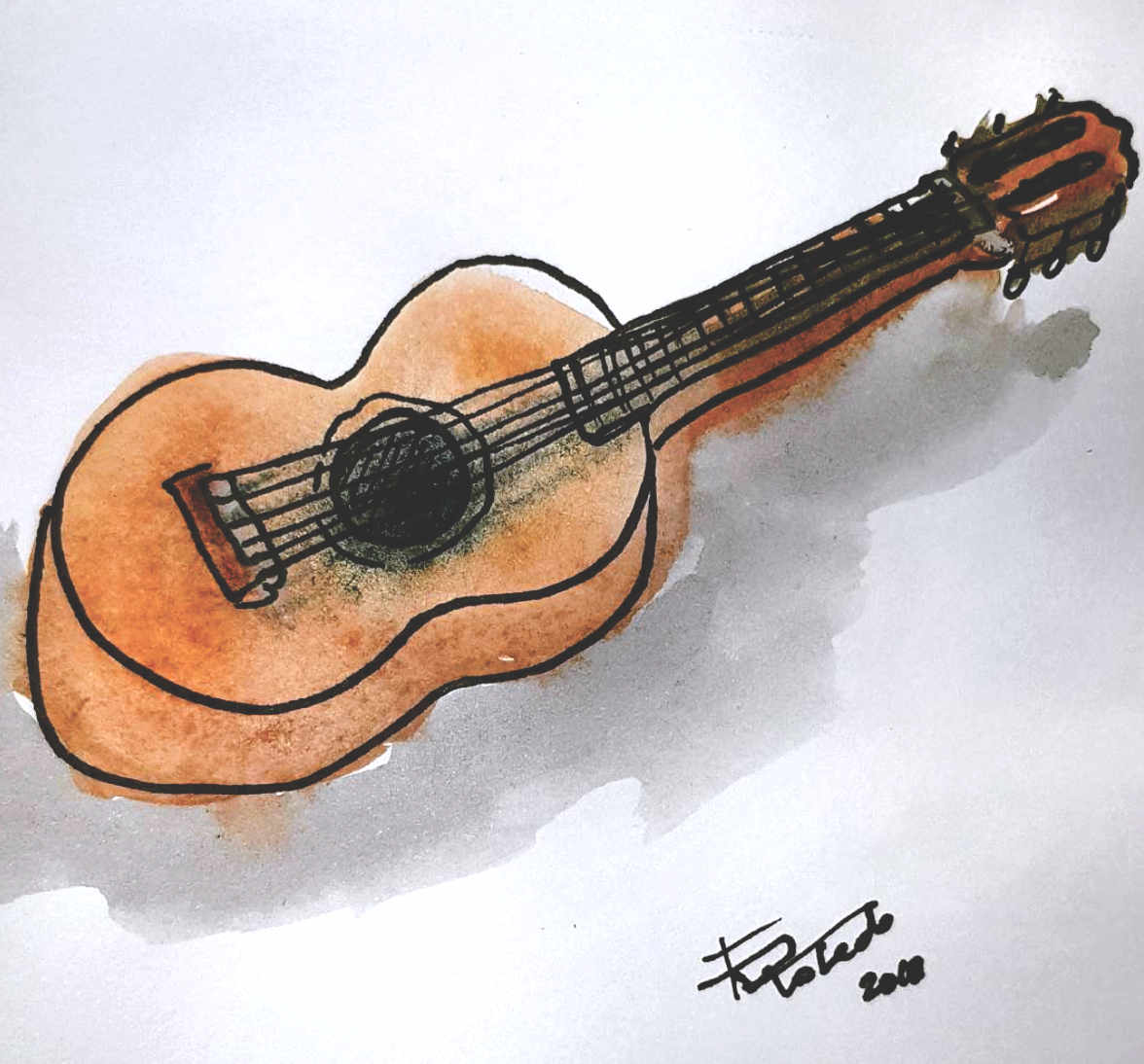 44 de 365 #aguadecoco no #carnaval2018 em pleno #verao em #ubatuba. Quando colhido por você o sabor é especial.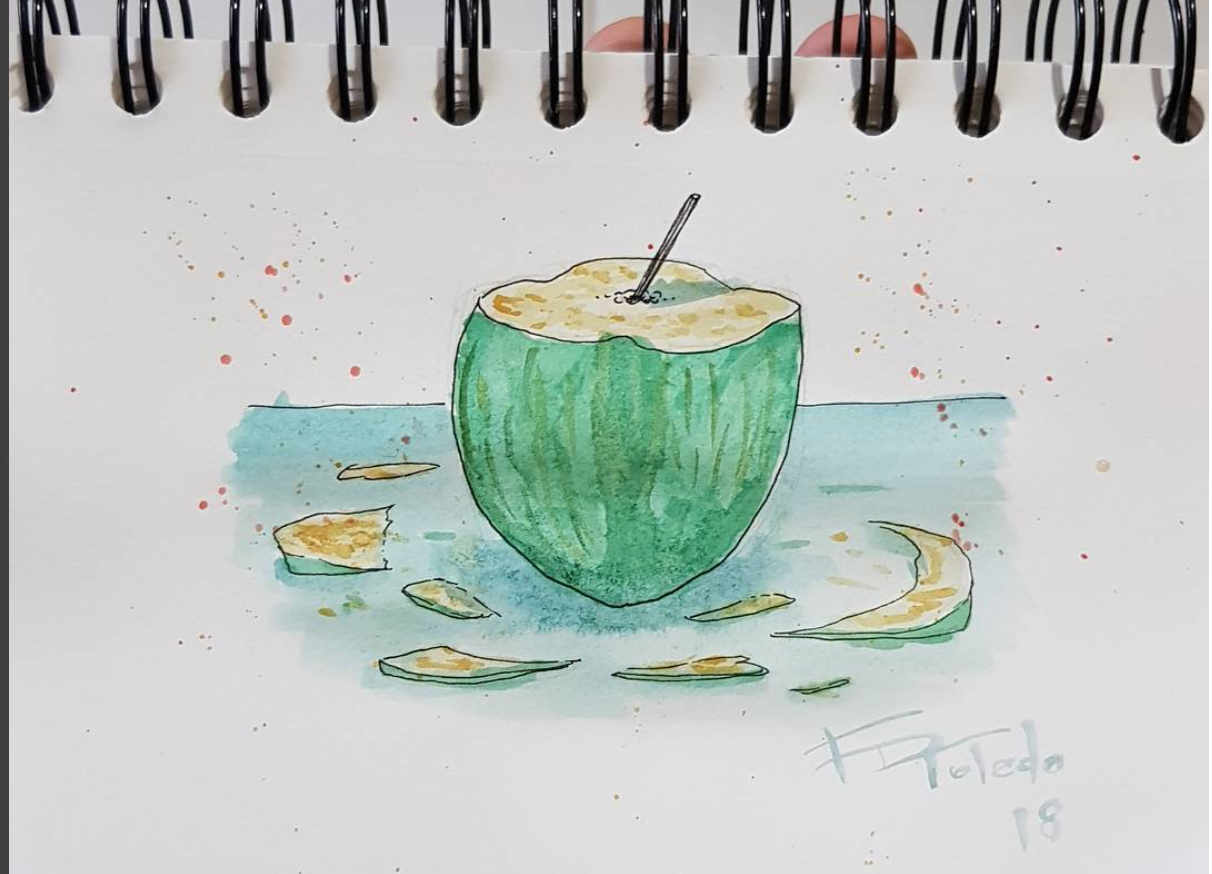 46 of 365 "#Caranguejo tomando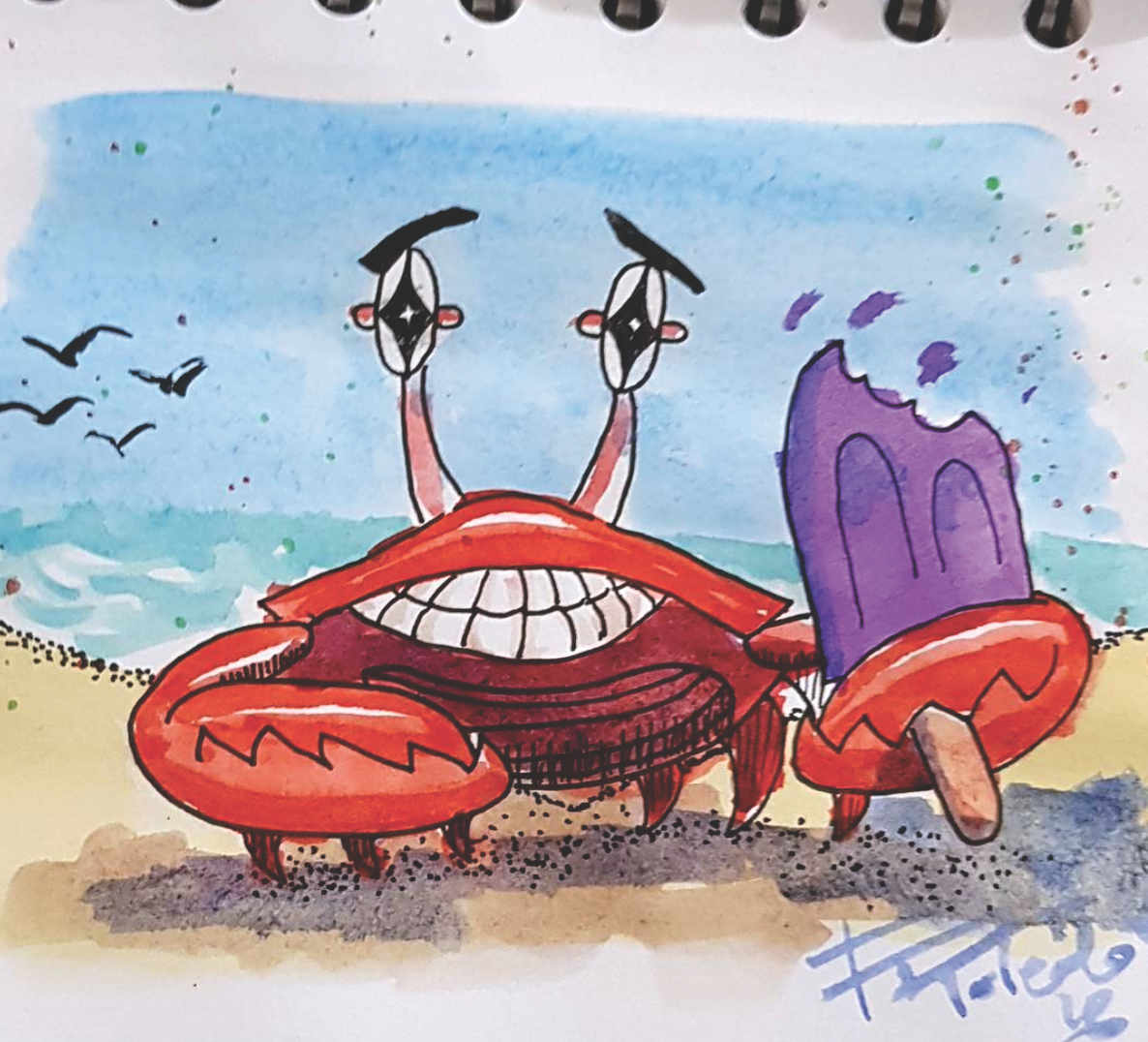 51 of 365 down the woods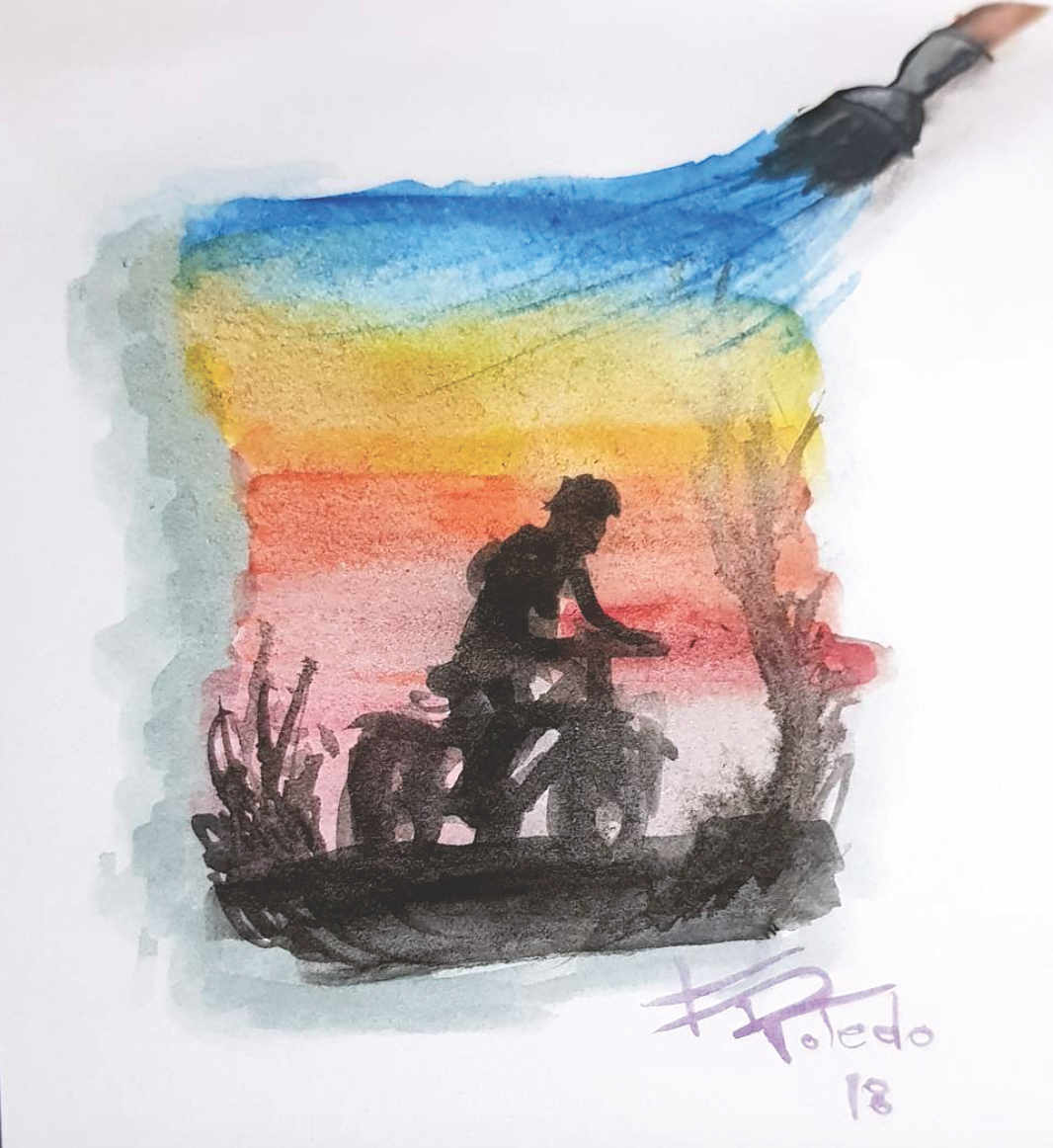 52 of 365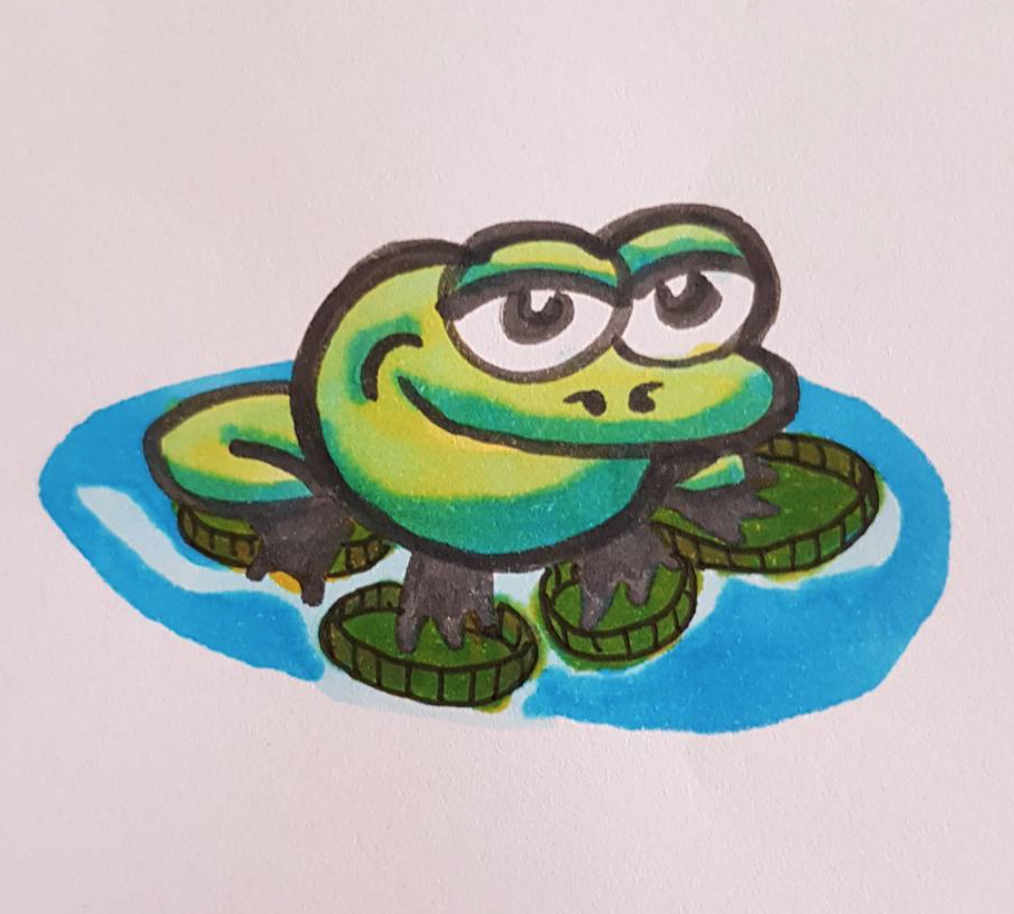 Day 1. Boat with Fisherman. Best memories.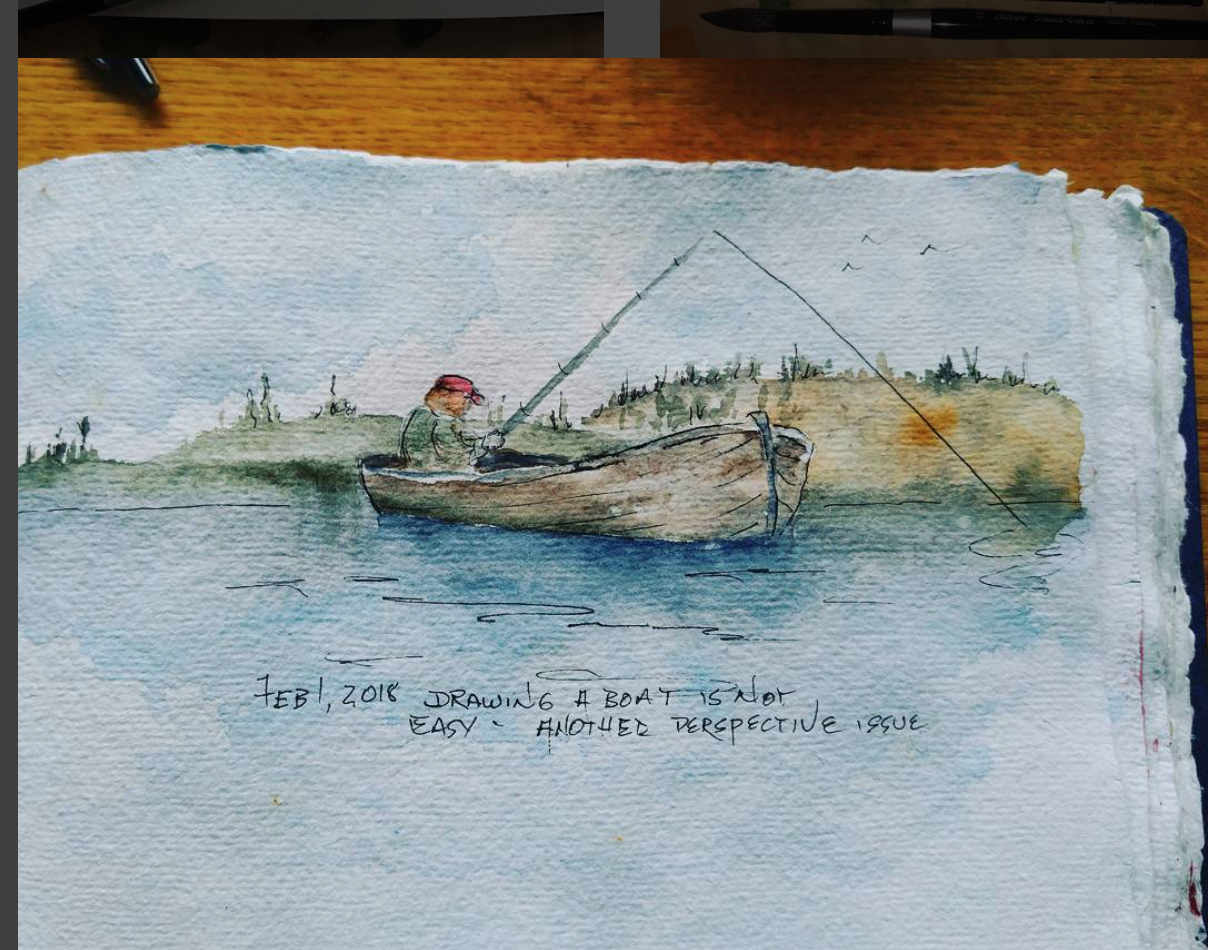 Day 2. Sunrise on the river. Not real happy, but if you don't keep trying new things you never learn anything new.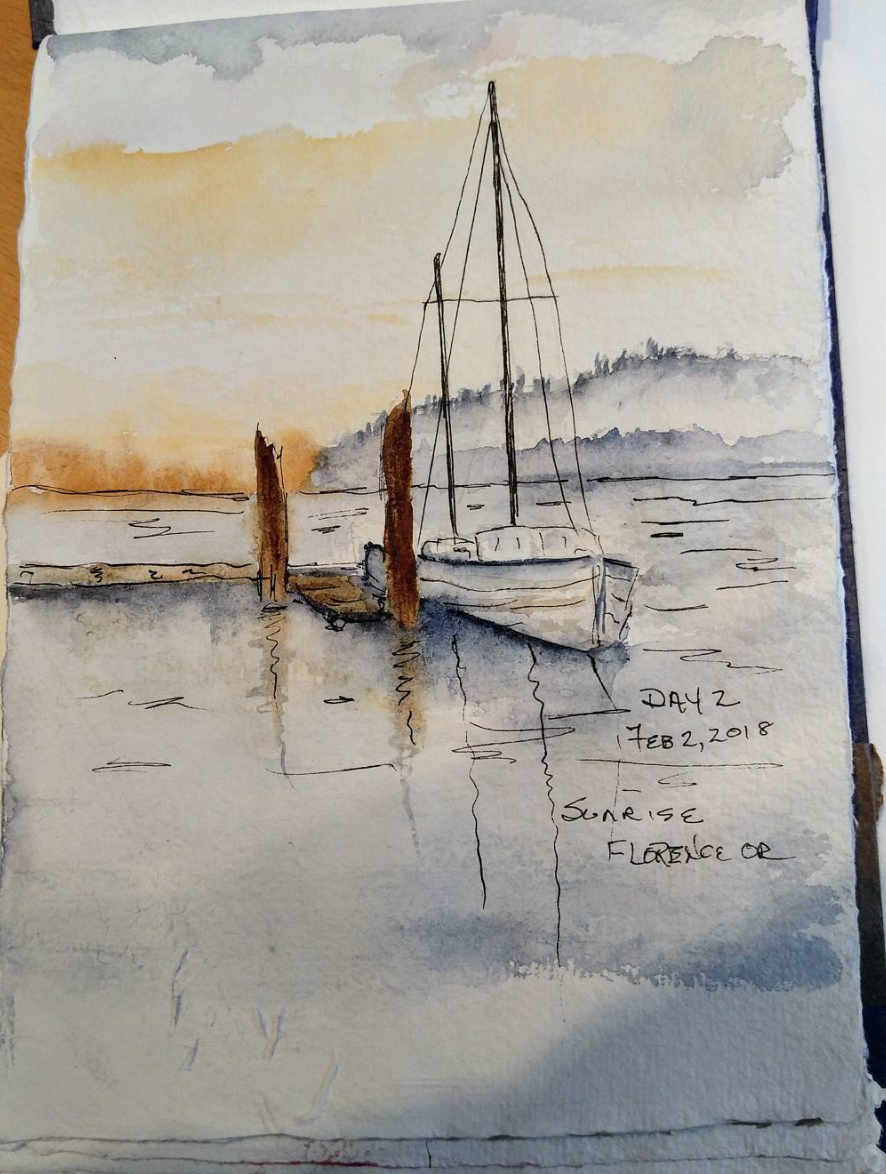 Day three. Yellow Flower. No pen, just paint. Not real happy but I do like it.
Day four. Field of tulips. From a photo. No pen again.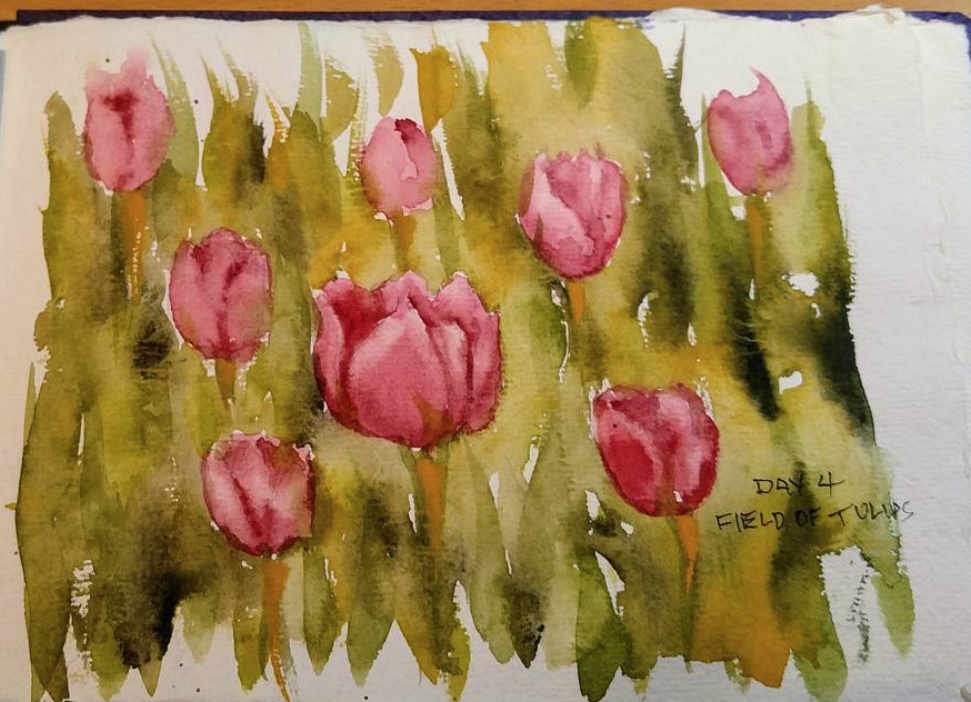 Day five. Begonia leaves. Pen and watercolor.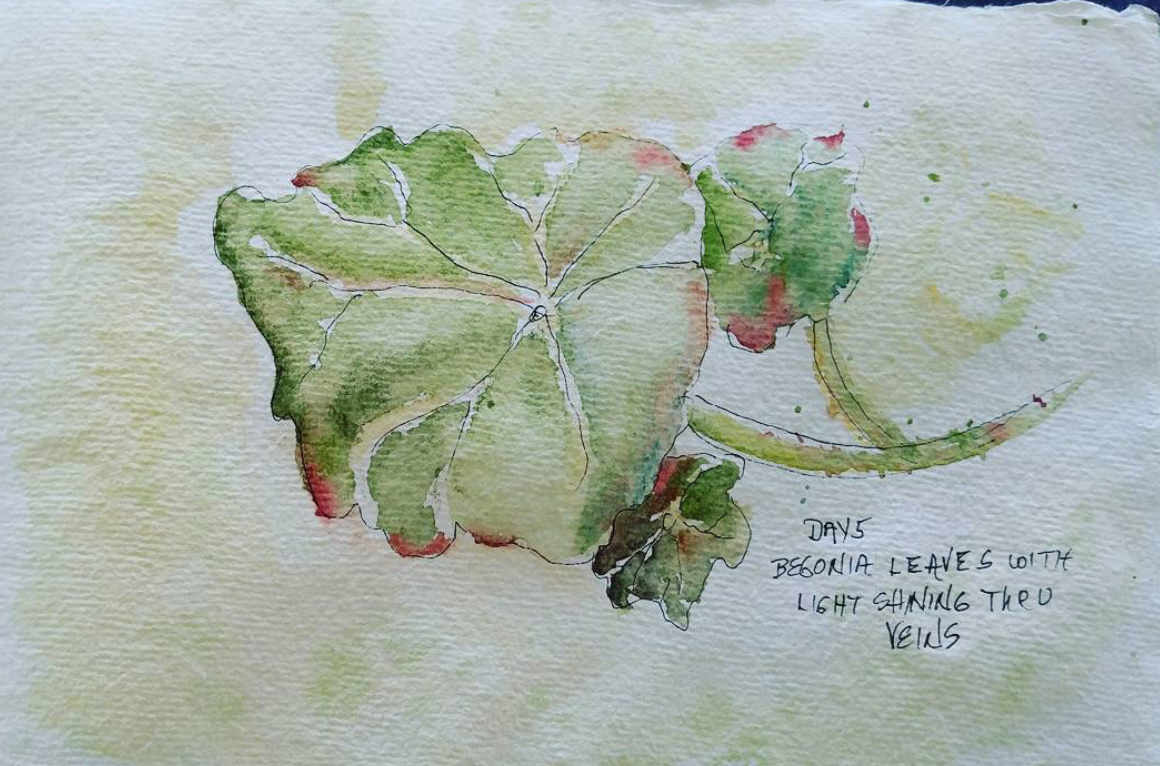 Day 6. Camellia waiting to bloom. From a photo. I don't care how many times you watch how to watercolor a waterdrop, until you do it, you don't know the frustration.
Day seven. Strawberry. Pen and watercolor.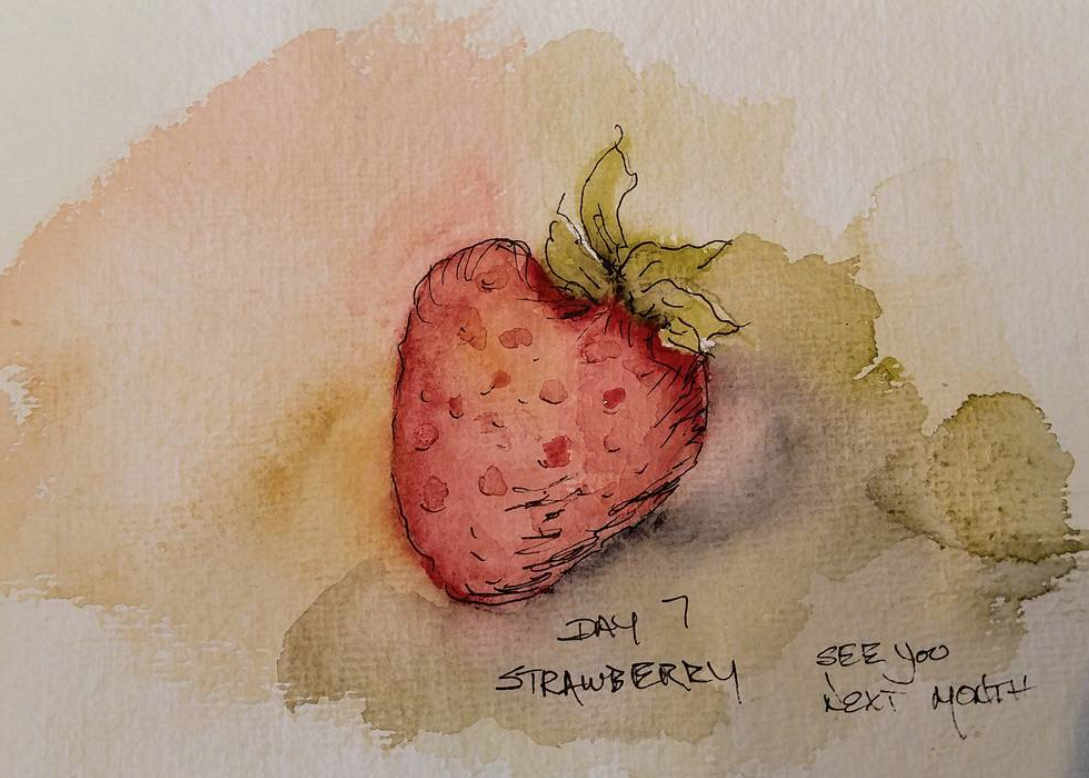 I did this yesterday. Spending my lunch break with the Roos.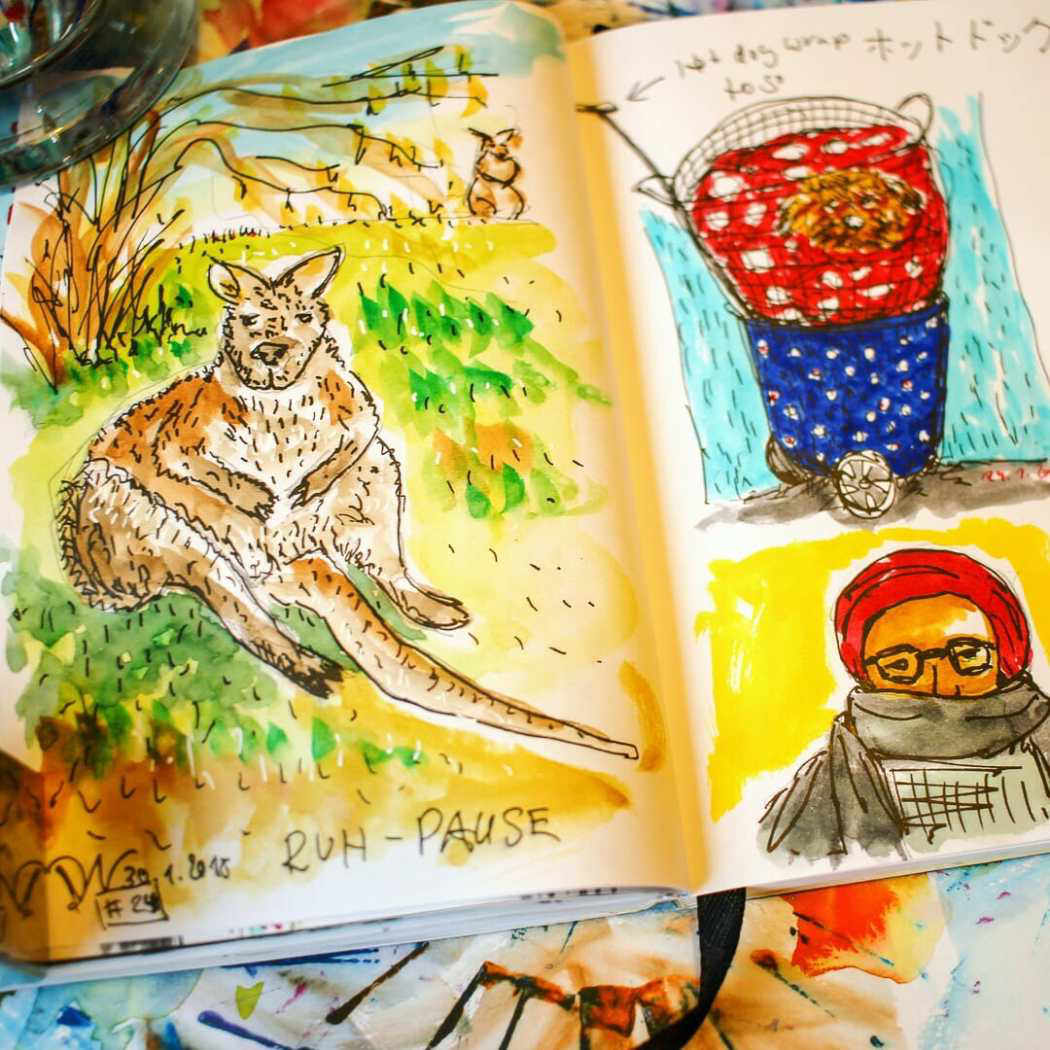 The emu insisted on being sketched. This time I used my brushpen for the outlines for a change.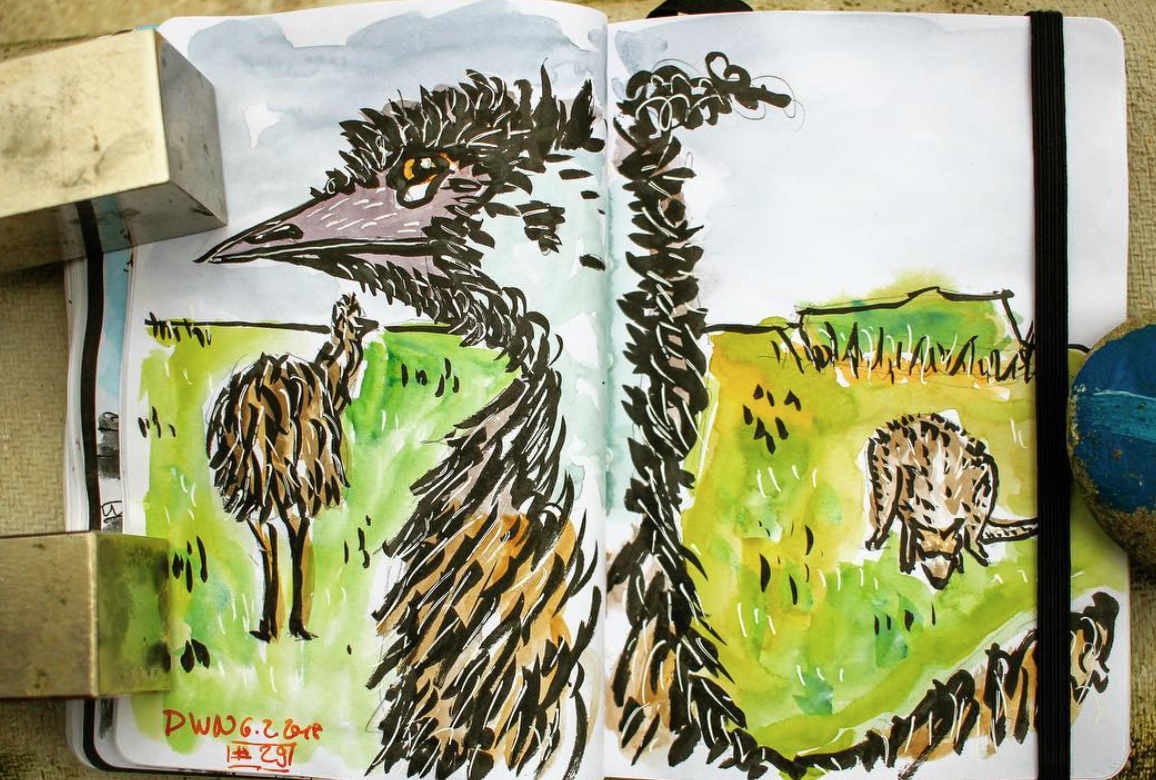 Lunch break with the tree guy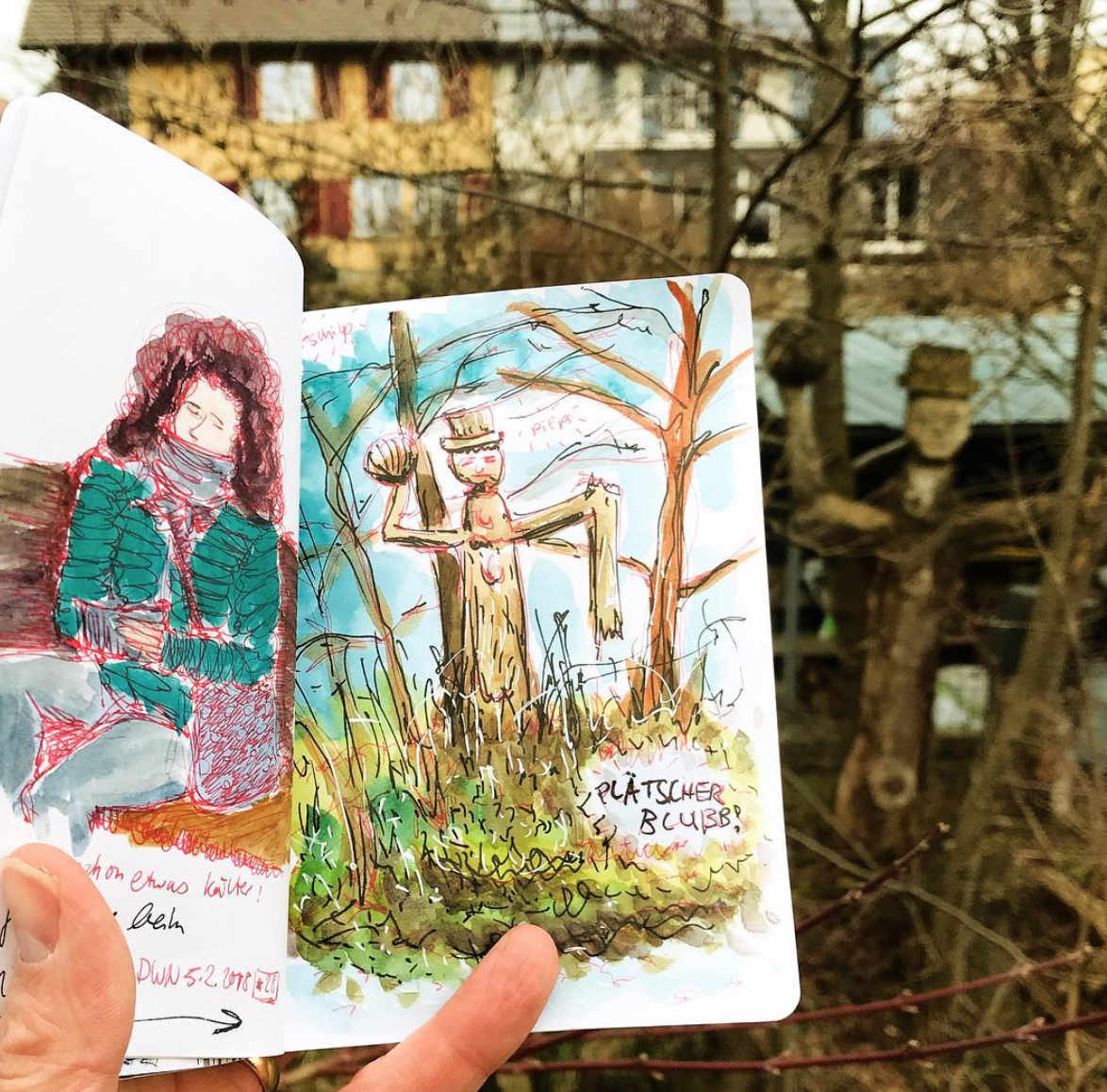 Since nothing really groundbreaking happened yesterday, I went with a personal collage.
I thought this vintage camera would be easy to sketch, but wasn't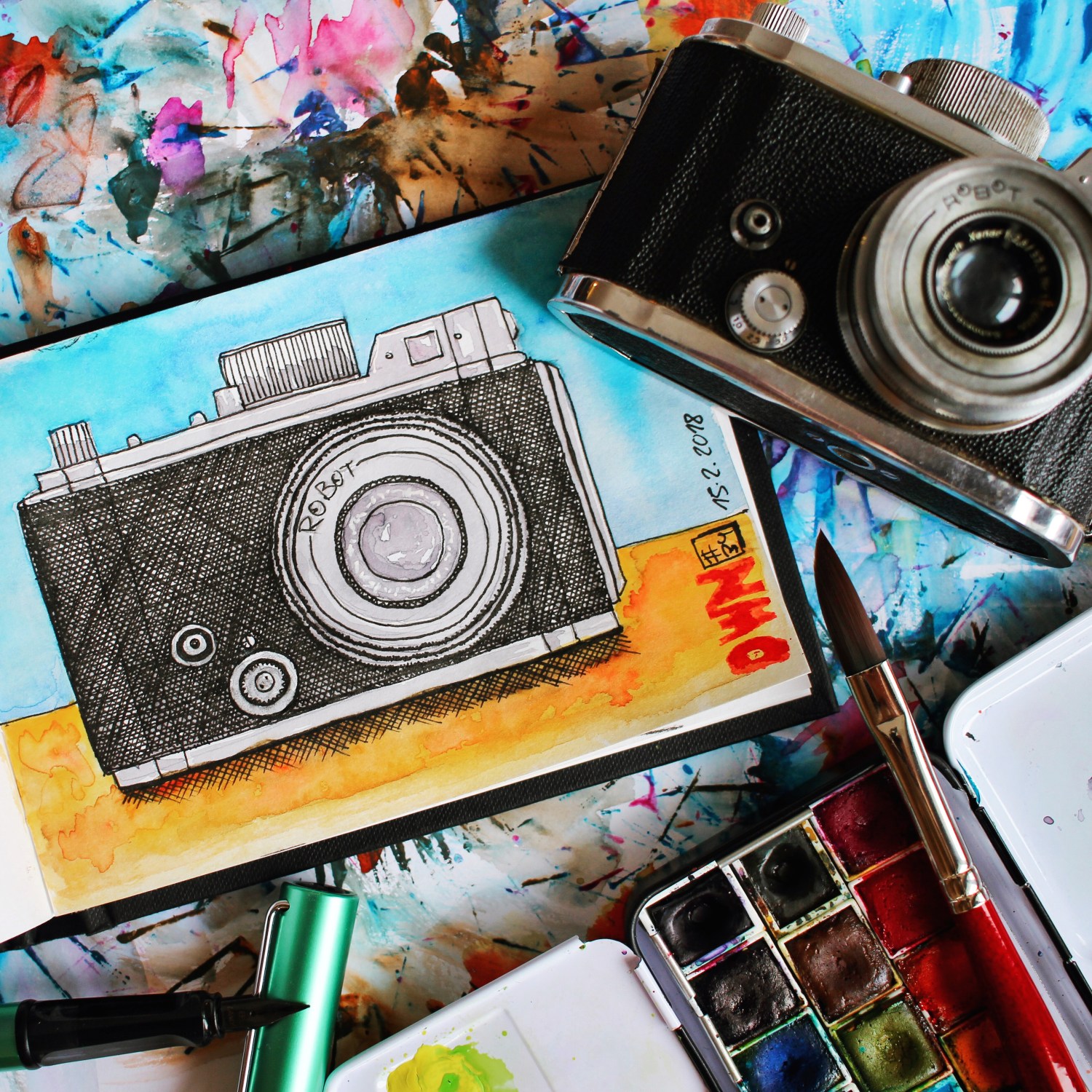 Decided to break in a new sketchbook. No, I'm m not going to use it yet, just a few others need to be completed first. But it's always nice to have the first page already done 
. I first started with a coffee bag stain that happened to look like a girl. The paper handled all surprisingly well.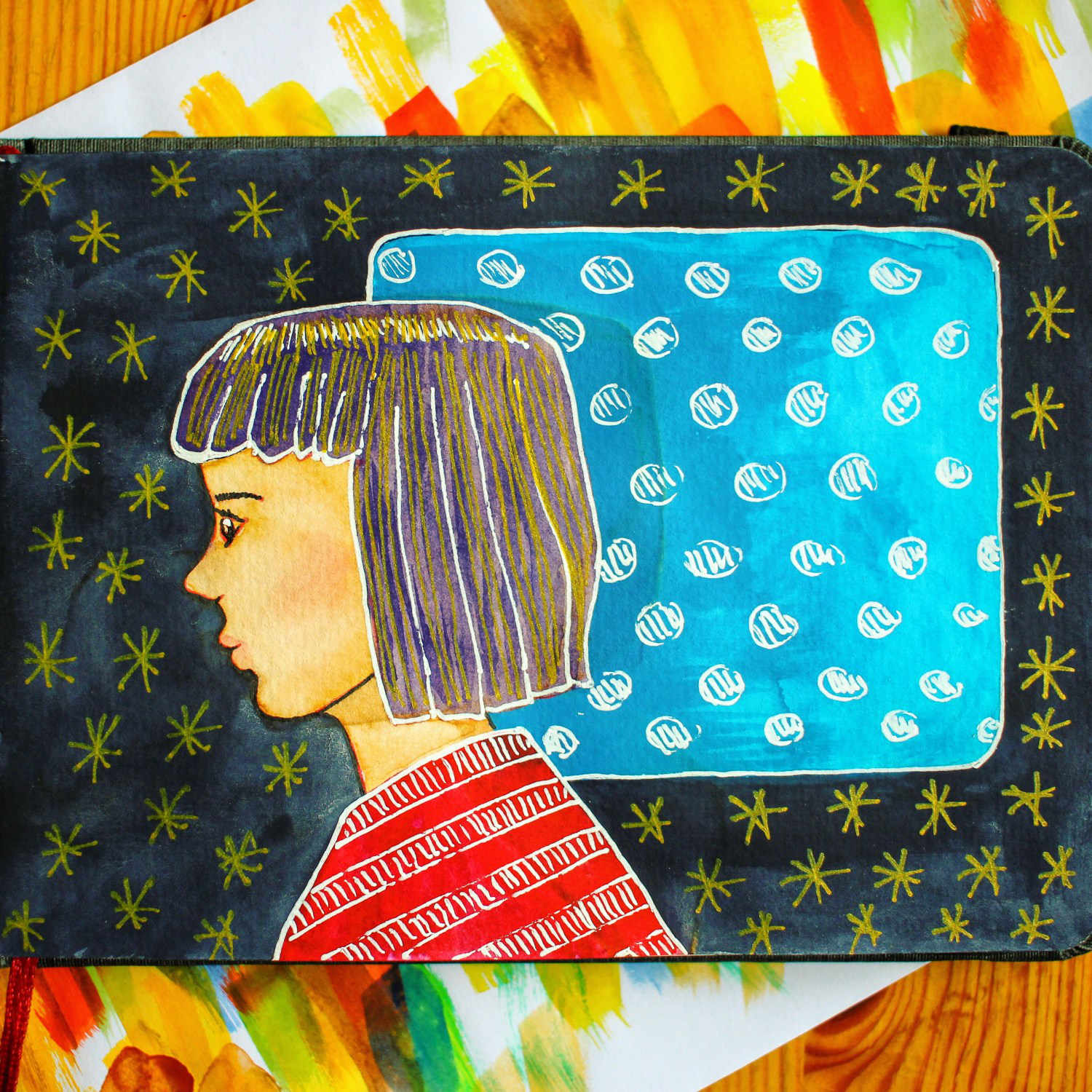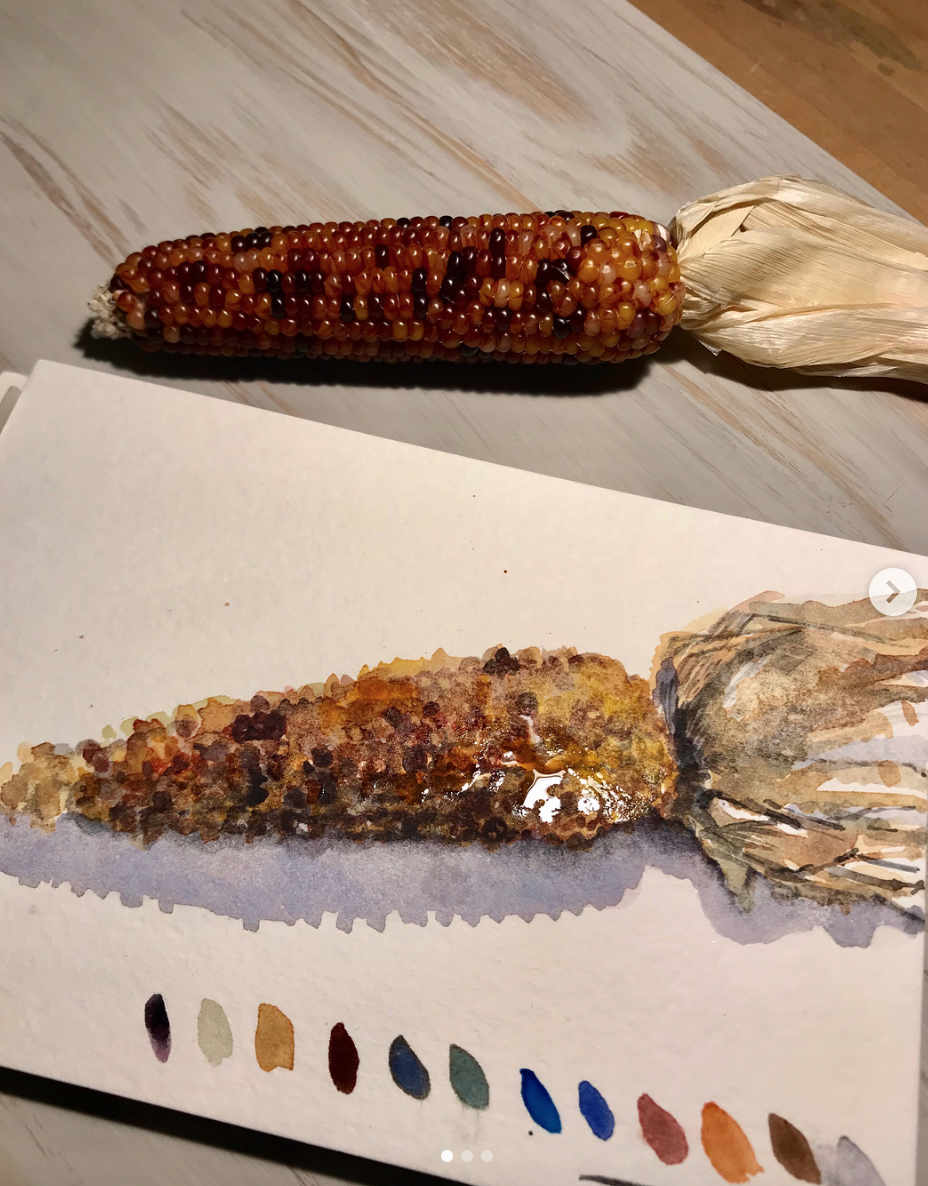 #drawingfast is so important when you have yummy sashimi to eat and soju to drink lol.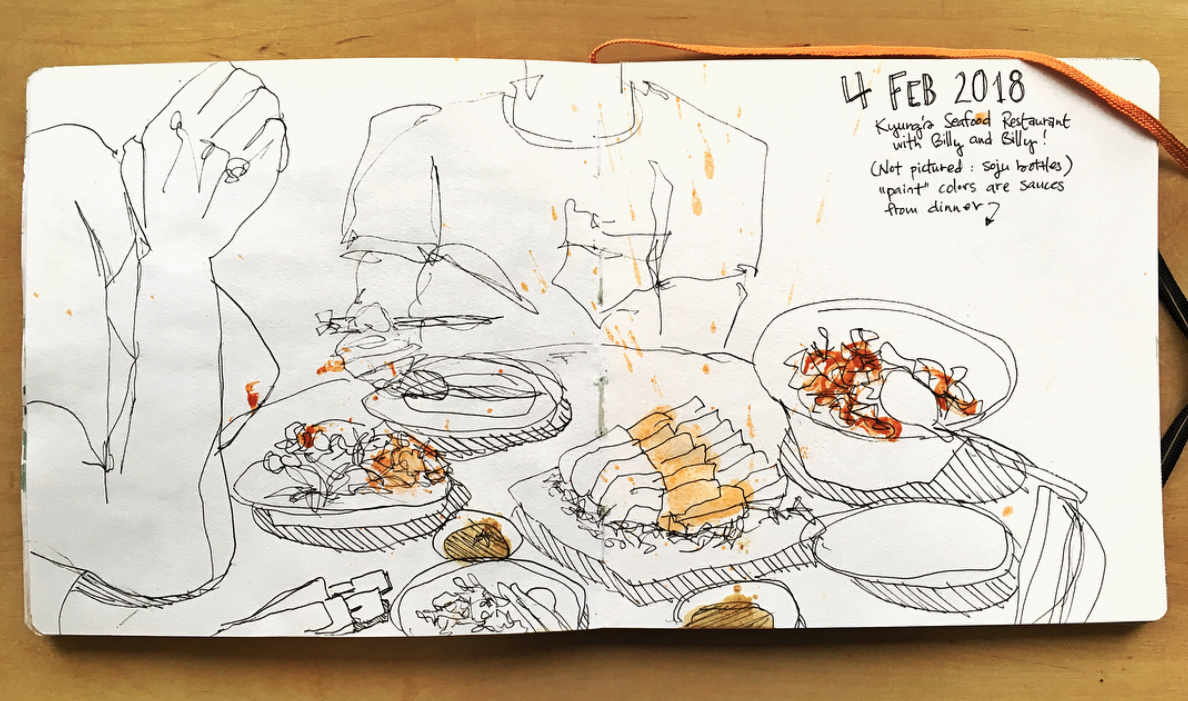 "Flowers are sweet… anytime of the year."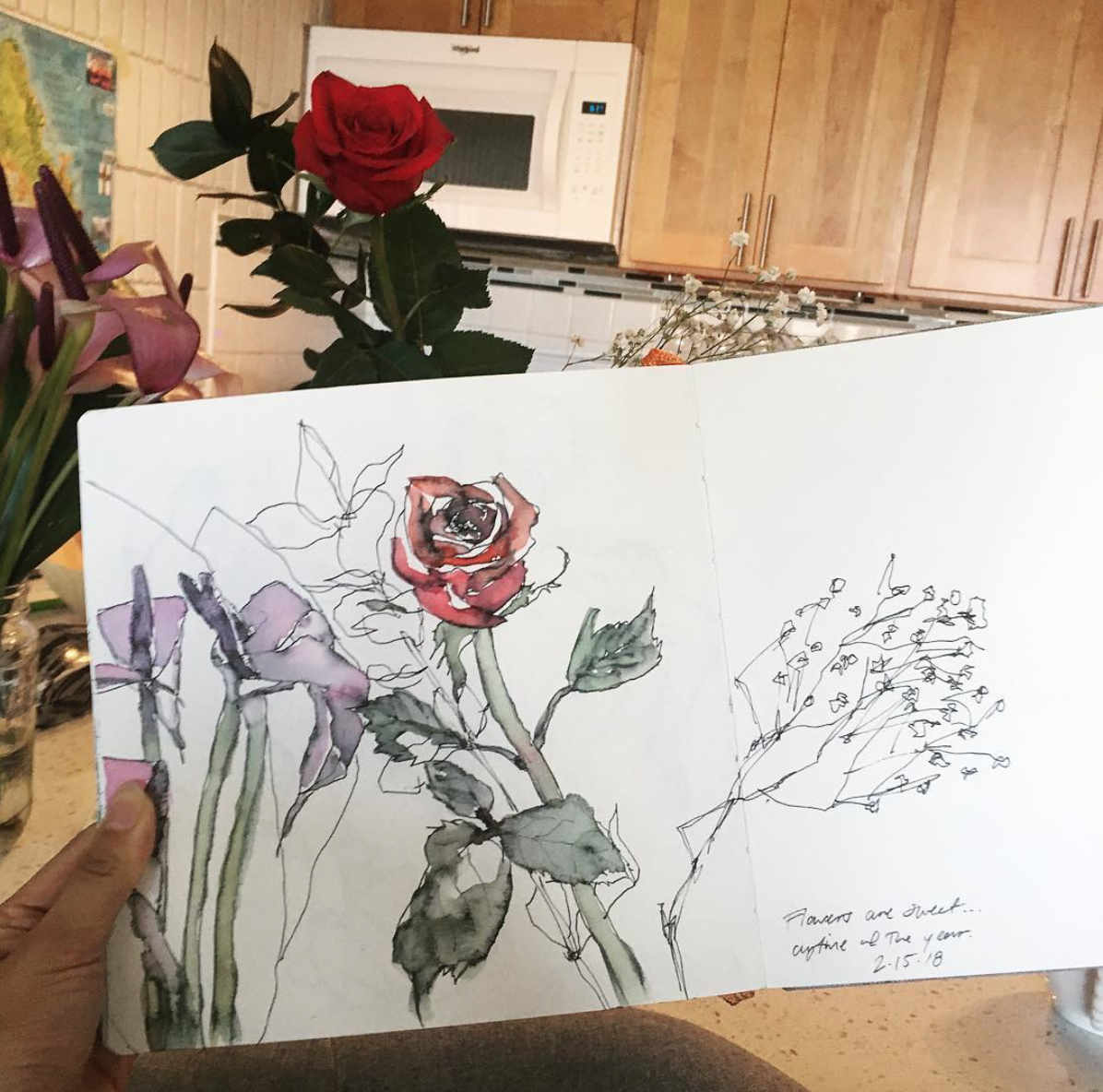 Just 5 minutes a day, everyday, is better than sketching 2 hours over the weekend, I've been told – and it's so true. Sometimes I forget or assume that I won't be able to create something "good" in a short period of time but if we focus more on the process and not the outcome, it'll help us reach a better outcome sooner. This was drawn and painted in under ten minutes, mostly blind contour, with a water soluble ink pen and a water brush. Complimentary colors (orange and blue) and if you use an entirely different color in one place (the blue) you should also use it in another (the splatter, done with a toothbrush). Next time I'd add another layer or a darker color to the orange to give it more depth.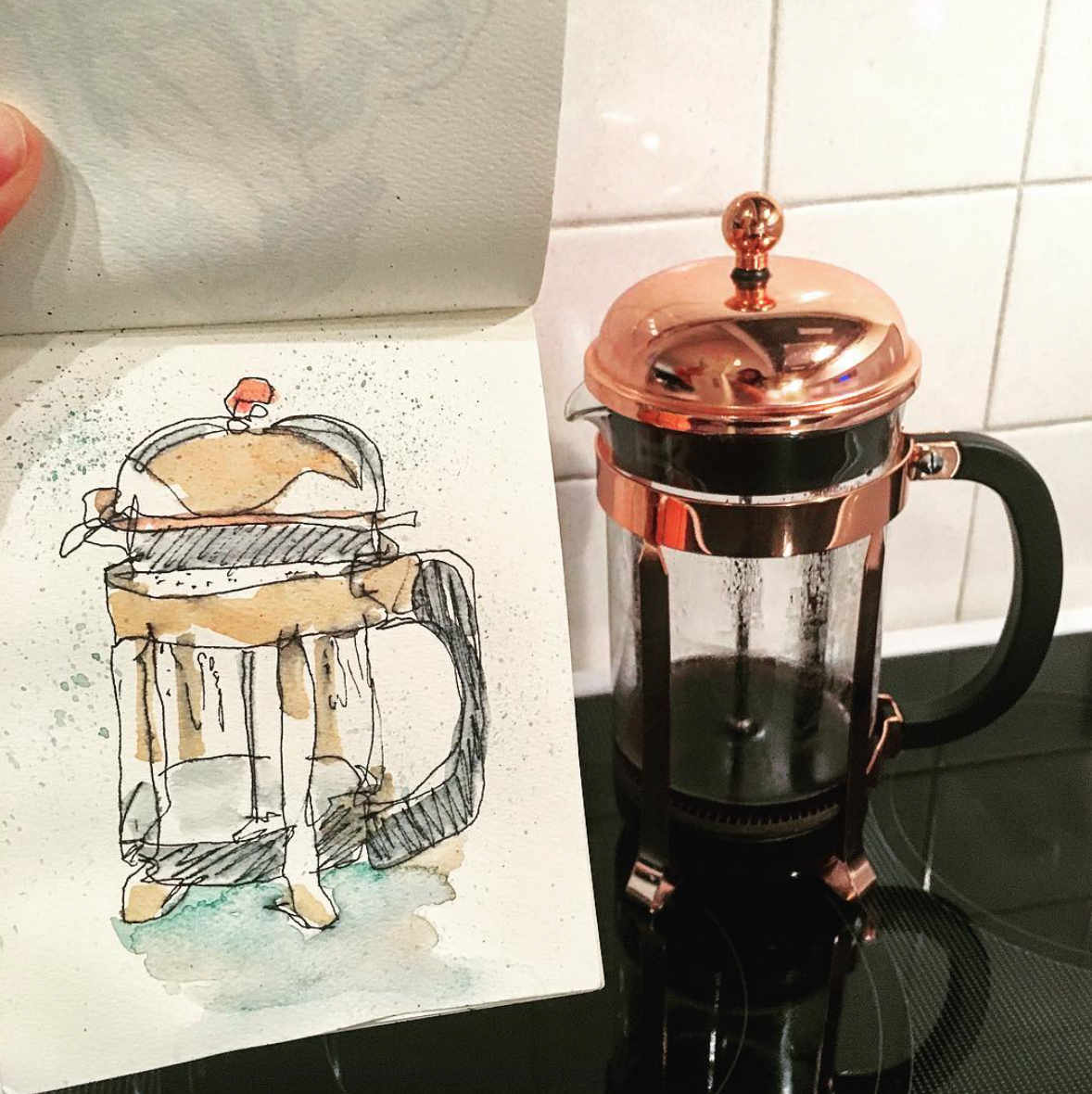 Food illustration: mango lassi. Watercolor on tea-dyed paper. This blender is almost 30 years old and is a real workhorse.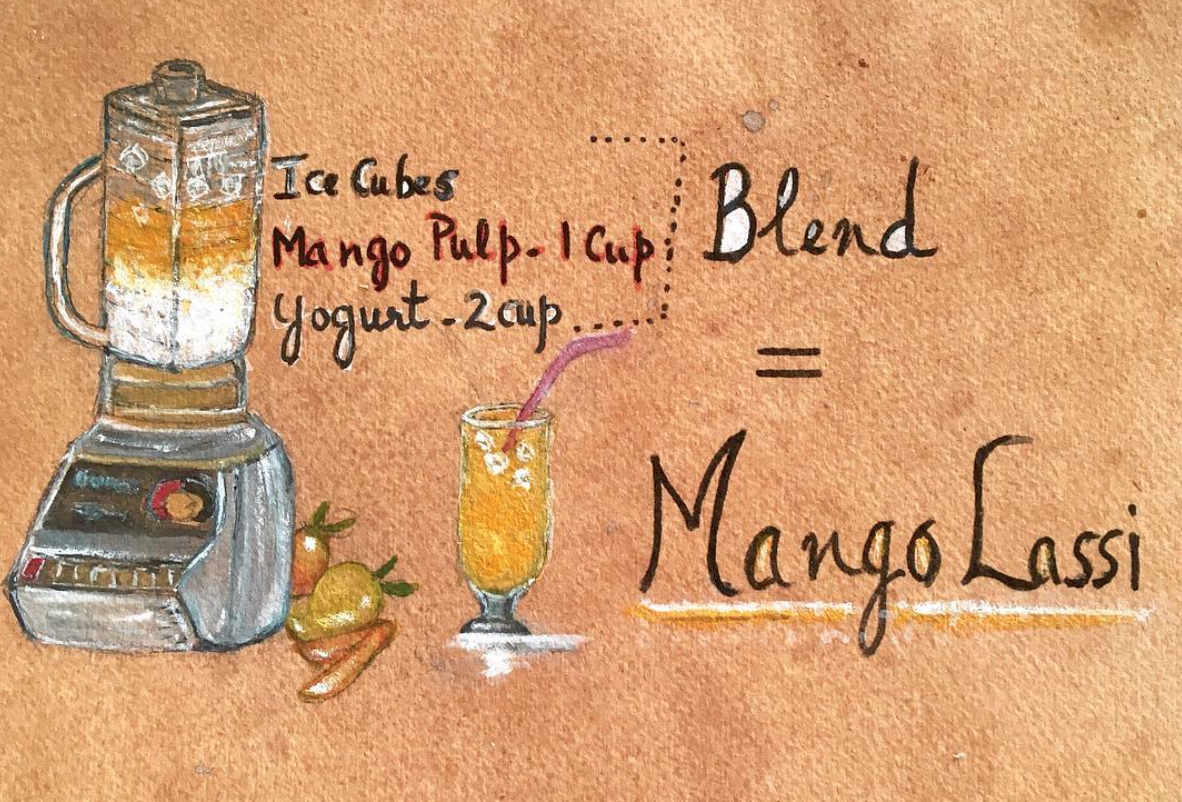 Blown away…. I choose this title for the post and the painting, because of the simple dandelion head and the blowing away teeth… But there's definitely more to it… Many a times, I do miss home – being with my parents and siblings… I wish, it were many years ago… Though I have always been away from home right from the age of 7-8; being married and settling away from the childhood home, makes me feel uprooted at times. But, it's at such times that I realize that life is like a Dandelion tooth… It gets detached from the head and blows away – TO FALL SOMEWHERE NEW, TO ROOT AGAIN AND TO BLOOM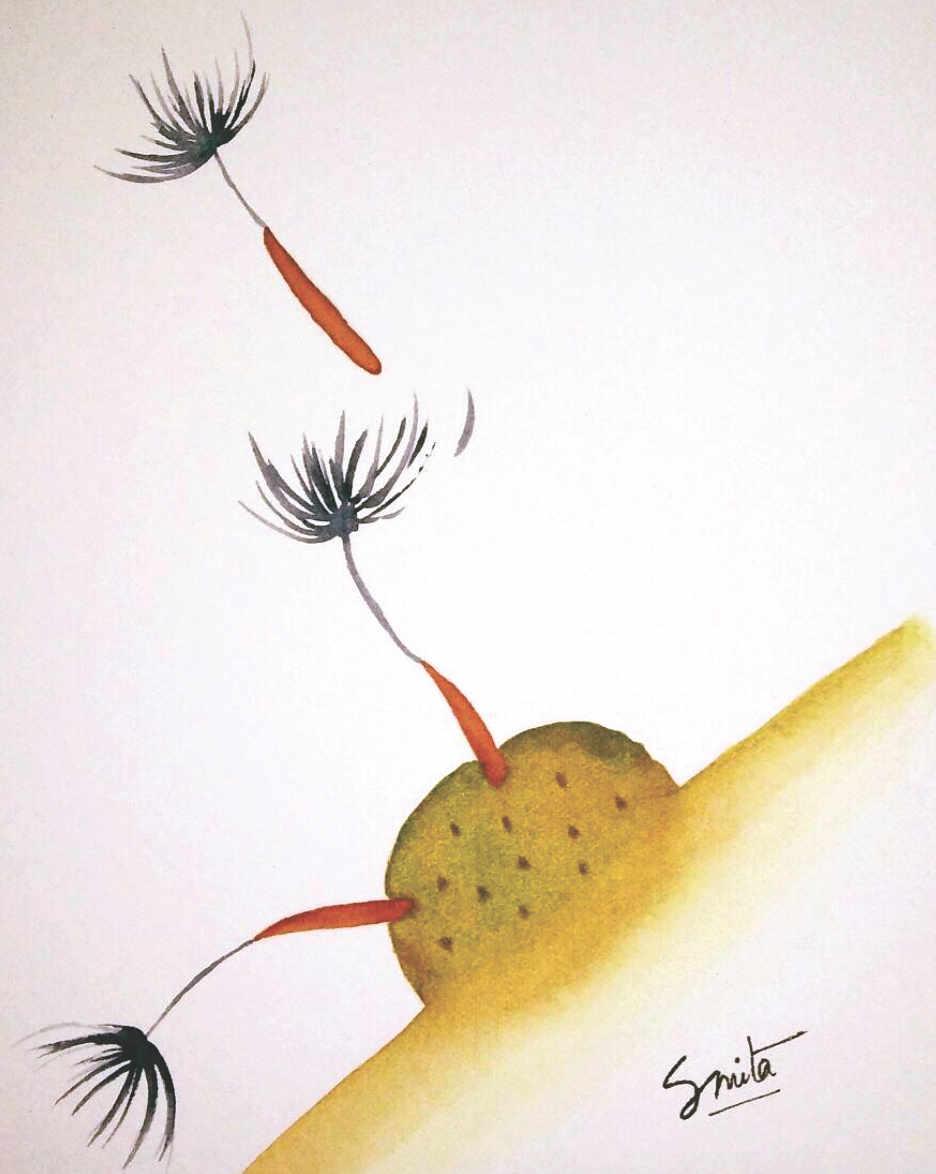 I don't like crowds and I don't like noise… Why not say it once in a while!!! I am a more peace loving person and I can't stand people behaving wildly in public places with no regard for other people's comfort/discomfort… Yet, I love fairs… Recently, there was a fair in town and with my two nephews who had come for a visit, it was a must-go affair. We chose the dusk because then the fair is practically crowd free…. From a distance we could see the multi-coloured tents like endless sand dunes and three Giant-Wheels rose from amidst the dunes silhouetted against the tinted sky. We were the only ones to occupy the largest Giant-Wheel. We had some street food; sampled and bought some pickles and returned home with bright smiles. It took me back to my childhood for sure… Sharing those memories with a simple #watercolor sketch of the #fairs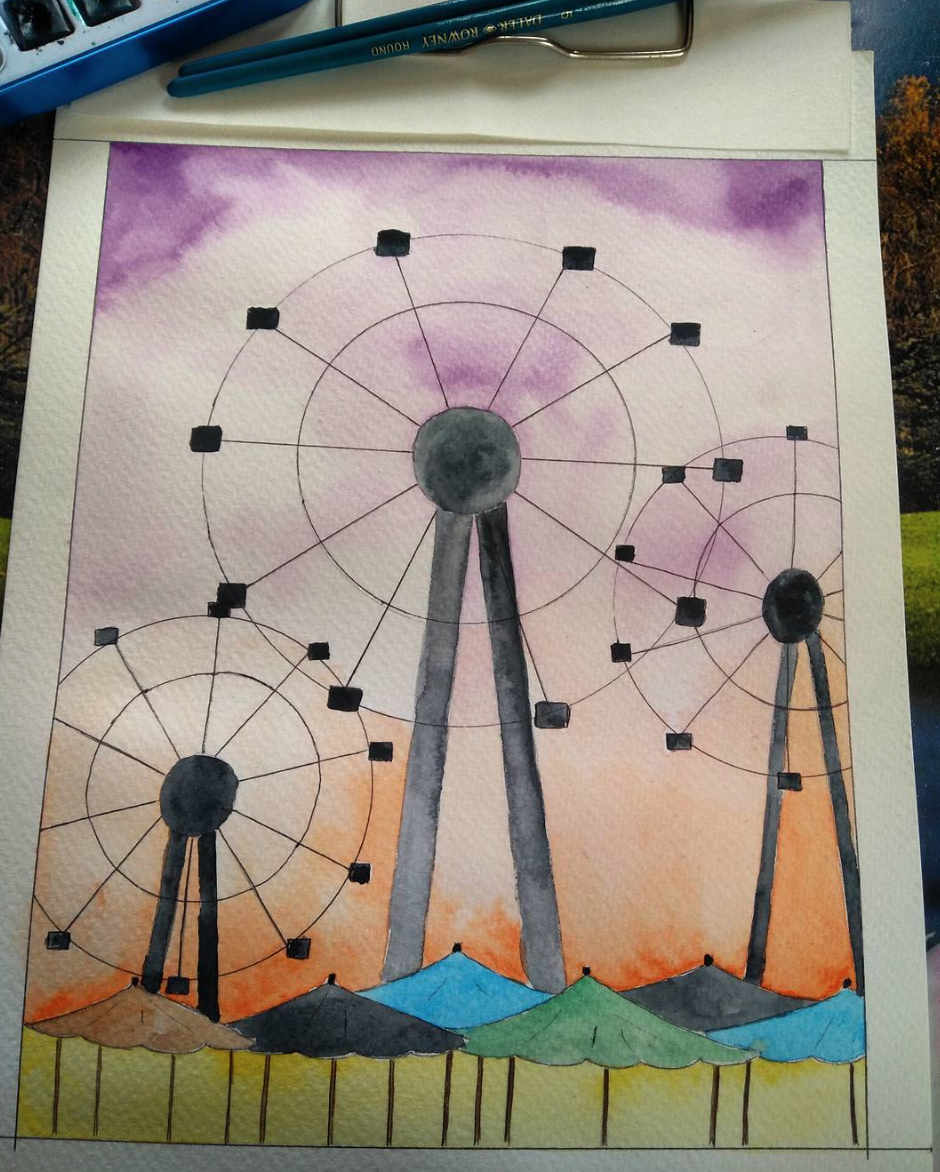 Learning to dance on pointes at school in the 50's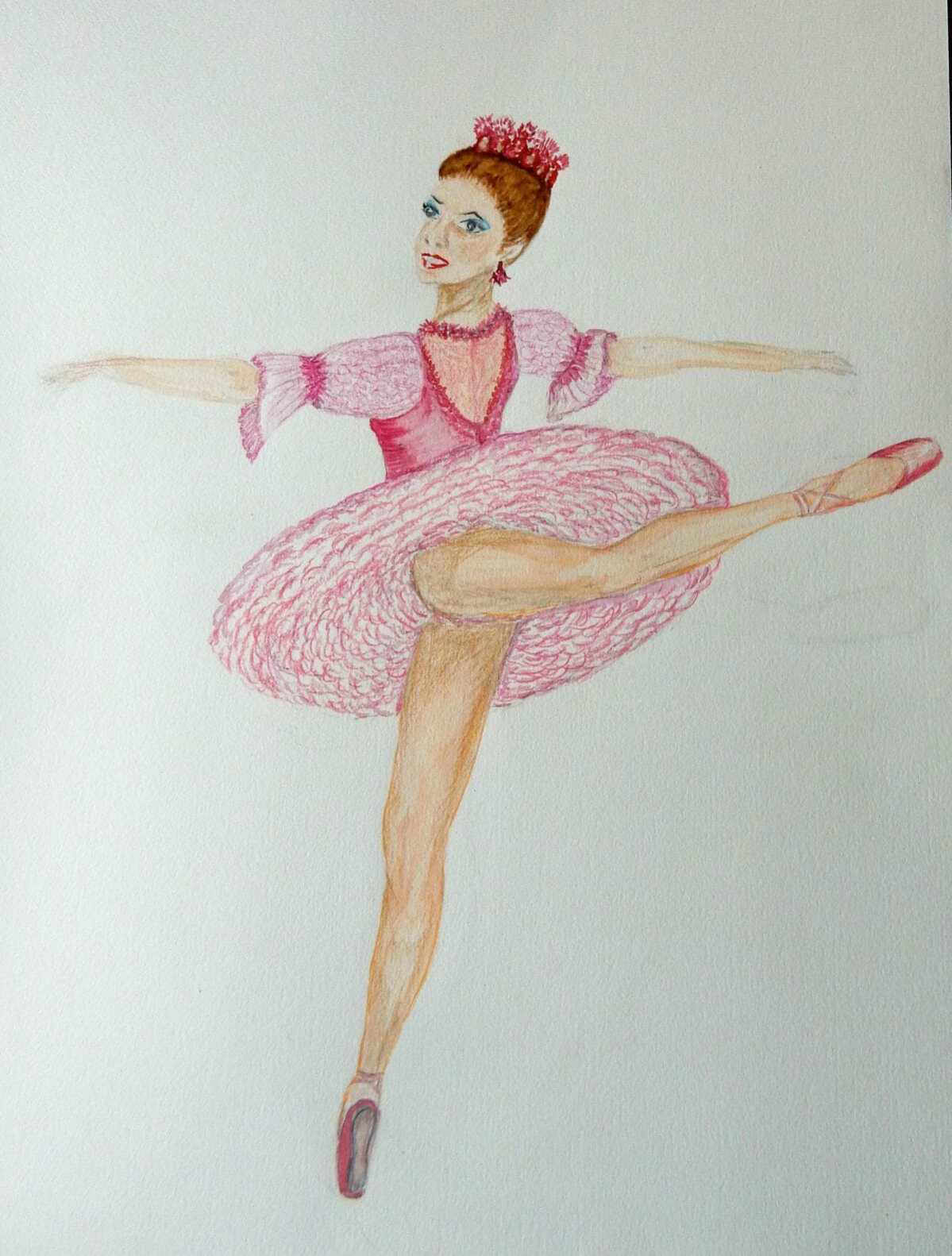 I painted two postcards for my mom yesterday… Growing up she had hydrangeas around her home, and in her house, up high where the cats could not get them (poisonous). I loved their dusty purples almost a much as they bright colors. I associate these and a few others with her… in fact, many flowers are tied to memories of mostly women but some men in my family. On walks, it is like they are with me as I look at the flowers in the wild or in the neighborhood.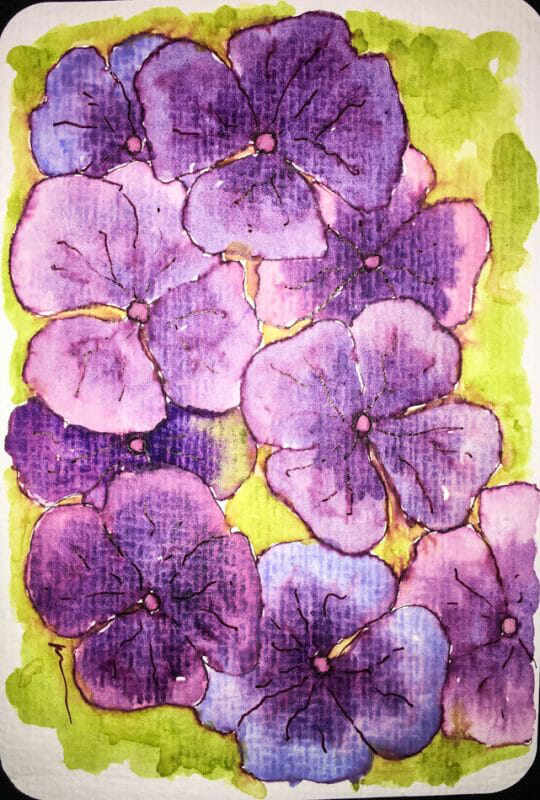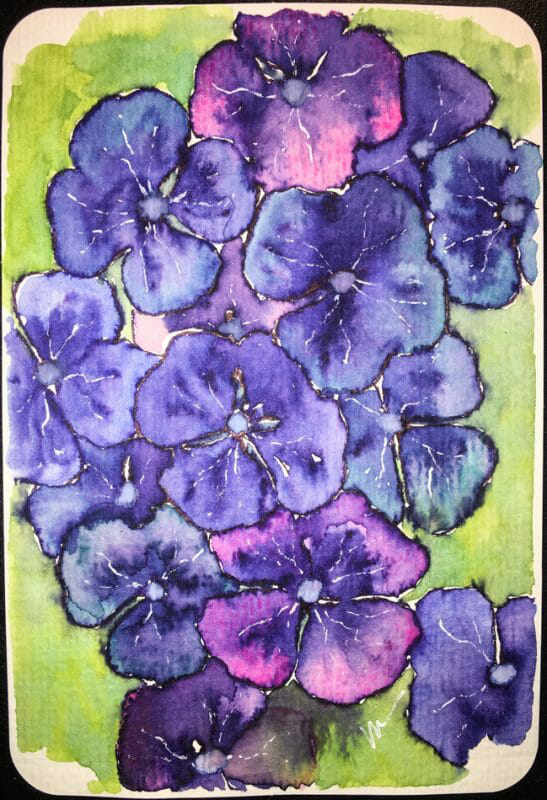 Rekindle Memories will happen again on the 1st to 7th of March. This event is about treasuring each memory (past or present) by remembering and appreciating life in all its wonder and beauty through sketching and painting wherever we are in the world.
How it works
Every first week of the month, create one (or as many!) sketches/paintings inspired by your life.
Share your artworks and tag #rekindlememories and the country where you're from (i.e. #singapore). No social media? Email your artworks: lis@harmonythoughts.com
If you know anyone who would like to take part of this art challenge, please invite them to join the fun! If you wish to be with other Rekindle Memories artists, please go 

here

.
Note: More info about Rekindle Memories here.