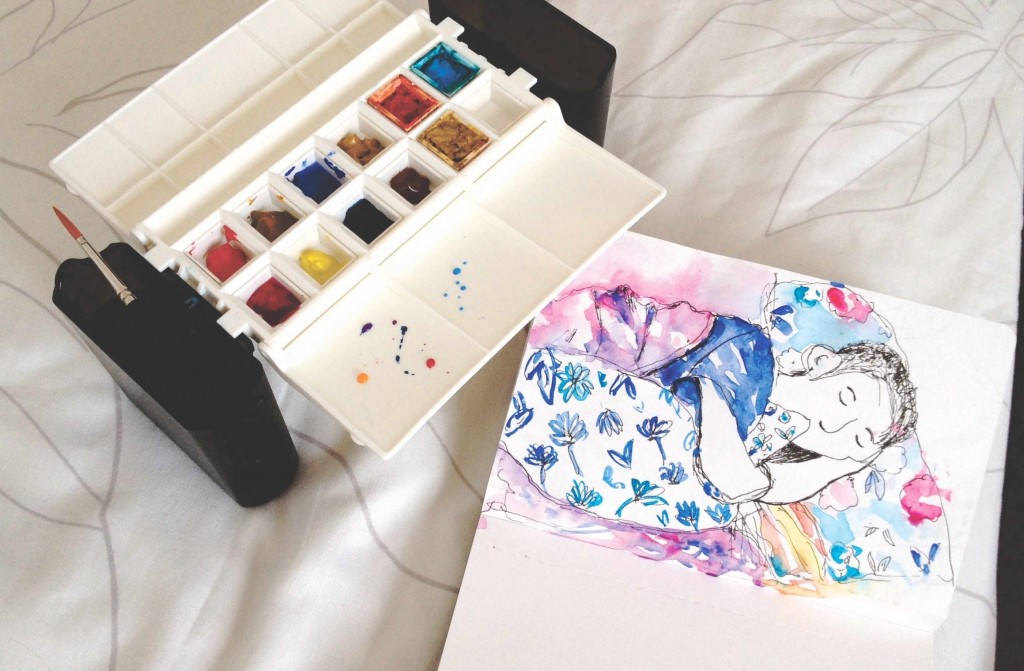 Painting on bed
Savoring each moment. That's what I love most when I slow down and make time to sketch and paint the life around me. Last weekend morning, I woke up a little earlier and watched my husband sleeping peacefully by my side. Instinctively, I traced the contour of his face with my eyes and said to myself, you know what, I am going to sketch and paint him. Gingerly, I grabbed my sketchbook and pen. There were many imperfections–the other arm look a little abstract as husband said. I painted him using the Portable Painter (product review coming soon), a gift from him which I so appreciate. This portable palette is the perfect companion for sketching on location…even on bed!
I am so thankful that around 20 plus of you amazing artists from around the world have signed up for the Postcard to Inspire Swap! This endeavor aims to turn the ordinary moments of life into extraordinary ones by sketching and painting our lives with creativity and imagination then sharing the beauty of what we see with others.
The rule is simple: Wherever you are right now, carry with you a pen and sketchbook (or watercolor paper) and find something interesting that captures your senses. From the mundane moments like morning breakfast, to the beauty of sunlit trees, to your favorite collection of books, to special moments you have with your loved ones or pets, to an exciting new place from your travel. It can be anything about you that you want to express, savor and inspire others with your story.
Deliverable:
Your sketches or paintings on sketchbook or watercolor paper of any size (enclosed in an envelope for protection).
Write a short caption about your sketch. Where did you sketch it? What is your story? Why is it meaningful to you?
If you want your postcard to be featured in the gallery, please take a picture of your art and send it to me at lis@harmonythoughts.com. If you do share it on social media, please use #postcardtoinspireswap. And if you blog about this event, please send me a link to your blogpost so that I can include it in the featured gallery.
Mail your postcard to your assigned partner (include your return address) and happily anticipate for yours.
PS* I encourage you to sketch from life and to use a pen. The goal is to experience personal connection with the things that you encounter with, and to enjoy the process of creating. Enjoy sketching your life and getting to know your swap partner through sketches of their lives!