The word sketchbook excites me. It gives me the space to do sketches of things around me, experiment with art materials and discover new approaches to make art. Mostly I use either the Daycraft or Derwent sketchbooks (but they're not watercolor friendly) and therefore that led me to bind my own sketchbook using watercolor paper.
Last month, an artist from Singapore shared that Monologue, a brand under the Grandluxe Company in Singapore that specializes in premium diary, gift and stationery has released a new line of sketchbooks called Monologue Basics. They are sending free copies for review and I excitedly asked them right away. They sent me two Monologue Basics sketchbooks plus a sketchpad. My gratitude and thanks to the Monologue Team.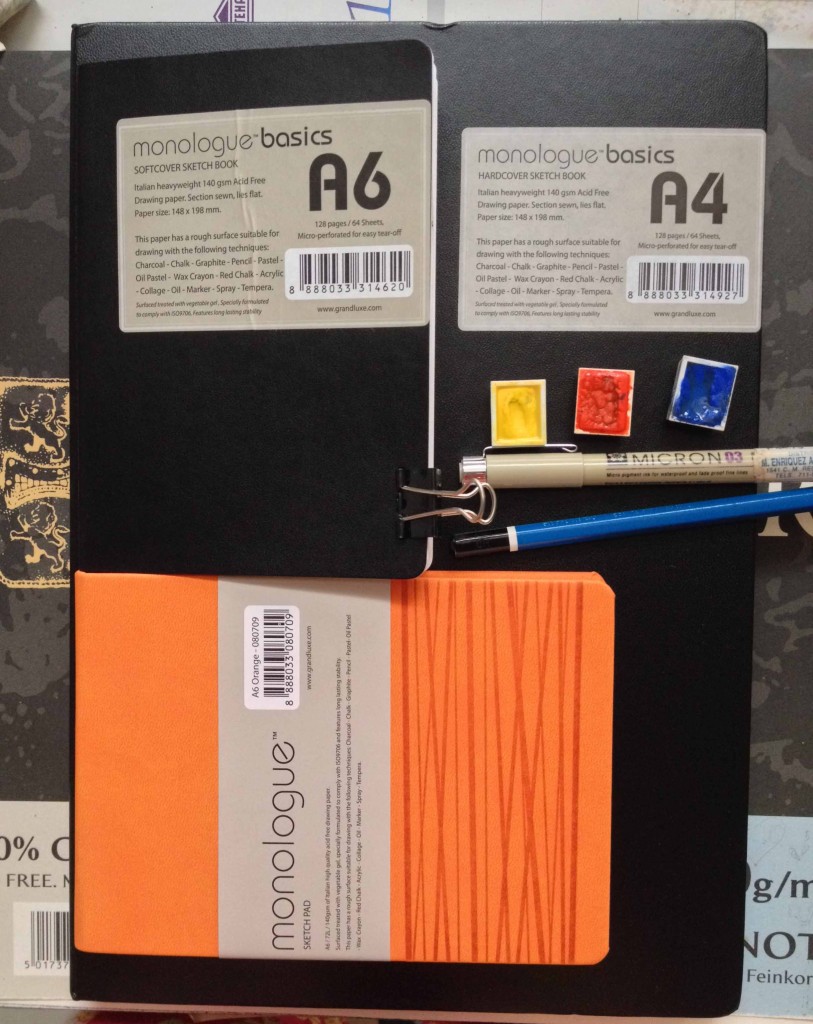 Monologue Basic sketchbooks (black) and sketchpad (orange)
I think I have seen Monologue Notebooks in some of our local bookstores but have never tried their brand before. The specs of the Monologue Basics sketchbook:
 Black PU cover; soft cover (A6) and hard cover (A4)
128 pages/ 64 sheets
140 gsm Italian heavyweight acid free drawing paper.
Section sewn and lies flat.
The surface of the paper are treated with vegetable gel to ensure long lasting quality.
The rough surface of the paper makes it ideal for a lot of mediums except watercolor. I found though that they have another line called Etcetra Sketchbook (180 gsm) which is suitable for watercolor.
Micro-perforated for easy tear-off.
Since the A6 and A4 are both of the same kind except in size, I will be reviewing the A6 and leaving the A4 for larger works soon. I brought the A6 during last weekend's volunteer activity in our church. The paper was smooth and the ink didn't show through the back when I used the Micro Pigma pen. I added watercolor and it didn't warp the paper too much.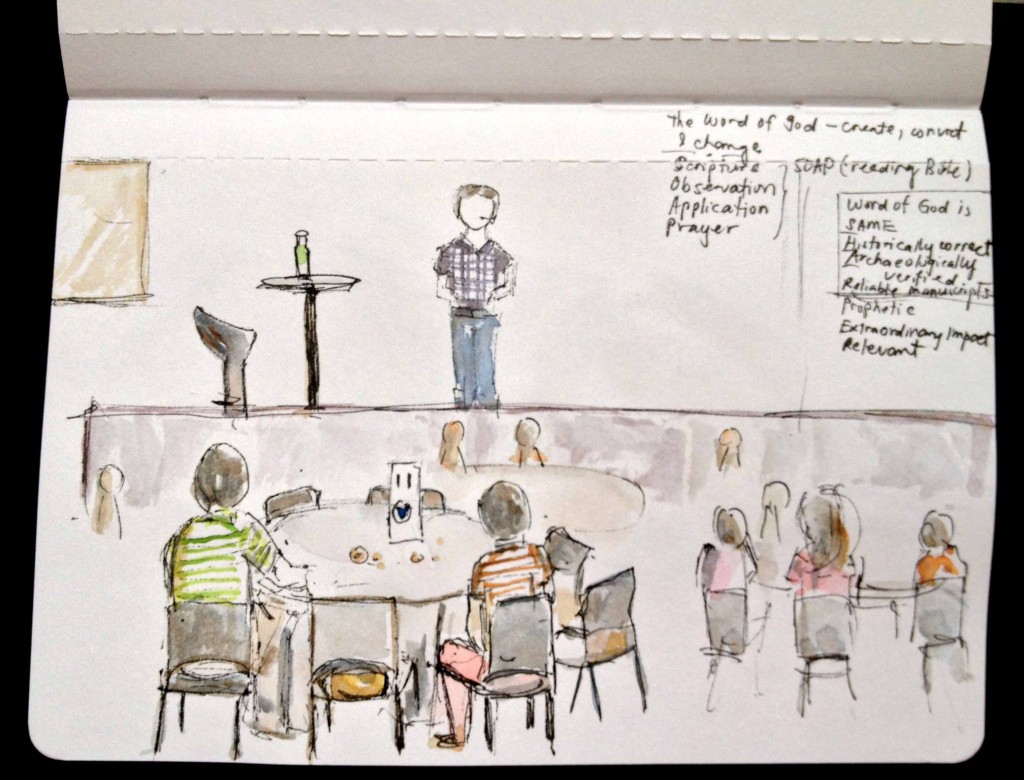 class scene (pen and watercolor)
I was on a roll and sketched my fellow volunteer quickly in broken lines and squiggles. Quite satisfied with the way the paper takes the watercolor nicely and it blends when mixed with other colors.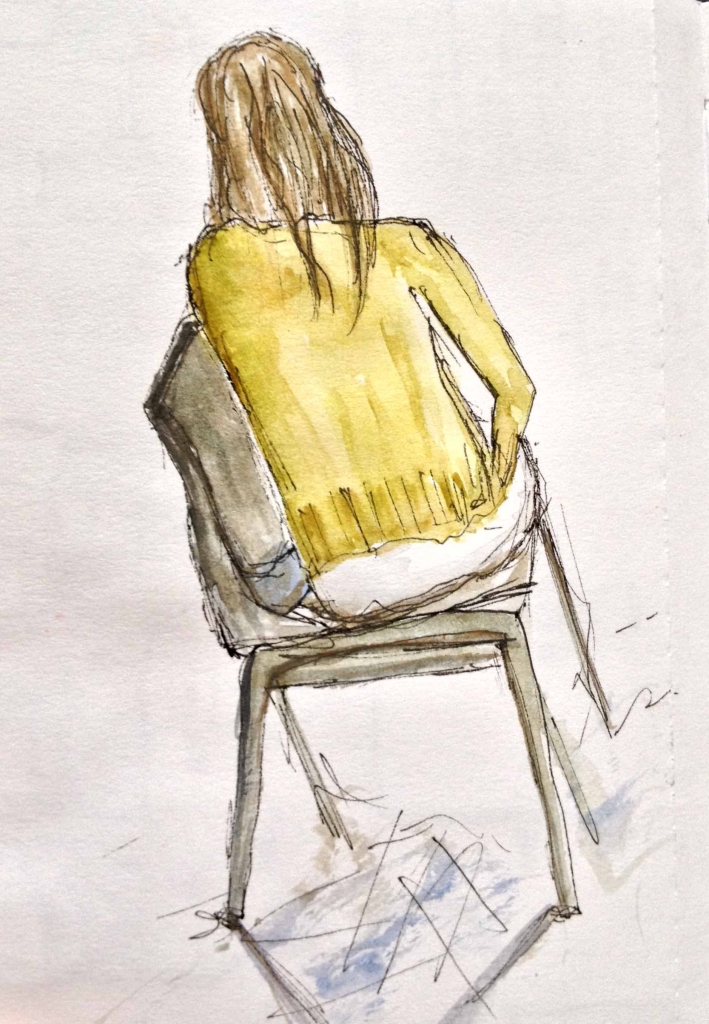 lady in green sweater (pen and watercolor)
Below you can see the various tests and techniques that I have made using watercolor and other mediums like pen, watercolor pencil, color pens and pencil.
medium tests
Since I have sketched and painted quite a number of pages already, the sketchbook refused to lie flat as its pages were raised slightly due to watercolor.
flowers (watercolor); tea pot (pen and watercolor)
I think a minor drawback from this new series is the perforation. Notice that the page has the tendency to fold along the perforated side and it makes an OC like me straightening the pages whenever I flip the book. Nevertheless I think this feature can be useful in a lot of ways like giving away a sketch to someone as a gift, easily scanning one's work, offering someone a paper to try their hands on sketching and so many other possibilities. I will definitely try this.
tea pot top view (pen)
Lastly, I sketched on the orange Monologue sketchpad which has a suede PU cover. One can easily flip the page up like a pad and even sketch horizontally across two pages. The sheets can easily be torn away like a pad paper.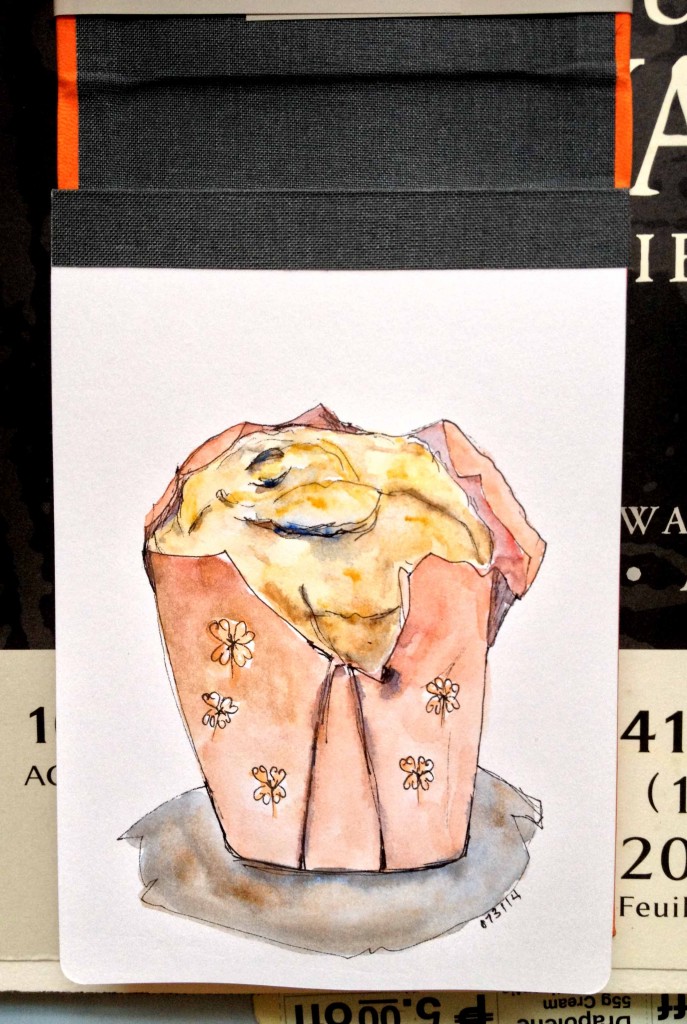 muffin (pen and watercolor)
Overall I like the ease of use of the Monologue Basics sketchbook. The paper is strong enough to handle washes, color blending and softening of colors. Since I frequently work in pen and watercolor, the results meet my expectation. It will be a while before I run out of sketchbooks but if I do one day, I will definitely buy their new series or try their Etcetra Sketchbook.
Have you tried the Monologue Basics Sketchbook yet? I would like to hear your thoughts. :)