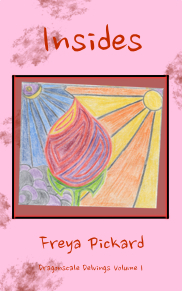 Freya, a good friend of mine, launched her first poetry collection called Insides. She is a cancer survivor currently awaiting the final all clear. She wrote Insides as a kind of therapy to help her embrace the terrible things she endured; cancer, surgery and chemotherapy. She wanted to bring comfort to other cancer sufferers as well as enabling people with no experience of cancer at all, to understand a little of what it means to go through such an ordeal.
I am sharing with you two poems from Insides that touched my heart deeply. While my experiences were nothing compared to Freya's, I can relate to the poem's message of trusting in God in the midst of my circumstances.

Held Darkly
Held darkly in the hollow of your hand
I surrender to your will, cease fighting.
I do not resign myself to Fate
But accept that this is the road you are leading me on.
Held darkly in the hollow of your hand
I cannot see where you are leading me.
Cut off from before– yet to reach the next destination,
I actively trust, capitulate to your plans,
My life is in your hands.
Held darkly in the hollow of your hand
I am safe.
You carry me through the storm of strife
I cannot see, but trust your guidance.
In the hollow of you hands
I rest in your light.

Voyage
this voyage of darkness,
no light, no north,
from bow to stern, gloom shrouded.
swift flow dark currents
beneath my helpless keel,
taking me from what I know
into the yawning chasm of unknown.
what monsters lurk below the surface?
what carrion flap in darkened air?
I cannot see, I cannot tell.
I focus on pale Albatross
upon the highest mast.
this voyage of darkness,
no light, no true north,
no affirmative pull to direct my gaze.
the helm behind me, sets its own course
I cannot influence the wheel.
this frail vessel surges onwards
cresting dark-foamed, uncharted waves.
the shadows of grinding rocks ahead
and whirlpools of ice-cold death,
cannot touch me if i stand
against the highest mast beneath
the outstretched wings of Albatross.
**
To know more about Insides and writings of author Freya Pickard:
Freya's Blog in Dragonscale Clippings