As Artists we have limitations too. Surely creating art is fun. Painting is awesome. Attending art class is fulfilling. But we also need to take a break from the creative things that we do.
In my case it's a break from doing assignments and projects in my Visual Design class.
I know myself deeply. And I know when to stop. I know when it's too much to bear.
Brainstorming has been a draining process lately.
My idea generating machine is starting to fail me.
Suddenly my concept boat is sinking.
Before I let all of the above hit rock bottom,
I grab my old black abandoned sketchbook.
I grab a pencil and start to sketch my sister's bag.
The spiral pattern is simple yet interesting.
I notice the little and big details.
The stitches. The colors. The zipper. The small brand name.
My sketch is quick and graceful. I am in the moment. Time slows down as I try to capture something majestic.
My subject speaks to me. My mind did not say, "Stop! There is a mistake. You need to erase that."
My mind and my heart just go with the flow of creating.
It's so relaxing that it eases the tension of producing more concepts or worry about pending projects.
Because hey we can find inspiration anywhere.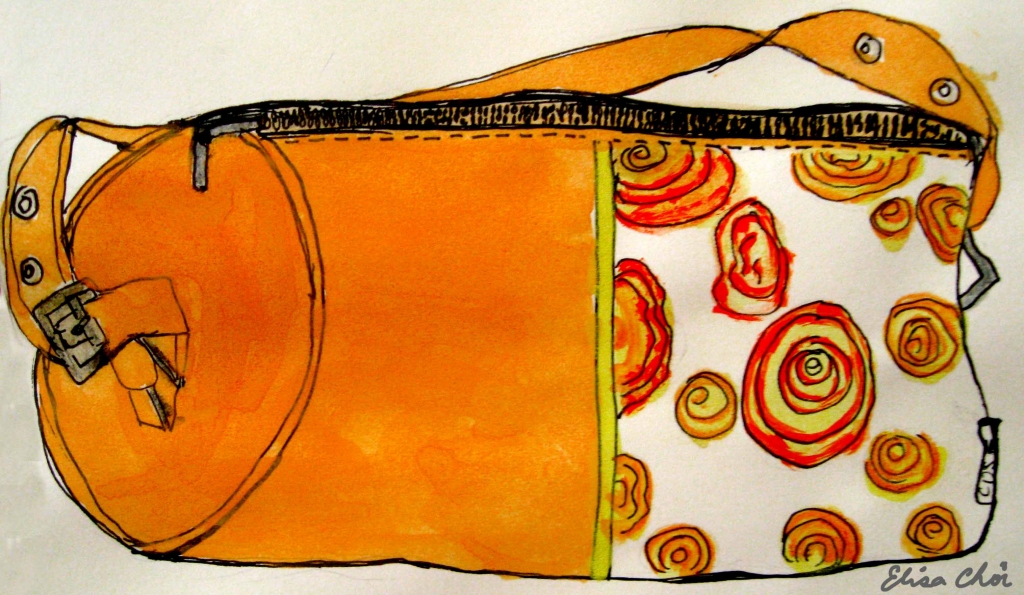 My Sister's Bag.
Sketch in pencil and trace with Micro Pigma pen. Watercolor and acrylics in sketchbook
I painted this in watercolor. The acrylics is applied on some of the spiral pattern outlines.
I am so thankful that I took this mini break.
To be with myself.
To create something simple yet full of life! It's always in the attitude no?
To be aware on the beautiful present moment.
To see new inspiration. Rejuvenate my senses.
To create from my heart.
May we keep on creating. When what we are creating right now seems frustrating take a rest.
We can do nothing.
Or we can create something else.
Something that gives off sparks. Something simple.
Anything from the heart is.