What a great way to start the New Year—rekindling memories through sketching and painting! I enjoyed reading and compiling all the beautiful memories created by the amazing artists across 6 countries around the world. I appreciate the variety of styles and story telling, the learning and the inspiration brought about by the memories of a person, place, thing or event.
I hope you'll enjoy the January gallery and stories, and visit the sites of these artists to show some love and support!
Surf was way up, and we headed north to #waimeabay for some spectating and sketching. I forgot how non-absorbent my sketchbook is after painting on Arches paper lately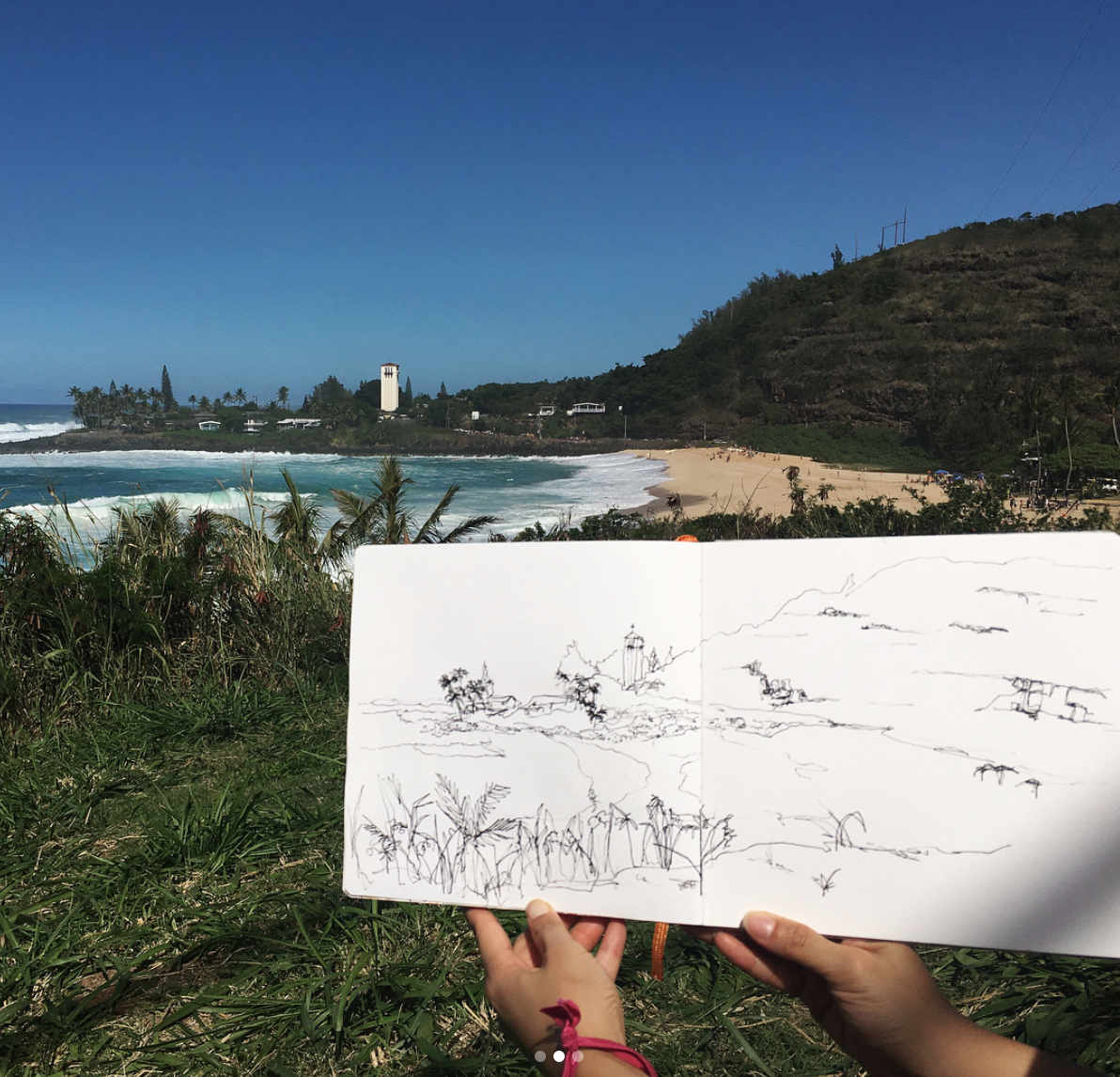 9am drunk "wisdom" and positivity. Happy new year everyone!!!
Finally, the Mustard Field painting…in watercolor pencils and the verses in fountain pen… Long overdue..
Sending a bit of sunshine…It began with a heavy rain that made the air quite chilly. We shivered during the Sunday Church Service. I had planned to visit the nearby mustard fields but my dog has blistered her paws and the weather wasn't too good for her. So, we picked a stalk for today. Tomorrow, we will be in the field. Happy Sunday!!!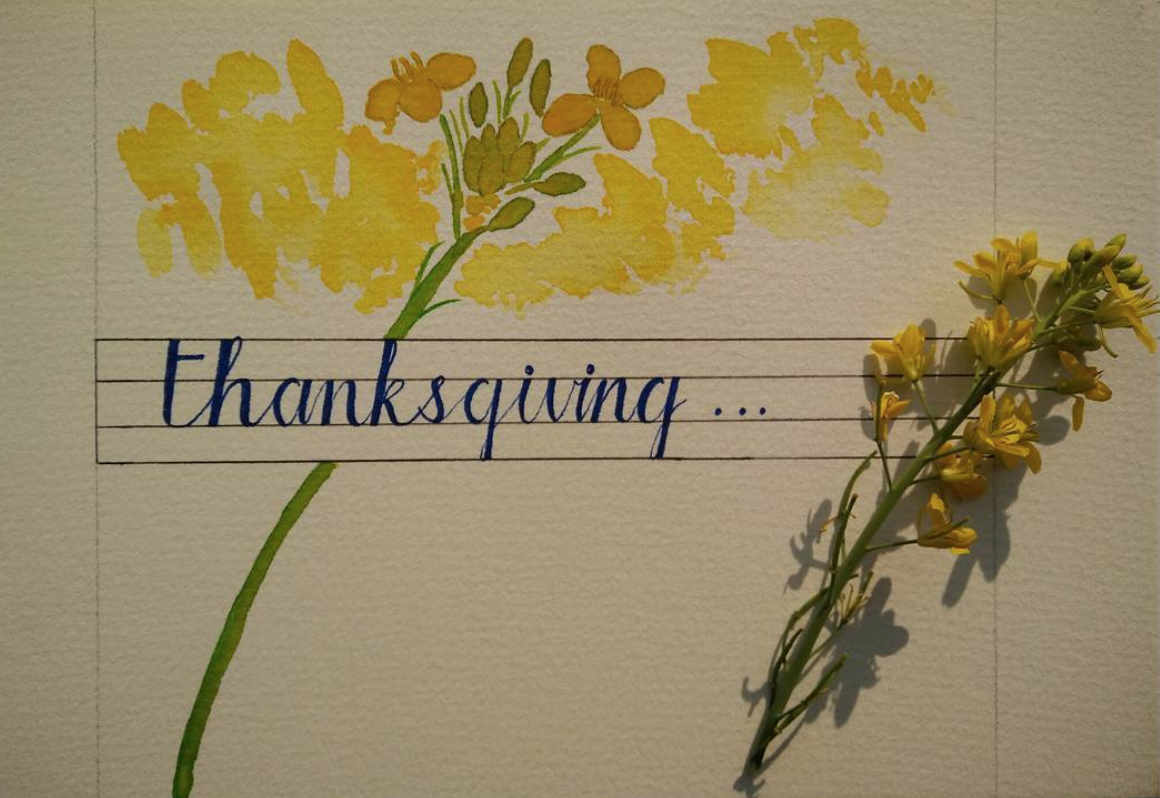 Small Sketches with a Message. Stole a moment to sketch a bloom. I don't know the name. Growing up, these bloomed in profusion in our neighbour's yard. It resembles a rose from a distance but the plant is totally different. The message is: TO BLOOM. Wherever we are, under whatever circumstances, we are planted to bloom.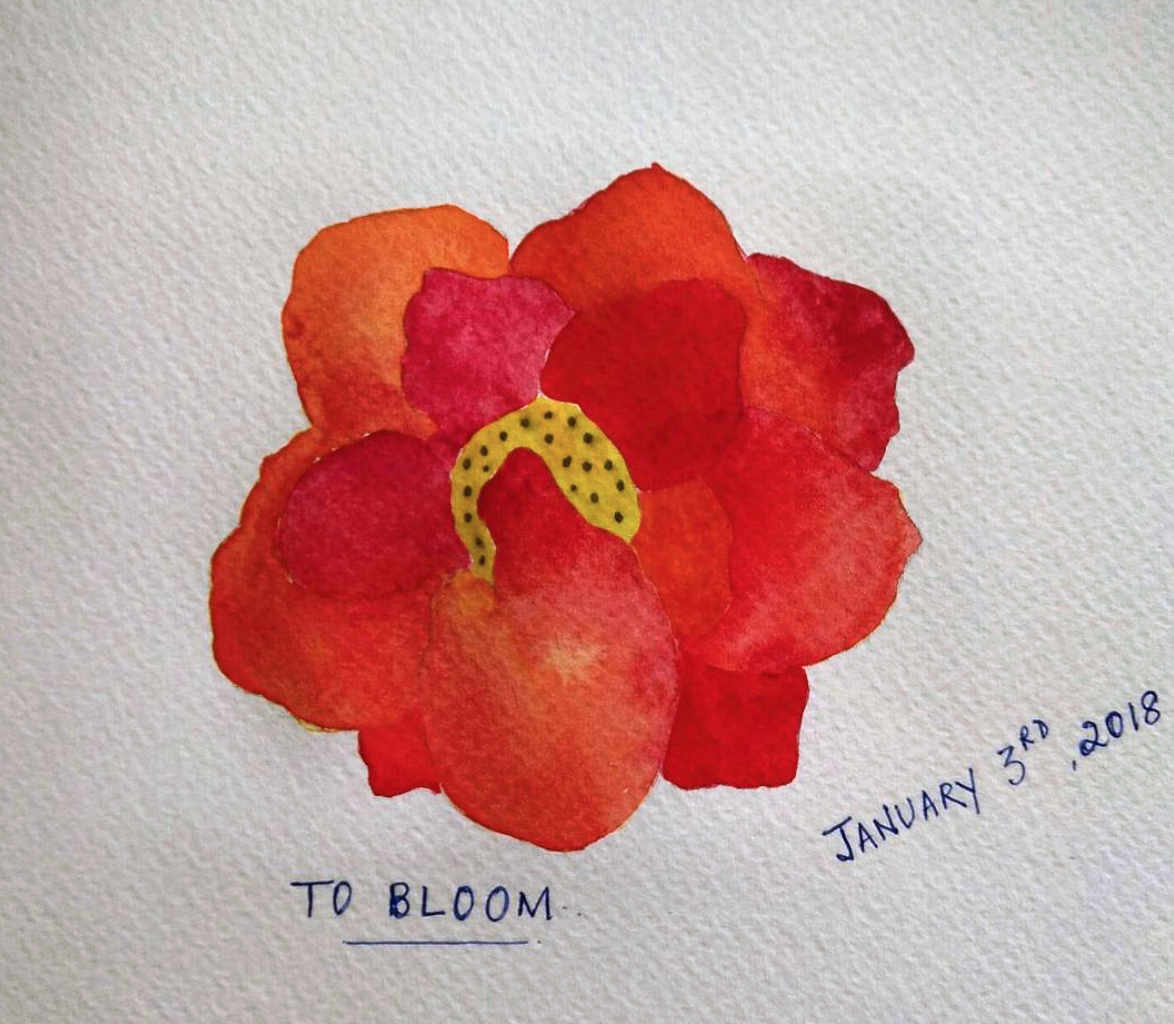 WORDS for a NEW YEAR. 2017 had been good. Let's take some valuable lessons from the year gone by and make 2018 better. Words are powerful. For a person like me who dwells on words, they guide us – motivate us – encourage us – enlighten us. Words, whether spoken or written, are soulful and they stir life within us. Well, I am speaking of the meaningful words. Moving on to the New Year 2018, I am going to carry with me these five signs I randomly saw in different places to inspire and guide me… SILENCE IS GOLDEN. It's not a new adage. It's pretty old and seeing it on a hospital bookstore while waiting for test results was more meaningful than ever. GOD LOVES A CHEERFUL GIVER. Well, this is from an offering box but it's not just about church offerings. It made me think about all that I give – to a friend, a relative, a neighbor, someone poor and needy… BE JOYFUL. Two words on a placard hung on a tree trunk in front of a cheerful person's house reminding the passerby's to be joyful, truly brings joy. IF YOU ARE MORE FORTUNATE THAN OTHERS, BUILD A LONGER TABLE NOT A TALLER FENCE. I saw this Canadian Memorial Centre For Peace sign on the internet and it made me count my blessings. LOVE THY NEIGHBOUR. A truly meaningful sign on a park bench encouraging people to at least talk to one another. I don't make resolutions on New Year's Eve because I never keep them and it makes me feel terrible. All I pray and look forward to is to grow as a person. Wishing you all a blessed New Year.
Another sketch challenge week. Tried something different for a change. Pencil sketch.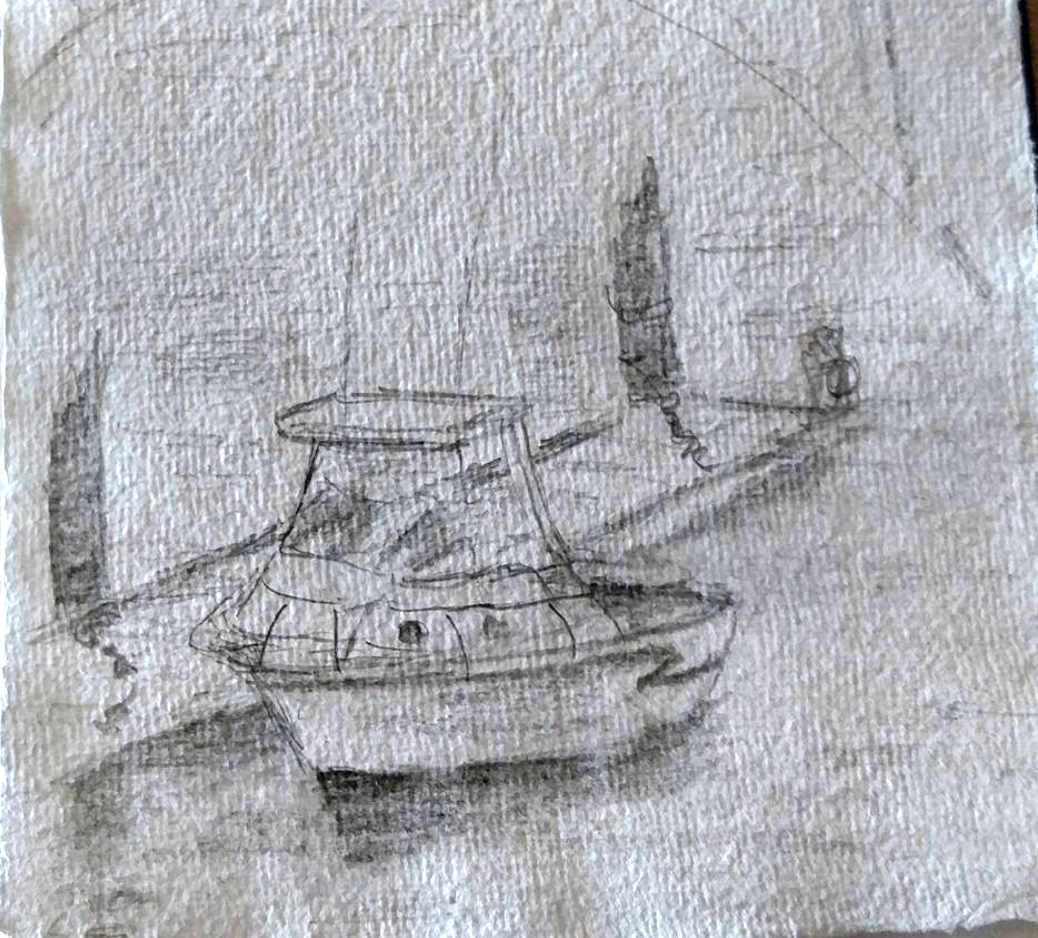 Day 2. Watercolor only. No sketch.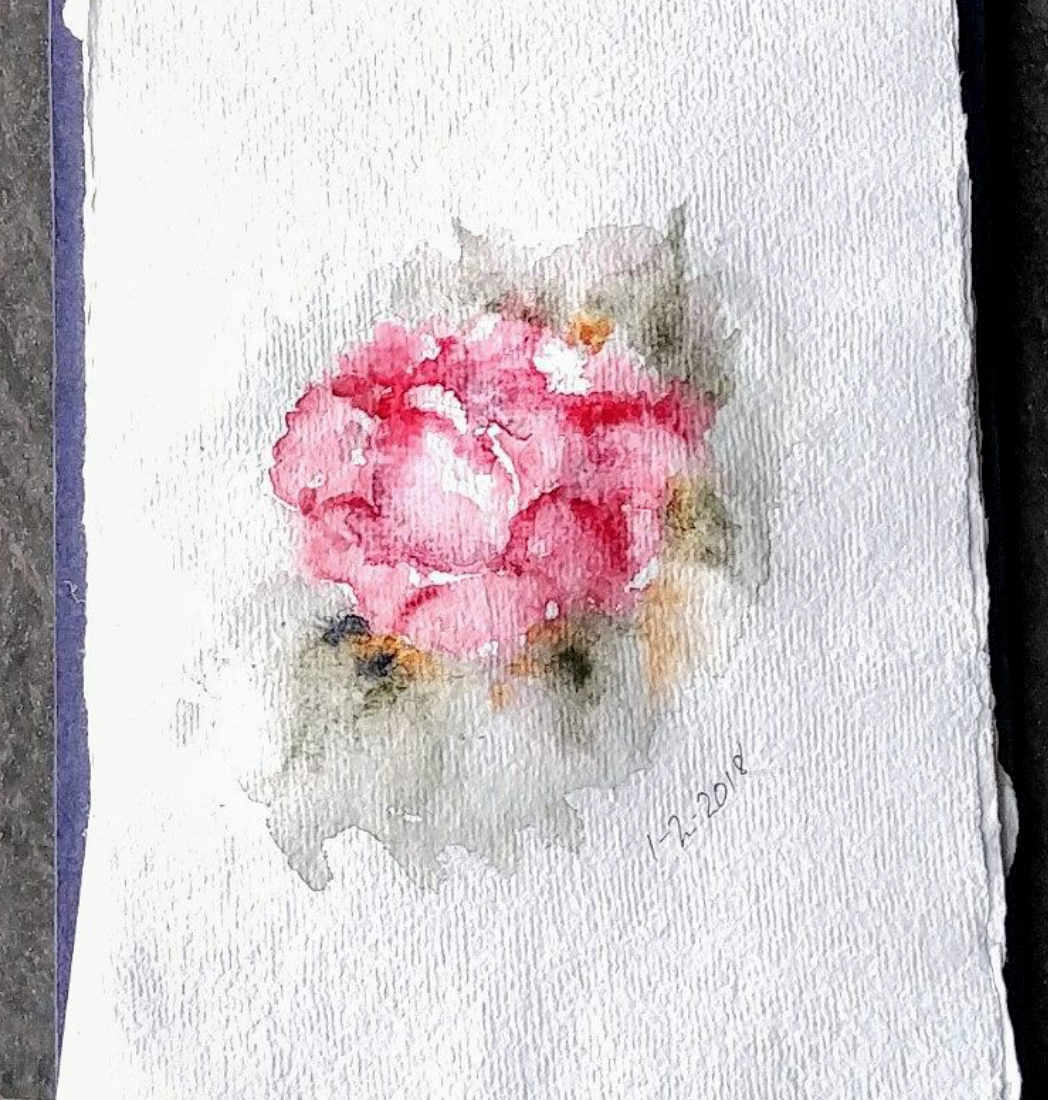 Ok, I'm ready for Spring. Day 3.
Day 4. I struggle with perspectives. But avoiding it doesn't help me learn. From a photo I took years ago.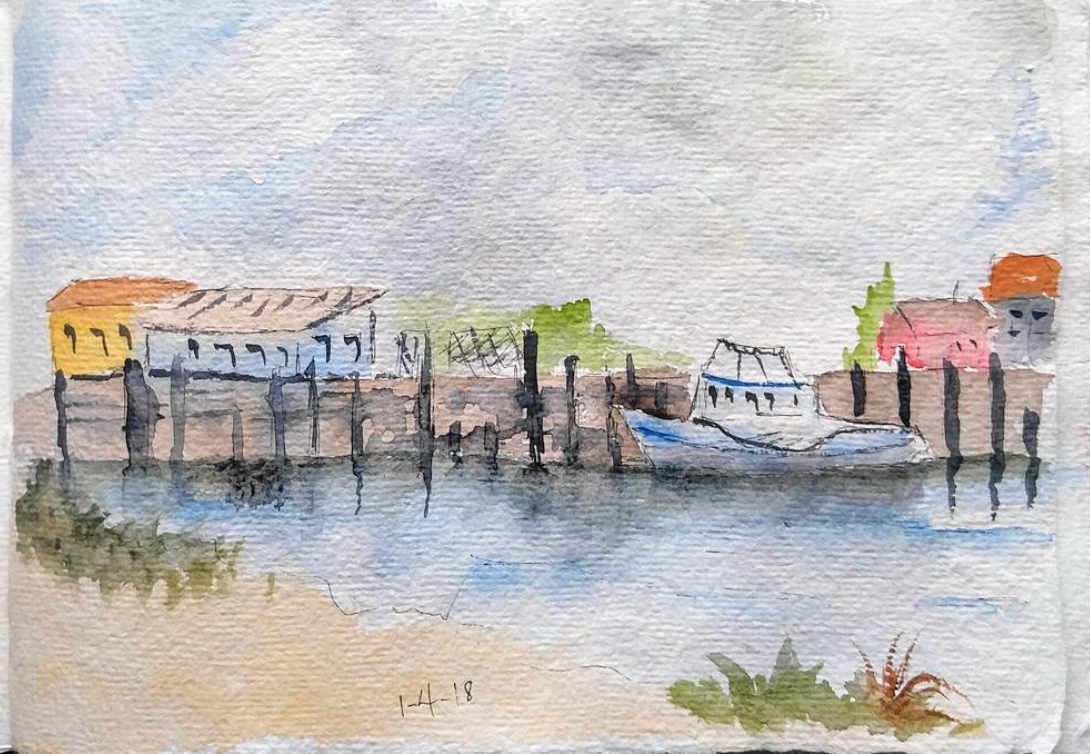 Day 5. Florals must be my thing. I totally relax when sketching them. Dogrose.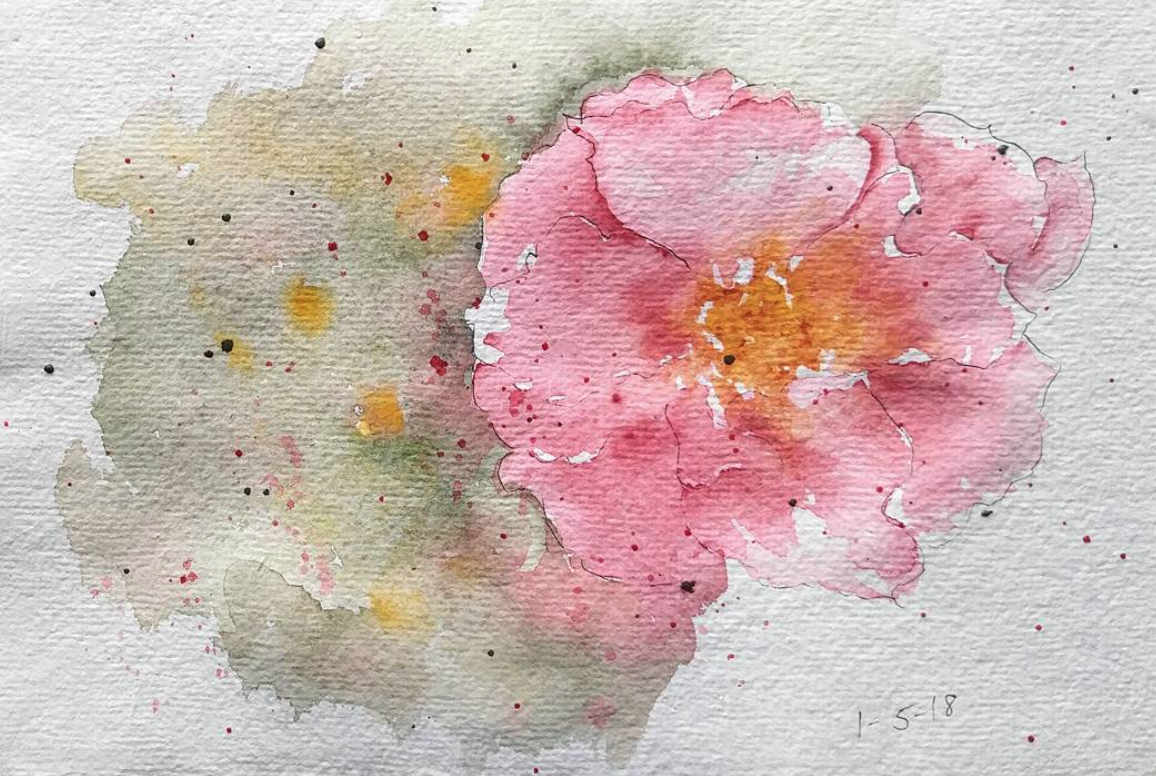 Day 6. Pencil sketch. This charming fellow has been on my art table for years. First time I sketched him.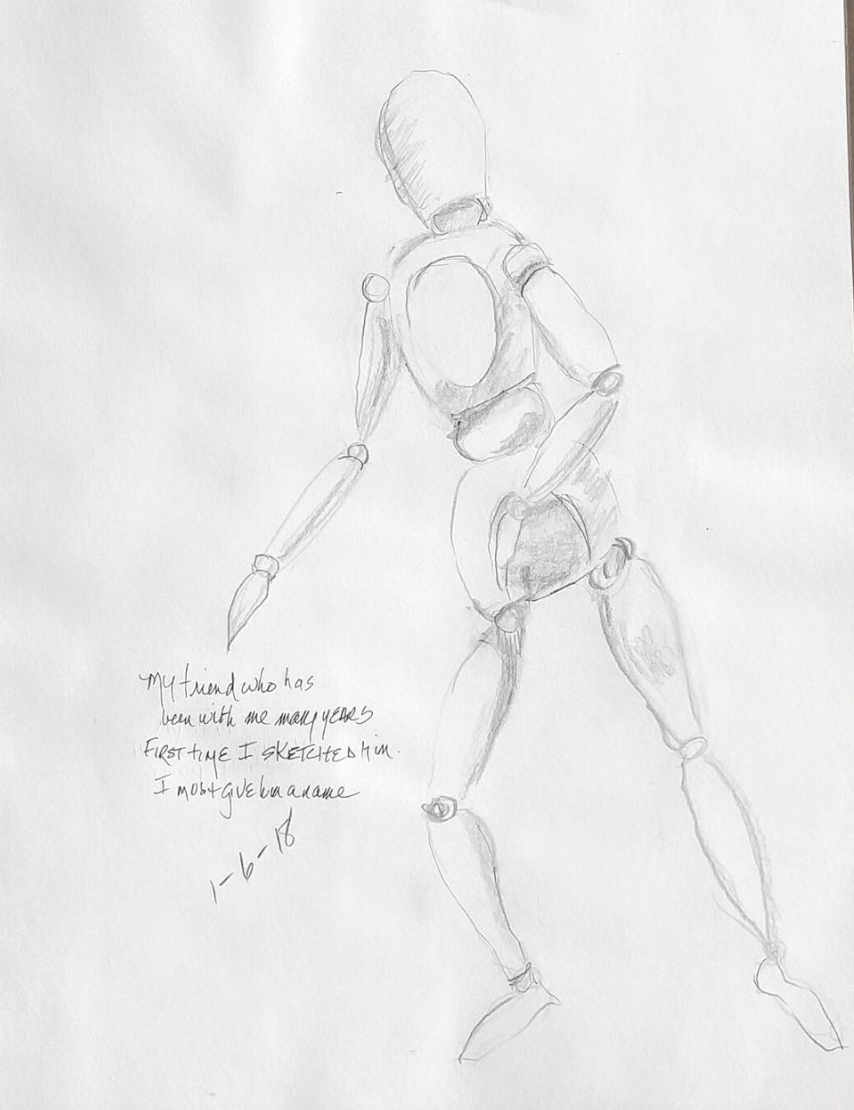 Day seven. Fun to do.
Happy 2018! Getting back to it. 1 of 365 (2018 challenge)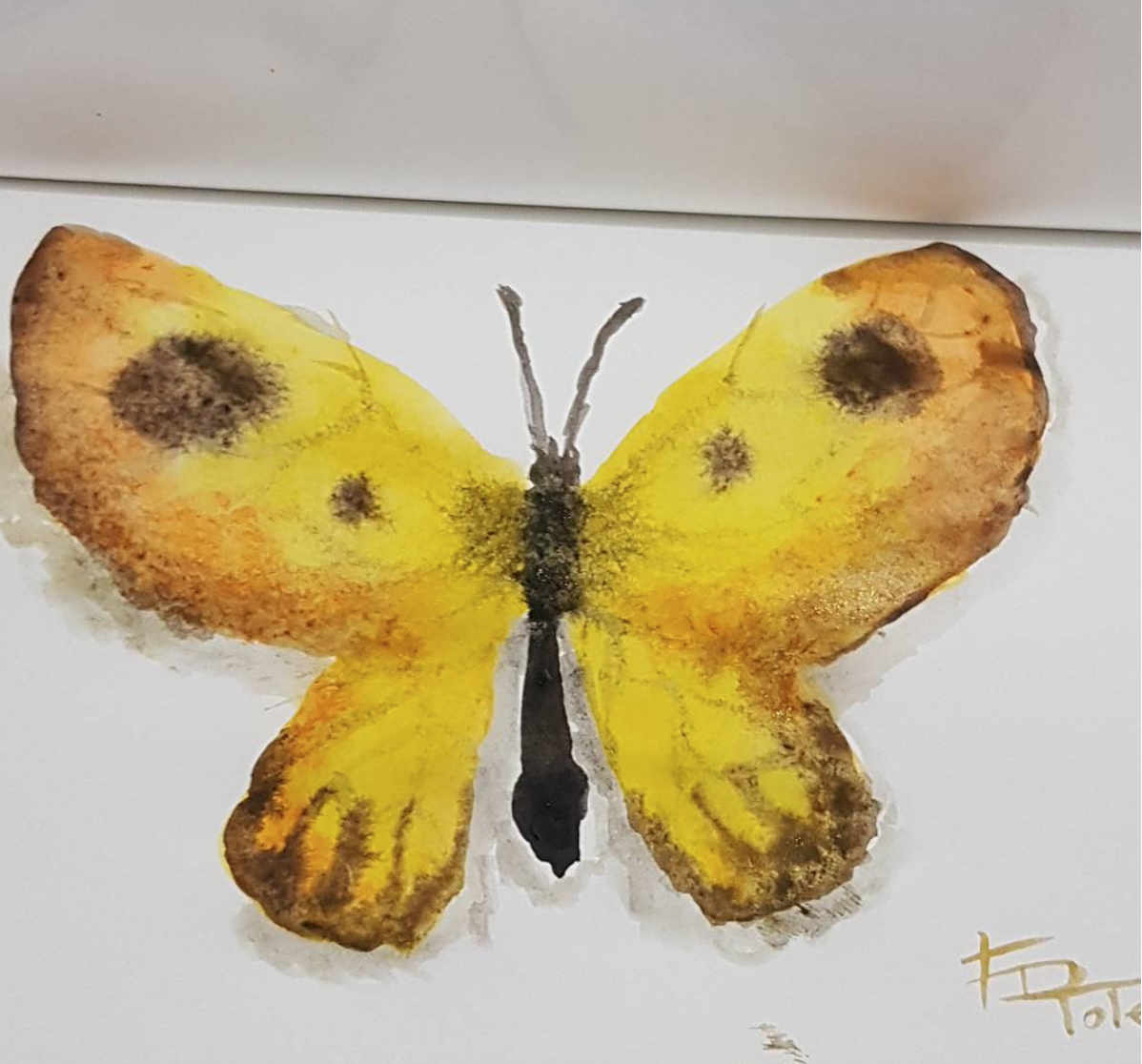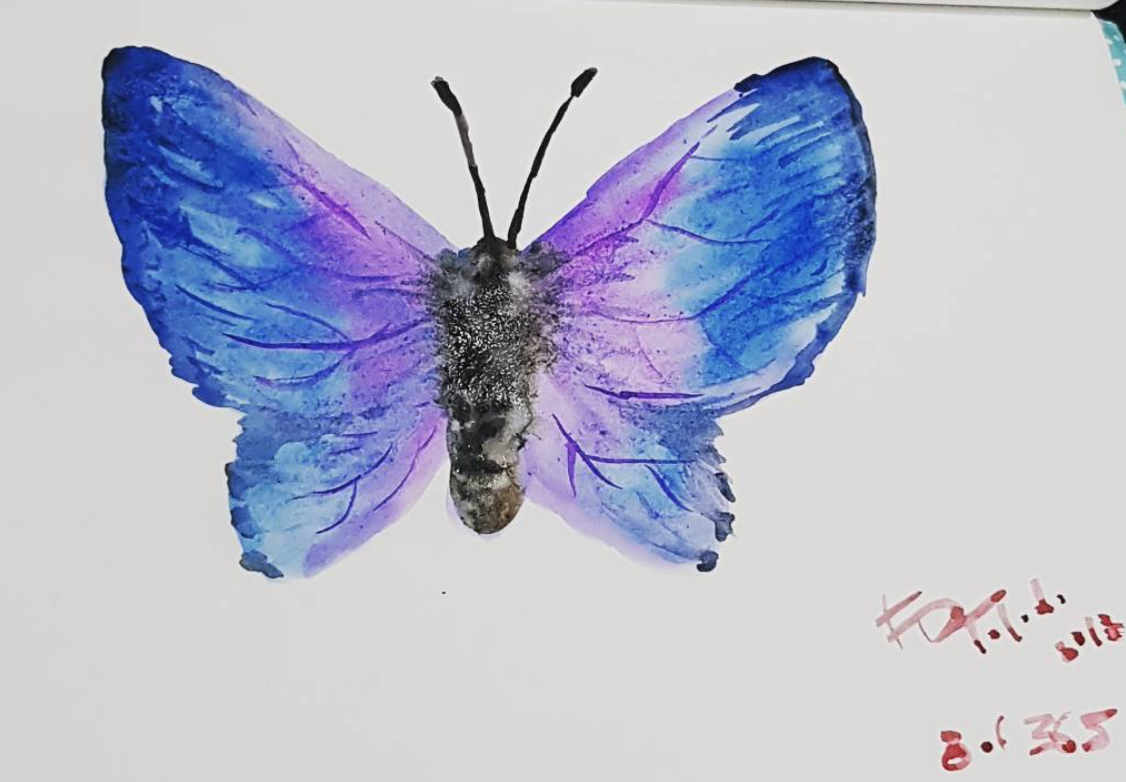 Cai a noite em sampa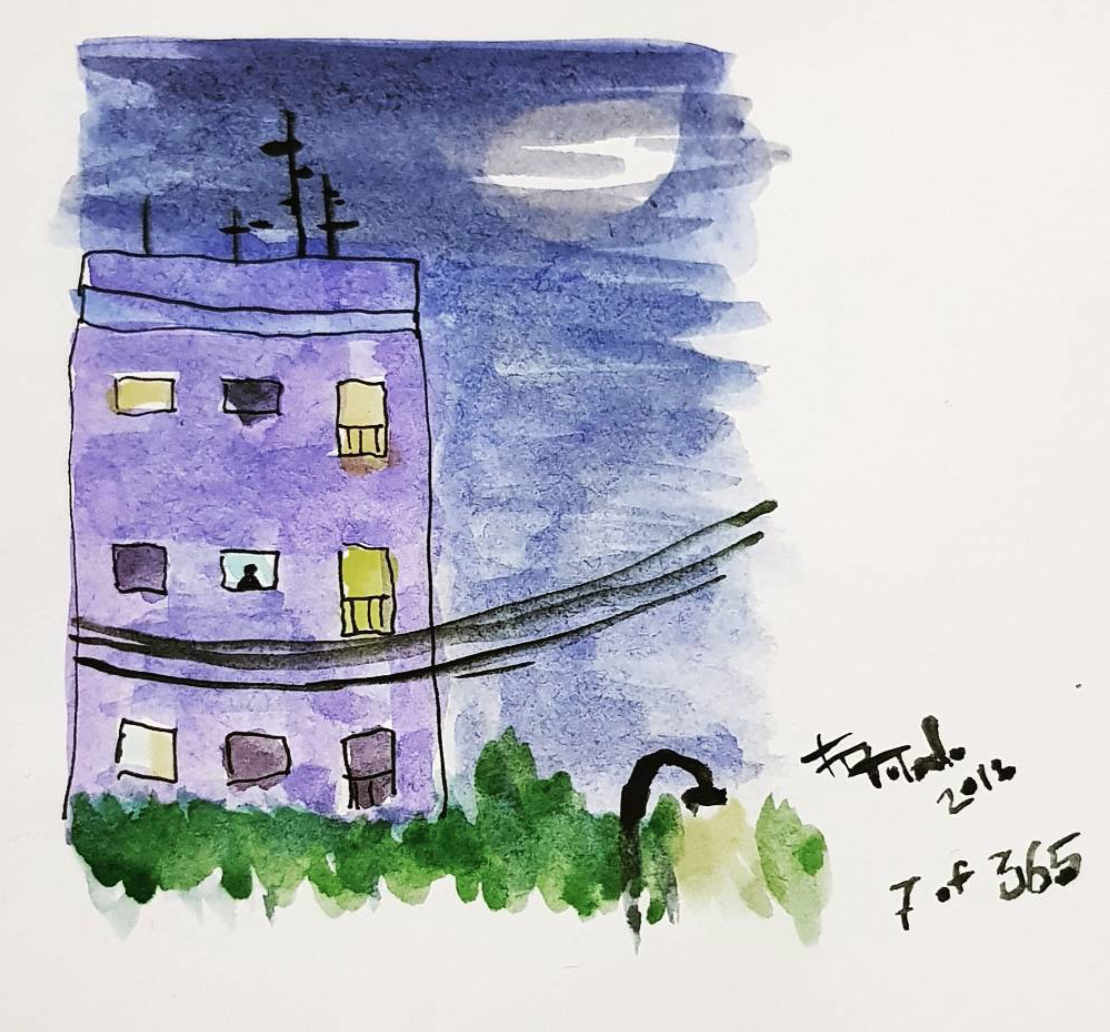 Mr. Lemonade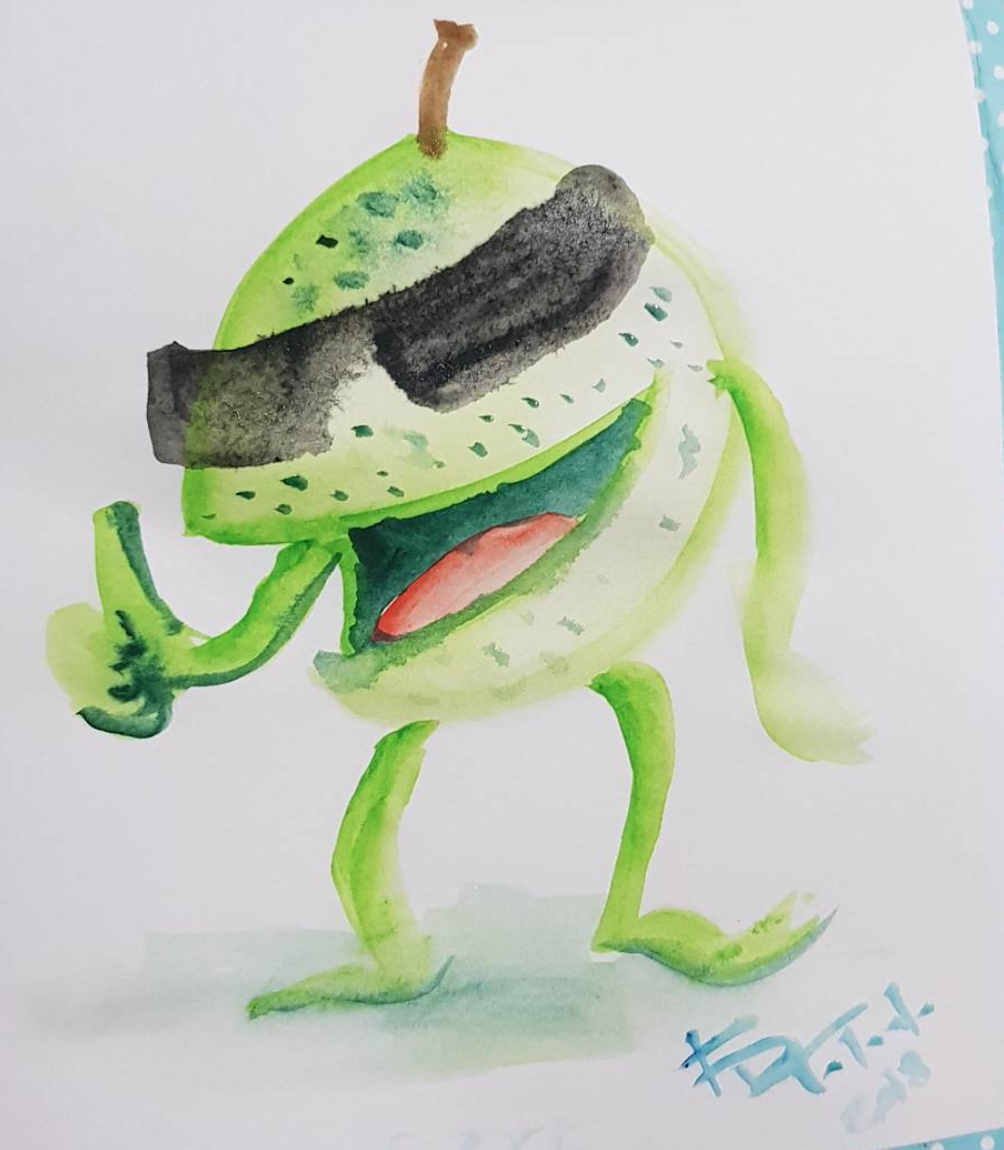 Man walking over a bridge in SP.
Here is the finished painting. Watercolor on Stonehenge coldpress watercolor paper.
Primary and secondary colour wheels. I'm a little surprised, well not really, that I've never done colour wheels for any of my paints. Mainly because I've just been teaching myself watercolour by things I don't like in my paintings and things I like in other people's paintings. Realised I'm at a slight block today with Painting so decided to open my #everydaywatercolor and have a read. I'm still in the introduction, where I realised my lack of colour wheels. So here are two I've done really quickly, sitting in the dark with my student grade paints. Photo taken with the rest of the natural light just before the sunsets and the slight glare from the tv.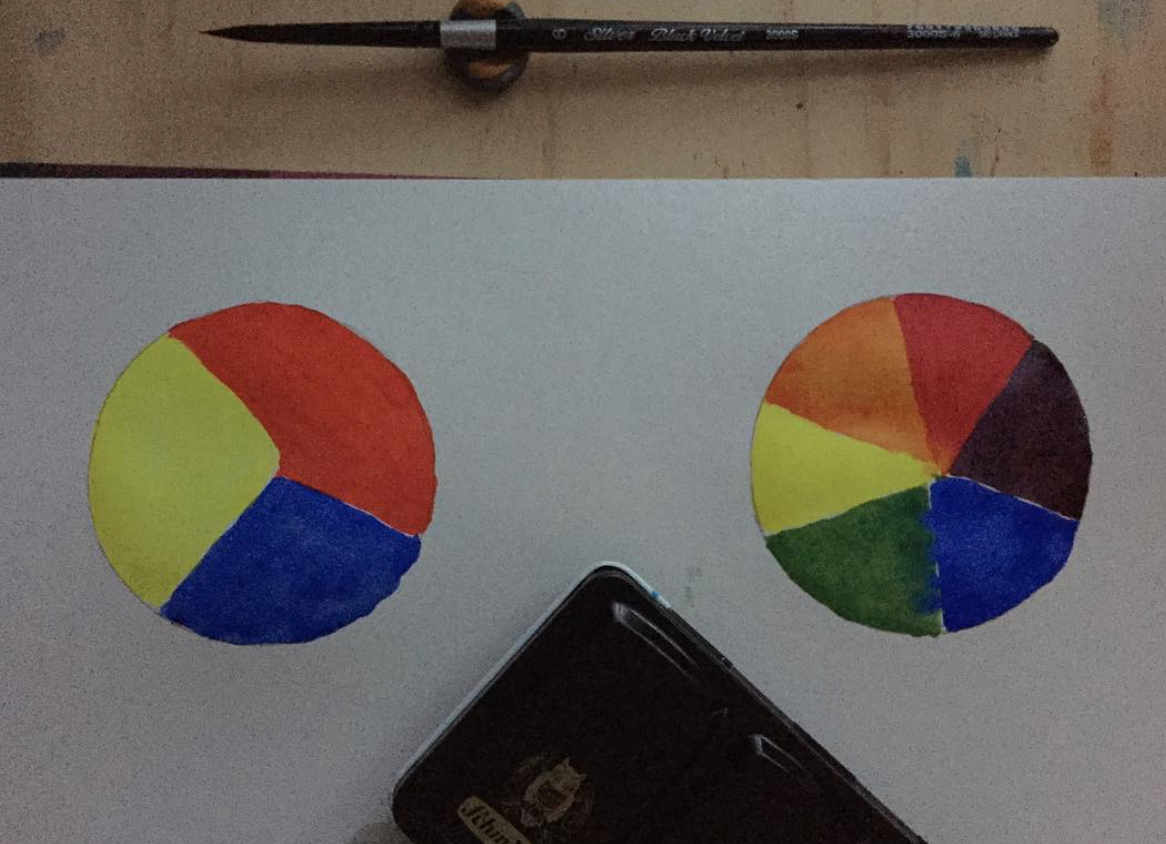 Rocky Horror Picture Show anyone? We have a Riff Raff statue in Embassy Park. It's in the town, where our old Embassy theatre was. I saw Richard O'Brien (the creator of the Rocky Horror Picture Show) in the art store, one day. And was 'too shy', 'awestruck' I don't know, to ask him for a photo/selfie. But he lives in Hamilton, part of the reason we have this statue. There's a website for the it… www.riffraffstatue.org Oh, the red building is/are public toilets.
As 2017 has ended and 2018 has started there is no better way to start the year than with a creative workshop. I'm excited to announce my first workshop this year of #Botanical illustration in #watercolors at @thelighthouseconcept, seats are limited, so make sure you register by contacting their page directly.
Happy New 2018- may this year and all years to come be more peaceful, humane and joyful
FUN IN THE SUN Our first visit to L.A. in 1988 watching the dolphins and sea otters was fantastic
ROLLER BIRD WITH BREAKFAST (SCORPION) We saw him catch and toss then eat this scorpion, the first time we went to Botswana. even our guide had never seen this before…
KOSHKA – A day at the Zoo 2010 First day of Holiday in Denver USA waiting for her babies to out into the open for the first .I slipped off a curb and broke my ankle, not a good start to the holiday but my Husband could push me around for the next two weeks, ( but only in the wheelchair) we did have a good time and lots of help from the locals LOL
This was done for a challenge, but thought it also fitted in here. I opened up my wardrobe and spied this old tie, my 'quasi' regimental tie. I say quasi because it wasn't a regiment, but the Royal Victoria Hospital, Netley in Hampshire -No 4 Coy RAMC. I ferreted around and got a photo of the hospital, or what was left of it when I was there in the 1970's. The photo is of the Royal Chapel, which was in the centre of the original hospital built on the instructions of Florence Nightingale. It is a couple of hundred yards from Southampton Water, and the intention was that hospital ships could pull in and the injured soldiers could be transferred efficiently. It was designed to accommodate injured soldiers, and did that, but they arrived by train as the water was too shallow for the hospital ships. The hospital stretched 1/4 mile either side of the Royal Chapel, and the Americans used to drive jeeps up and down the main corridor. When I was there there was a small Victorian building and a Second World War building and we looked after soldiers, and sailors who were experiencing mental health issues. The hospital closed in 1979, and the Chapel is now a focus for the Royal Victoria Country Park. Worth a visit for the chapel, but also the War Graves in the grounds. This is the second attempt.
This is an old painting that I cherish: I remember, during my mother's 90th birthday (2001), how pleased she was to receive her great-grandaughter's card. Someone had embroidered her initial "J' on her pillowcase. I sketched and painted this to capture that precious moment. She passed away four years later, having shared all her journals, from 1928, on. I miss her with all my heart.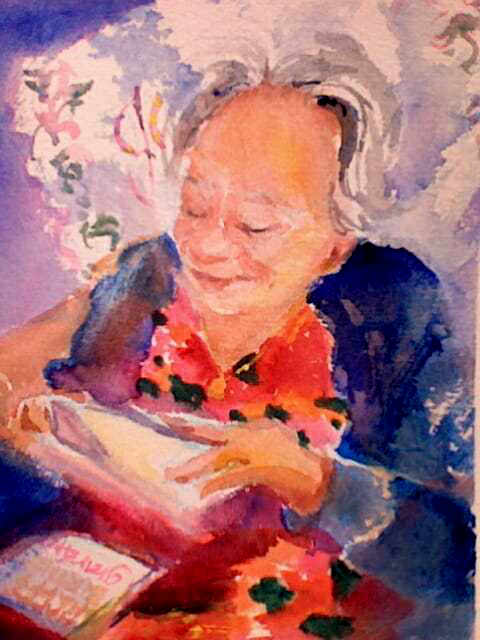 My late father taught me to swim as I healed from childhood polio, which paralyzed my spine. I'm told it was a miraculous recovery, as I could easily have died. I remembered that he carried me to the ocean to let the warm, salty waves wash over me.
This self portrait was my 3rd watercolour painting, completed for the sketching your life class on Skillshare.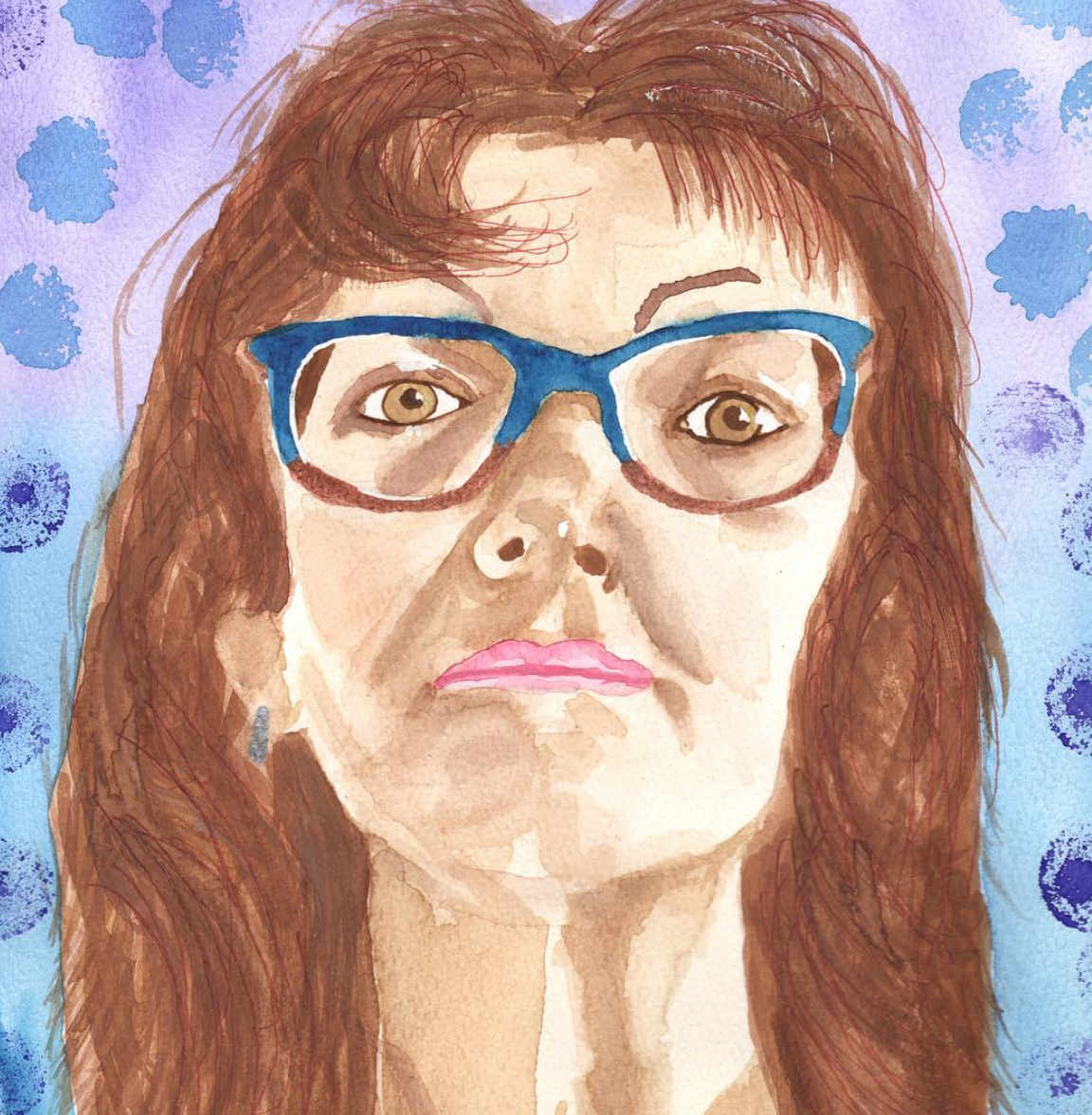 My husband said I should look out the window. Looking out the window yesterday, first I was blinded by the light, second I noticed a rainbow ?. I think this is the first winter rainbow we have ever seen.
Another gifted painting. This was a memory of my sister's ordered coffee when we were away on a mini vacay.
Painting I gifted.
This Christmas I was alone at home, looking after our guinea pigs. It was calm and peaceful and I enjoyed it. Made a collage of those moments.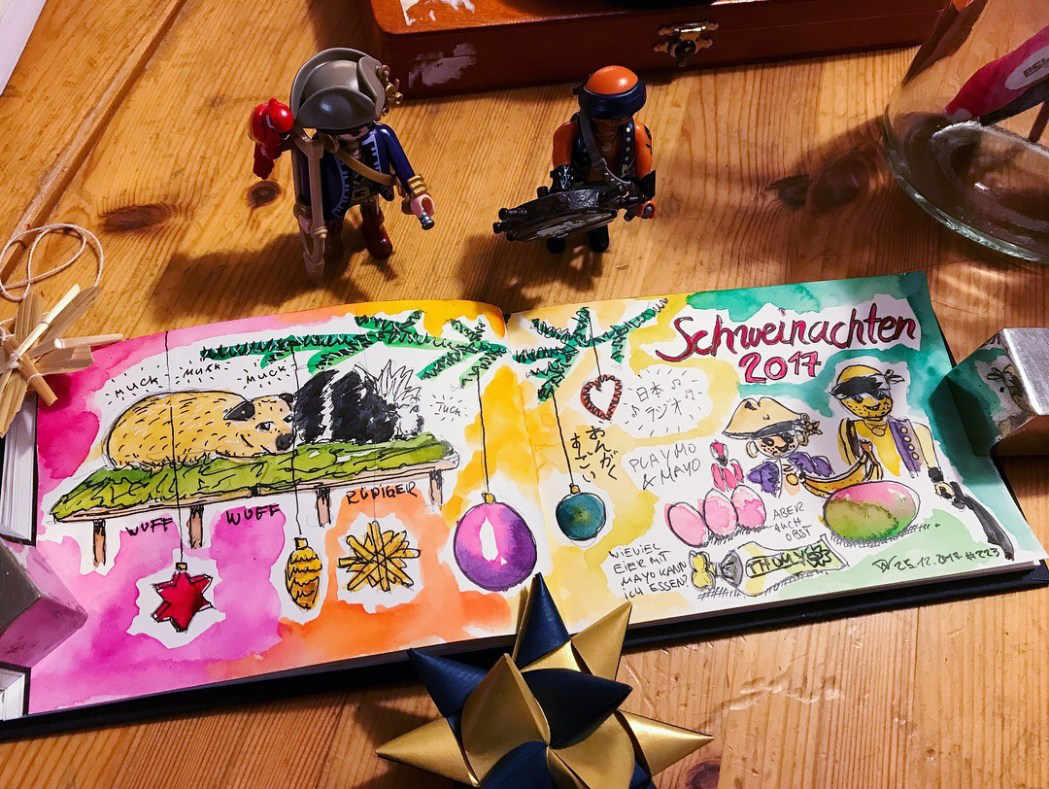 Additions to my "Small Town Sketchers". Back in 2006 my husband and I traveled to revisit his grandfathers farm in North Dakota located in Walsh county (pop-11,119). The Red River bordered the farm and across the river stood the one-room schoolhouse, now abandoned.
As the story is told, children from surrounding farms came to school here and the teacher lived in his Grampa's house. It looked so interesting that we walked across the (Daisy) bridge to see it.
I am so happy I sketched these because they brought back many memories for both of us.
You can see other small town sketches at http://smalltownsketchers.com/

Rekindle Memories will happen again on the 1st to 7th of February. This event is about treasuring each memory (past or present) by remembering and appreciating life in all its wonder and beauty through sketching and painting wherever we are in the world.
Here's what to do:
Every first week of the month, we will all create one (or as many!) sketches/paintings of our lives that has captured our interest.
We will tag our artworks with #rekindlememories and the country where you're from (i.e. #singapore).
You can post your artwork anywhere you wish in social media. Please don't forget to use the hashtag #rekindlememories so I can easily find your work. A gallery of stories will be created to celebrate the inspiration of art made from around the world.
You are welcome to create and share sketches even if the event has already finished. If you wish to be with other Rekindle Memories artists, please join here.
PS* If you know anyone who would like to take part in this challenge, please invite them to join the fun! :)