It has always been my desire to teach painting but I guess teaching painting is quite different from painting itself. I mean when I paint I feel so focused and in the "zone" that I am not actually thinking of the way or steps that I paint. But when I get to teach that, I find it challenging because I need to actually verbalize the steps and be able to translate from what is vague and difficult to manageable and easy for others.
I remembered teaching my sister how to paint in watercolor. Because it was my first time I didn't even know what I was doing. I was just spinning her around in circles and trying hard to let her follow the instructions of a book, all the while pressuring her to do better because to me the output should be nice. The irony was that once I was a teacher now I realized that I'm repeating the same old things that the other institutions have been after: beautiful results. Without even minding the creative process no matter how imperfect. I quickly have to stopped myself because that is not what I am after and that is not how I intend to teach art.
In the past weeks I had a great time with a church friend. We had comfort food for lunch and talked about God and our lives. It is always amazing to have these kind of conversations where God is the center rather than gossips and worldly matters. After that we got to make art and I'm thankful to teach her watercolor. She enjoyed it I believe and she has patience to learn. She was very focused and kept correcting her drawing. While I, on the other hand just grabbed a pen and sketched her quickly.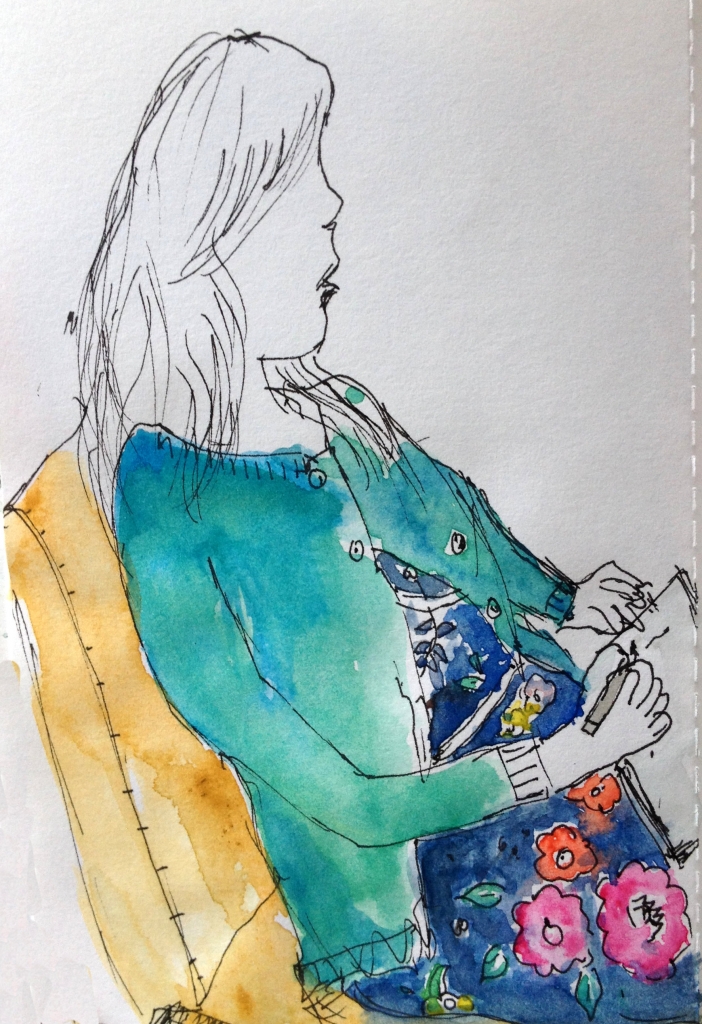 quick portrait of my friend in pen and watercolor
My friend is careful with the placement of the poppies and has drawn details.
Painting in watercolor is all about the relationship between the paint and the water. With practice one will know how much water to use without flooding the paper. Wet on wet is one way to enjoy watercolor.
Sometimes it is important to learn and make mistakes rather than fussing about water marks. Art should be enjoyable and the process of creating is something to be treasured. How often do we forget that?
Always start from light to dark in watercolor. Layering is fun and it brings out the realism of an object. It is better to slowly adjust the value of the colors rather than putting in very dark at once.
I admit I didn't stop her from getting those back runs and water marks because I think those are what makes an art piece unique and loose and full of personality. Add to that the documented learning so that when she looked back she will be able to look at her progress and all the learnings she has hopefully gained. She has done well and I'm very thankful for that time. Hopefully we can have a monthly session of painting!