One of our dear officemate which is also our friend is leaving the team (my previous team at work) and moving on to a new role (we're happy for her!).  I was assigned to work on the design of the scrapbook to be given to her. It was scary just thinking about committing on something which I am not very sure how it would turn out. But what better for me to do than to take the first step?
I decided to draw cherry blossoms because I know she hearts Japan. Let me share with you some detailed steps on how I completed this painting in 2 days.
Gesso-ed the front page. (I bought the white one)
Sketch the trunks + branches and the perspective on how they will align. I reviewed some photographs of cherry blossoms beforehand.
I colored the trunk with watercolor pencils but ended up painting them straight from the watercolor paint for faster work.
I use alizarin crimson diluted with water to create the cherry blossoms. Some are flower shapes while some are done by dotting it with the brush.
I sketched the girl based from 3 separate photos of my friend. This is her caricature! Don't know if it looks like her but I had fun!
After tracing the outline with the Micro Pigma, I painted her.
The last is purely application of embellishment — I get my rigger brush and create thin branches across the trees. I colored the ground in dotted and faded permanent pink. I painted the sidewalk in green and some prussian blue + black to cover the distant view. Lastly some grass and emphasis of colors.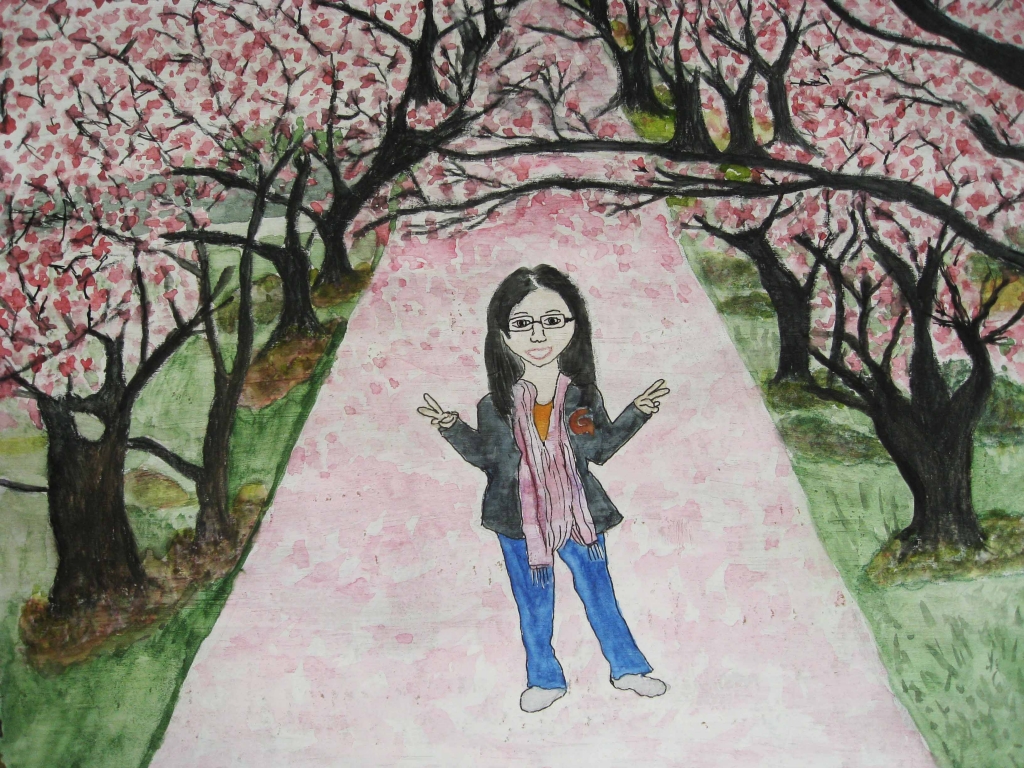 I hope she will like the scrapbook especially with the heart warming letters from friends and colleagues.
I am sharing this painting with the gang at Paint Party Friday. Please join me and check out what other awesome artists have done. I'll be checking your art on Sunday.
Have a blessed weekend everyone!