As I gather the precious memories shared by these artists, I can't help but admire the distinct style of each of their artworks. I also notice how most of them visited each other's pages on Instagram (#rekindlememories) and gave encouraging feedback. So instead of repeating the stories shared by the artists from Instagram to this blogpost, I will write my impressions on how each of the memories have touched me (and others). I'm immensely thankful for each of their invaluable contribution to make Rekindle Memories possible. I can't wait for June.
Carolyn gave us a glimpse of her lovely garden. Her emotions poured into each artwork. Her "no pen but watercolor only" is very courageous. Can you feel the enjoyment of the process in each of her art piece? :)
Dominik is a master of green and vivid colors. He turns the mundane into extraordinary. His wise use of time to savor what he sees by sketching and painting is motivating. I'll make sure to bring my small sketchbook with me wherever.
Fernando turns a simple white paper into awesome images of patterns, figures, organic lines and shapes. His layering of colors creates depth . Thank you for reminding me to keep learning by creating.
I enjoyed Janet's botanical sketches and paintings. I admire her courage to sketch at the garden in the midst of mosquitoes (and people). She prioritizes what's important– the beauty of what she sees, the experience and privilege to be able to sketch and paint and, learning by making art.
Kay's drawings are expressive, richly complemented with various shading and writing. I like her use of colors that give a wonderful contrast and emphasis. Her ways of documenting her life is personal. Her delicious food drawings often make me hungry!
I like seeing the evolution of Melanie's illustration process. I felt like she doesn't rush into finishing a piece but allows it to simmer, looking at it from different perspective. Her desire to keep learning from others while incorporating her own style is uplifting.
Valeriya has a way of expressing the beauty of nature through her colorful florals. Her scenery paintings are simple yet captivating. I especially like the expressive face of the lady. I'm inspired by how she makes the best use of time between her studies and making art.
Yana's pen illustrations are thought provoking. Her style is unique and her drawings tell a story inspired by the wonders of her life. I find myself looking at a part of her drawing over and over again… reflecting, connecting, appreciating.
Rina's artwork is a perfect depiction of what Rekindle Memories is. There's so much nostalgia in this beautiful piece of work. These were exactly the things I've been using when I was a kid. And oh, how I remembered my excitement for a new box of crayons!
Smita engages our senses with her descriptive story and delicate star fruit painting. She has just moved to a new house which was challenging but what inspires me was how she looked at the beauty and shared it with us through her painting. It's definitely an unforgettable memory.
I admire Veronika's style of painting her memories. Her illustration is whimsical and expressive. Her use of light and dark, mingle of colors and defined brushstrokes add charm to her paintings.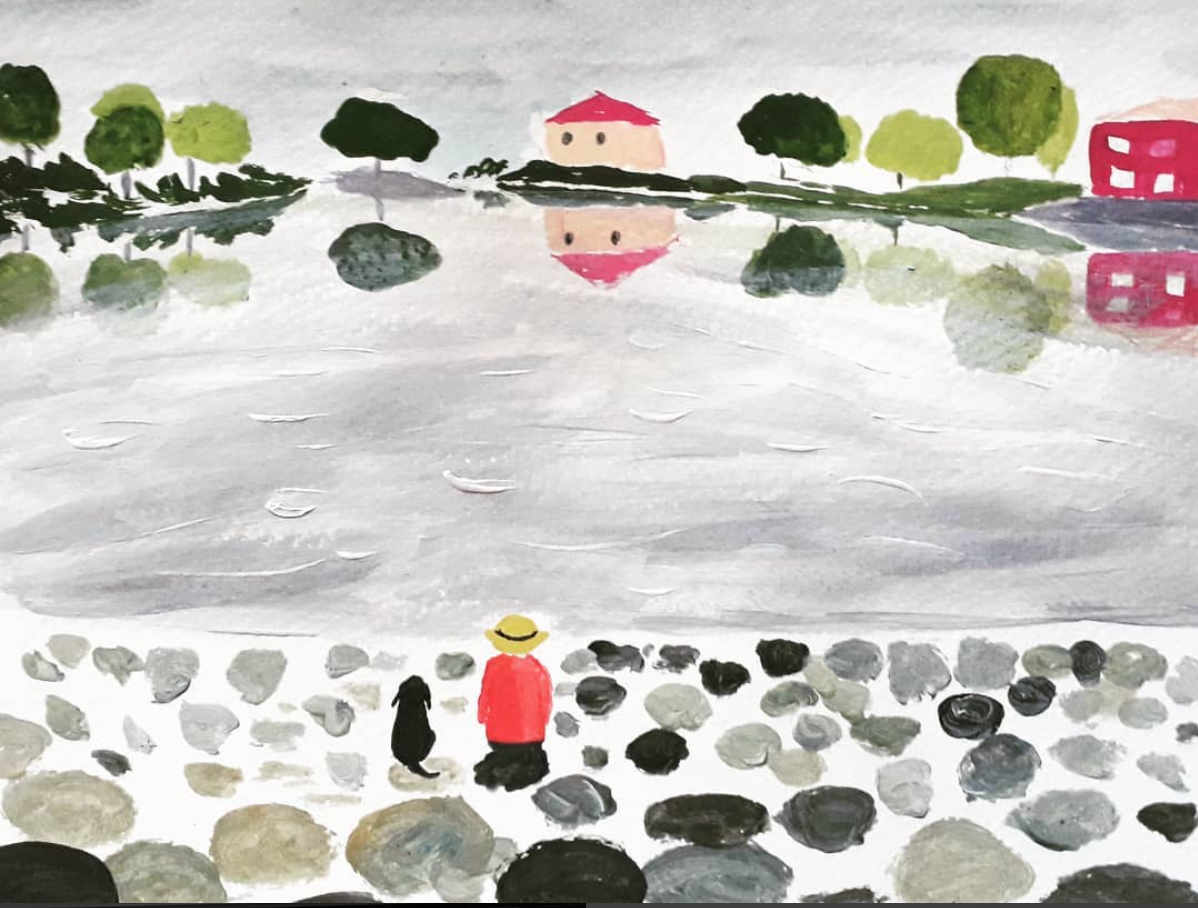 Rekindle Memories will happen again on the 1st to 7th of June. This event is about treasuring each memory (past or present) by remembering and appreciating life in all its wonder and beauty through sketching and painting wherever we are in the world.
How it works
Every first week of the month, create one (or as many!) sketches/paintings inspired by your life.
Share your artworks and tag #rekindlememories. No social media? Email your artworks:

lis@harmonythoughts.com

If you know anyone who would like to take part of this art challenge, please invite them to join the fun! If you wish to be with other Rekindle Memories artists, please go

here

.
Note: Rekindle Memories FAQ, gallery and stories here.